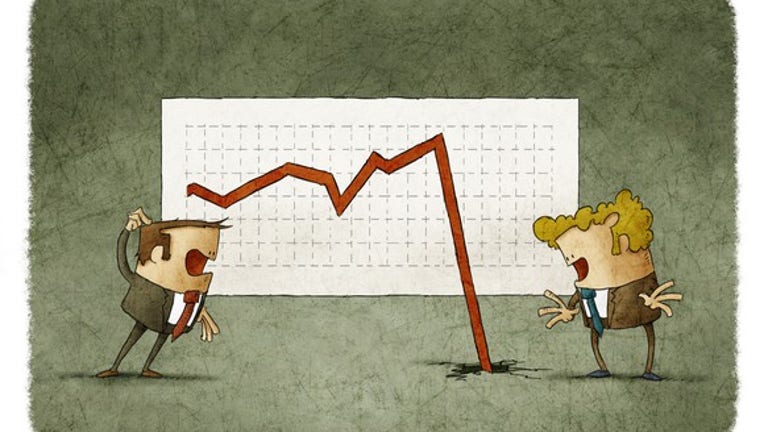 What happened
Shares of building supplies distributor Gibraltar Industries (NASDAQ: ROCK) are plunging today, down 12% as of 2:15 p.m. EDT.
So what
Considering that it's earnings season on Wall Street, you might suspect that an earnings report had something to do with why Gibraltar is sinking like a rock -- and you'd be right. Gibraltar reported its fiscal Q1 2017 earnings results this morning, and the news was not great.
Year over year, Q1 sales declined 13%, to $207 million, and profits tumbled 57%, to $0.12 per diluted share. Analysts had forecast sales of $209.9 million, which means that Gibraltar's results "missed estimates." Analysts also posited per-share profits of $0.21 per share.
That right there tells you why investors were upset with the results.
Gee! I wonder why Gibraltar stock is going down so much? Image source: Getty Images.
Now what
Looking ahead, Gibraltar CEO Frank Heard expressed hope that "short-term challenges" in Q2 will give way to "strong top- and bottom-line growth in the third and fourth quarters" of this year. Nevertheless, given that Q2 has done some damage to the business, Heard felt it necessary to revise Gibraltar's full-year guidance downwards.
As of today, Gibraltar expects that sales for this year will decline 2% to 3% to somewhere between $970 million and $980 million. Earnings, likewise, will fall short of last year's $1.67 in per-share profits, and also represent a markdown from previous guidance. By year end, Heard says the company will have earned only somewhere between $1.37 and $1.50 per share.
Long story short: If all goes as planned, Gibraltar's current stock price represents about a 22.8 times multiple on the best-case scenario for this year's profits -- and this in a company that's shrinking, not growing, earnings.
No wonder investors are dumping the stock.
10 stocks we like better than Gibraltar IndustriesWhen investing geniuses David and Tom Gardner have a stock tip, it can pay to listen. After all, the newsletter they have run for over a decade, Motley Fool Stock Advisor, has tripled the market.*
David and Tom just revealed what they believe are the 10 best stocks for investors to buy right now... and Gibraltar Industries wasn't one of them! That's right -- they think these 10 stocks are even better buys.
Click here to learn about these picks!
*Stock Advisor returns as of May 1, 2017
Rich Smith has no position in any stocks mentioned. The Motley Fool has no position in any of the stocks mentioned. The Motley Fool has a disclosure policy.