Why General Motors Is Building Its New Buick in China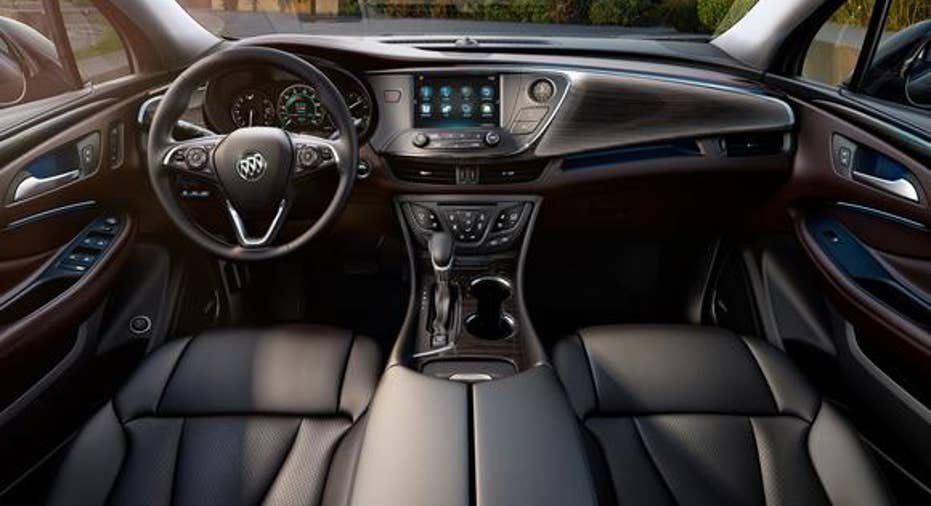 The 2017 Buick Envision will arrive at U.S. dealers next summer -- from China. Image source: General Motors.
General Motors made it official on Friday: The company will begin selling a new Buick SUV next summer -- and that new SUV will be made in China.
What's this new Buick?The new SUV will be the 2017 Buick Envision. It's a premium five-passenger crossover SUV that is expected to compete with models like the Acura RDX and Audi Q5. It's built on a new GM architecture that is shared with some other recent models, including the all-new 2015 Chevrolet Volt.
As with other recent Buicks, the Envision's interior is understated, but luxurious. Image source: General Motors
The Envision was introduced in China in late 2014, and it has been a strong seller, with just over 127,000 sold this year through November. It slots in between the small Buick Encore crossover and the larger Enclave in Buick's global SUV lineup. It's well-regarded by critics: Among other plaudits, it won Motor Trend's SUV of the Year award in China.
It should do well in the U.S., too. The Encore and Enclave together already account for about 60% of Buick's sales, suggesting than an in-between model has a good chance of catching on with Americans.
Why isn't GM building it in North America?GM hastened to point out on Friday that even though it won't be built here, the Envision was "designed, engineered, and tested in Michigan." Normally, a vehicle like the Envision would also be produced on an assembly line in North America, likely one that's shared with Chevrolet and GMC vehicles that share the same architecture and underpinnings.
But in this case, those vehicles don't exist yet. Upcoming new versions of the Chevy Equinox and GMC Terrain are expected to be close siblings (under the skin, at least) to the Envision. But they're still a year or two away, and GM isn't ready to spend the hundreds of millions of dollars required to set up the assembly line to produce them.
Another view of the 2017 Buick Envision. Image source: General Motors.
In the meantime, its Chinese factory has the capacity to produce enough Envisions for the U.S. -- and GM's U.S. Buick dealers would love to have the Envision to sell. Hence the decision to import Envisions from China.
It's possible (maybe even likely) that the Envision will be built here alongside its Chevy and GMC siblings when those two vehicles hit the market in a year or two. But for now, at least, the Envisions sold here will come from China.
Won't this upset people? Well, the United Auto Workers isn't happy about it. UAW vice president Cindy Estrada, who leads the union's negotiations with GM, released a sharp statement criticizing the move on Friday.
"Today's announcement by General Motors that they are importing the Envision from China is a slap in the face to U.S. Taxpayers and the men and women who worked so hard to save GM during its darkest time," she said. "General Motors continues to use the slogan, 'Build it where you sell it.' The Company should adhere to their own words and should reconsider this decision and place this product into one of their facilities in the United States."
Is this likely to be a problem for GM? I don't think so. If the Envision's quality is up to par -- and reports from China say that it's excellent -- then I think most American buyers will be happy to accept it. I also think that the UAW has probably known about GM's plans for a while, and that despite Estrada's sharp statement, it won't look to cause trouble over the Envision.
There will be grumbling from some folks who are still upset about GM's 2009 bailout. But GM probably figures, probably correctly, that those folks weren't planning on buying a Buick anyway.
Will it open the door to more Chinese-made cars in the U.S.?As of right now, no other U.S.-based automaker is known to be planning to import Chinese-made vehicles. But that could change. Some analysts have speculated thatFord could decide to import its next-generation Taurus sedan from China, for instance. (To be clear, Ford has not even hinted at that possibility. For now, it's just one of those things that might make sense on paper.)
So what does it mean?For GM, it's not just a way to get a profitable vehicle into its U.S. lineup quickly. It's also a trial balloon: How will Americans react to a Chinese-made GM product? If it's successful, it's possible that more Chinese-made vehicles could follow. But if so, it's likely that GM will stick with niche products: I don't see GM moving production of any of its big sellers to China anytime soon.
Long story short: Unless you're a Buick dealer or you're in the market for what looks like a pretty nice premium crossover SUV, GM's decision to import the Envision from China probably doesn't mean a whole lot -- at least in the near term.
The article Why General Motors Is Building Its New Buick in China originally appeared on Fool.com.
John Rosevear owns shares of Ford and General Motors. The Motley Fool recommends Ford and General Motors. Try any of our Foolish newsletter services free for 30 days. We Fools may not all hold the same opinions, but we all believe that considering a diverse range of insights makes us better investors. The Motley Fool has a disclosure policy.
Copyright 1995 - 2015 The Motley Fool, LLC. All rights reserved. The Motley Fool has a disclosure policy.