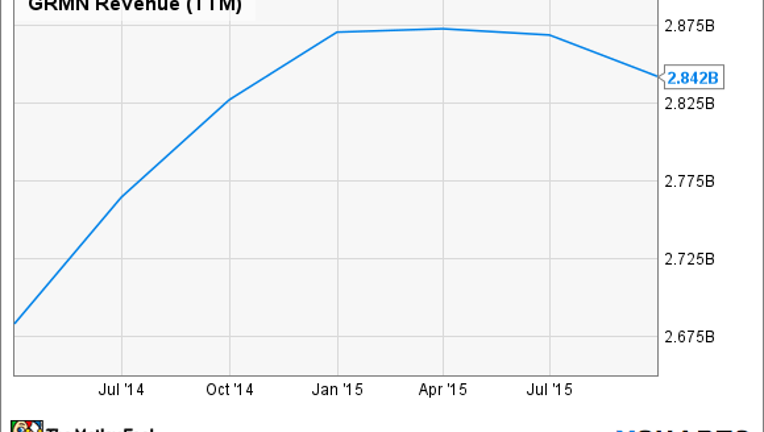 What: Shares of GPS company Garmin Ltd. fell 29.6% last year, according to S&P Capital IQ data, as the company transitions from GPS navigation for vehicles to personal electronics devices.
So what: Last year was a transformational year for Garmin and, on the surface, it didn't look like a good year for the company. You can see in the chart below that revenue declined in the second half of the year. That gives investors pause about what growth might look like in the future.
GRMN Revenue (TTM) data by YCharts.
Hidden within those numbers is a strong fitness segment that creates high-end watches and GPS devices for athletes. Fitness revenue grew 23% in the third quarter while auto products fell 14%, outdoor fell 5%, and aviation fell 5%. It's easy to understand why the auto business is in broad decline, as smartphones are taking the place of in-car navigation systems, but investors are nevertheless worried about how fast fitness will fill the void.
Now what: As someone who owns a Garmin watch and an Apple Watch, I can tell you that Garmin has a dominant position in the niche high-end sports market. An Apple Watch isn't anywhere close to being a device you would wear for a triathlon or as a golf-tracking device. Garmin fills that niche; for users it's an indispensable training tool. With the growth in fitness and Garmin's established position, I think the company has a bright future. For investors, shares trading at 12 times training earnings and paying a 5.5% dividend yield make this an attractive stock for 2016.
The article Why Garmin Ltd. Shares Plunged in 2015 originally appeared on Fool.com.
Travis Hoium owns shares of Apple. The Motley Fool owns shares of and recommends Apple. Try any of our Foolish newsletter services free for 30 days. We Fools may not all hold the same opinions, but we all believe that considering a diverse range of insights makes us better investors. The Motley Fool has a disclosure policy.
Copyright 1995 - 2016 The Motley Fool, LLC. All rights reserved. The Motley Fool has a disclosure policy.