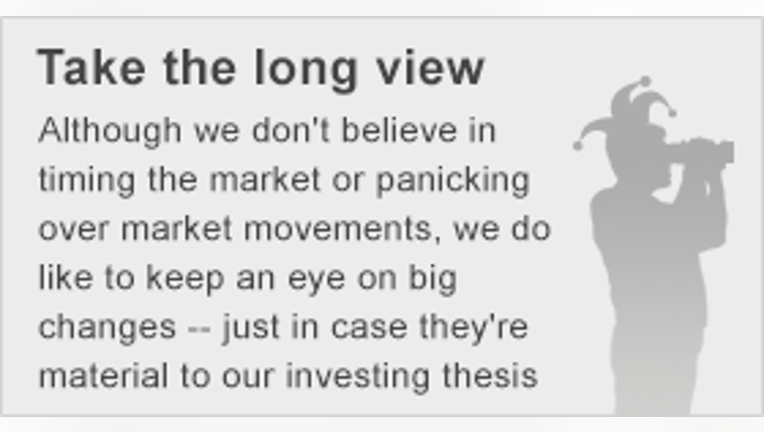 NeuVax is designed to train the immune system to attack tumor cells not killed by the initial treatment.Image source: Galena Biopharma.
What: Galena Biopharma ended Wednesday up 13% and is up a whopping 30% over the last two days after announcing that its clinical trial, dubbed PRESENT, has reached enough events to take an interim peek at the data. The trial is testing NeuVax, a peptide immunotherapy vaccine, in patients with breast cancer.
So what:You'd think the data must have been really good to see such a large increase, but we don't know that yet. Tuesday's announcement was just that there have been enough disease-free survivalevents -- defined as the breast cancer coming back or the patient dying (even if the cancer didn't return) -- to trigger the interim look at the data. Galena Biopharma still has to compile the data and hand it over to the trial's Independent Data Monitoring Committee. The company plans to announce the results of the analysis by the end of June.
The price is probably going up now because investors like to jump in ahead of binary events. However, investors should keep in mind that the interim look is set up to check for safety and futility -- whether the trial will be able to meet its endpoint. There's more downside to the interim look than upside.
Just ask Celldex Therapeutics' investors. Earlier this month, Celldex Therapeutics saidit was going to stop a trial testing its brain cancer vaccine Rintega because the interim look at the data showed it was unlikely the trial would demonstrate that the drug helped patients live longer if the trial went to completion. Celldex Therapeutics fell more than 50% on the day of the announcement.
Now what: Of course, if Galena Biopharma has the opposite result, and the Independent Data Monitoring Committee tells the company to continue the trial, investors might be more optimistic. Bijan Nejadnik, Galena's chief medical officer,called it a "de-risking event" on the company's fourth-quarter conference call, but keep in mind that "de-risking events" are sometimes also "sell-the-news events," especially after a large run-up in the stock price.
The article Why Galena Biopharma Inc PRESENTed a Higher Stock Price originally appeared on Fool.com.
Brian Orelli has no position in any stocks mentioned. The Motley Fool recommends Celldex Therapeutics. Try any of our Foolish newsletter services free for 30 days. We Fools may not all hold the same opinions, but we all believe that considering a diverse range of insights makes us better investors. The Motley Fool has a disclosure policy.
Copyright 1995 - 2016 The Motley Fool, LLC. All rights reserved. The Motley Fool has a disclosure policy.