Why G-III Apparel Group, Ltd. Stock Spiked 17% Last Month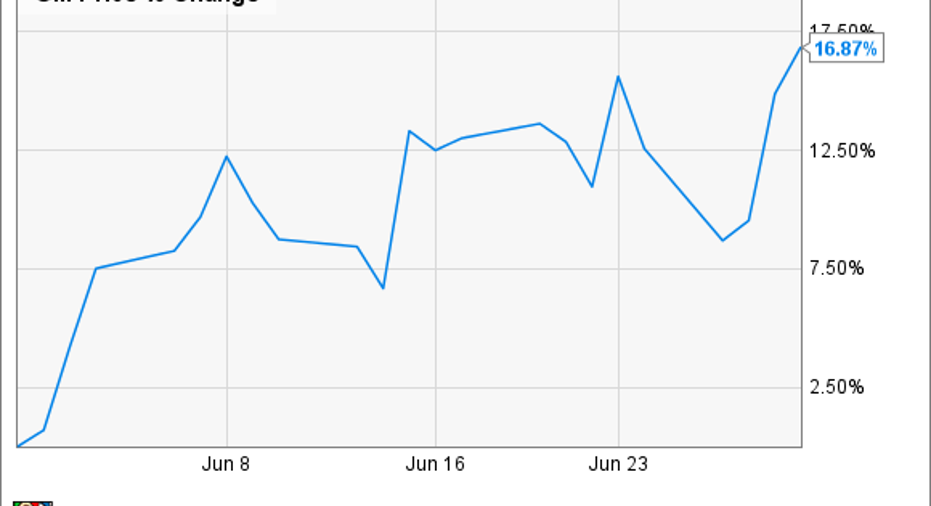 Image Source: G-III Apparel.
What:Shares ofG-III Apparel jumped 17% last month according to data from S&P Global Market Intelligence, propelled by a strong earnings report at the beginning of the month, as the chart below shows.
So what:The licensed apparel maker breezed past earnings estimates of $0.02, posting a profit of $0.06. CEO Morris Goldfarb said 2016 got off to a strong start in the wholesale business, particularly with Calvin Klein products, but he acknowledged weakness on the retail side.
Revenue increased 6% to $457.4 million, but that was short of estimates of $475.3 million. G-III, which licenses brands such as Calvin Klein, Tommy Hilfiger, Dockers, and many others, is highly dependent on department stores, which have struggled recently. Still, Goldfarb noted that the company had strong sell-through performance at such retailers.
Now what:G-III reiterated its guidance for fiscal 2017, projecting revenue of $2.56 billion and EPS of $2.55-$2.65, a modest improvement over revenue of $2.34 billion and EPS of $2.46 last year. That forecast is essentially in line with the analyst consensus calling for revenue at $2.55 billion and EPS of $2.58.
The stock's surge last month may be surprising considering the weak sales figure and guidance in line with expectations, but G-III has fallen considerably since last summer, and is still down nearly 40% from its peak. Investors seem to have accounted for the woes in the department sector, and were encouraged by the strong bottom-line results in spite of slow sales. Still, challenges in the sector are likely to remain,, which could present problems over the rest of the year.
The article Why G-III Apparel Group, Ltd. Stock Spiked 17% Last Month originally appeared on Fool.com.
Jeremy Bowman has no position in any stocks mentioned. The Motley Fool has no position in any of the stocks mentioned. Try any of our Foolish newsletter services free for 30 days. We Fools may not all hold the same opinions, but we all believe that considering a diverse range of insights makes us better investors. The Motley Fool has a disclosure policy.
Copyright 1995 - 2016 The Motley Fool, LLC. All rights reserved. The Motley Fool has a disclosure policy.