Why Frontier Communications, Nike, and Sirius XM Slumped Today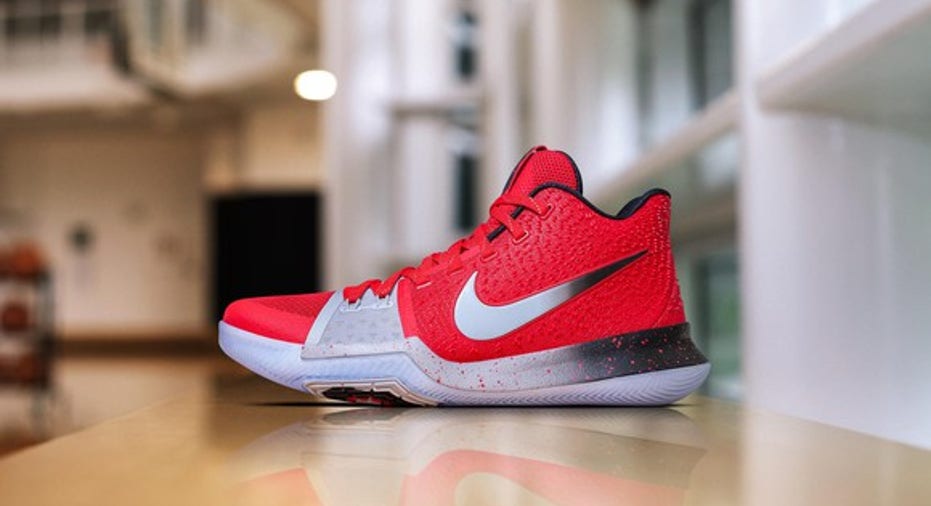 Following the stock market's most painful decline in over six months yesterday given concerns over Treasury rates and legislative roadblocks to the U.S. presidential administration's attempts to push through new pro-growth policies, stocks enjoyed a modest rebound on Wednesday. TheS&P 500andNasdaqindexes rose roughly 0.2% and 0.5%, respectively, while theDow Jones Industrial Averagefell just a few points.
But as always, a few individual companies bucked the largely positive trend, includingNike (NYSE: NKE), Frontier Communications (NASDAQ: FTR),andSirius XM (NASDAQ: SIRI). Read on to see what drove their declines today.
Nike's new Kyrie 3 PE shoe. Image source: Nike.
Nike endures a tough market
The primary culprit of the Dow's decline today was a disappointing quarterly report that drove shares of longtime index component Nike down more than 7%. More specifically, Nike saw revenue in its latest quarter climb 5% year over year, to $8.432 billion -- just below the $8.47 billion investors were expecting -- while earnings per share rose a healthier 23.6% with the help of cost controls and share repurchases.
Within Nike's total, revenue in North America climbed only 3%, to $3.782 billion. To blame, according to Nike CEO Mark Parker, are changing consumer patterns and a difficult retail environment that has hurt traffic, the economics of its brick-and-mortar business, creating a "more promotional environment in the near term."
To be fair, Nike views these headwinds as a chance to further establish its dominance with its digital initiatives and product innovation. But in the meantime, the company expects current-quarter revenue to increase at a rate slightly below the 5% growth it achieved last quarter -- again significantly below the 7.4% growth Wall Street was modeling.
Frontier gets a downgrade
Frontier Communications stock fell 10.6% after Goldman Sachs analyst Brett Feldman downgraded shares from to sell from neutral. Feldman also reduced his price target on Frontier from $3.00 to $1.50.
To justify his renewed bearishness, Feldman expressed concern that Frontier's "weakening fundamentals" may cause the company to voluntarily suspend its dividend after its impending first-quarter payment. This would allow Frontier Communications to deleverage its balance sheet and improve liquidity in order to repay maturing debt in the coming years. Given the fact Frontier's dividend currently yields an uncomfortably high 19.9% after the drop, the move wouldn't be entirely surprising.
One analyst put Sirius XM on mute
Finally, shares of Sirius XM fell 1.8% as Barclays analyst Kannan Venkateshwar reduced its rating on the satellite radio specialist to "equal weight" from "overweight." The analyst also assigned a price target of $4.90 per share (shares closed today at $5.10).
Venkateshwar fairly noted that Sirius XM has handily outperformed the broader market over the past year and half. Most recently, he said, that outperformance was extended thanks to a combination ofBerkshire Hathaway increasing its stake in the company, spurned rumors of its potential interest in acquiring streaming media competitorPandora Media, and the potential value of SiriusXM's connected car business following Intel's recent acquisition of self-driving vehicle technology company Mobileye.
Given this vote for caution and with shares of SiriusXM still up nearly 30% over the past year alone, it's hard to blame investors for taking some of their profits off the table today.
Offer from The Motley Fool: The 10 best stocks to buy nowMotley Fool co-founders Tom and David Gardner have spent more than a decade beating the market. In fact, the newsletter they run, Motley Fool Stock Advisor, has tripled the S&P 500!*
Tom and David just revealed their ten top stock picks for investors to buy right now.
Click here to get access to the full list!
*Stock Advisor returns as of 1/30/2017.
Steve Symington has no position in any stocks mentioned. The Motley Fool owns shares of and recommends Berkshire Hathaway (B shares) and Nike. The Motley Fool recommends Intel. The Motley Fool has a disclosure policy.