Why Fossil Group, TASER International, and SodaStream Jumped Today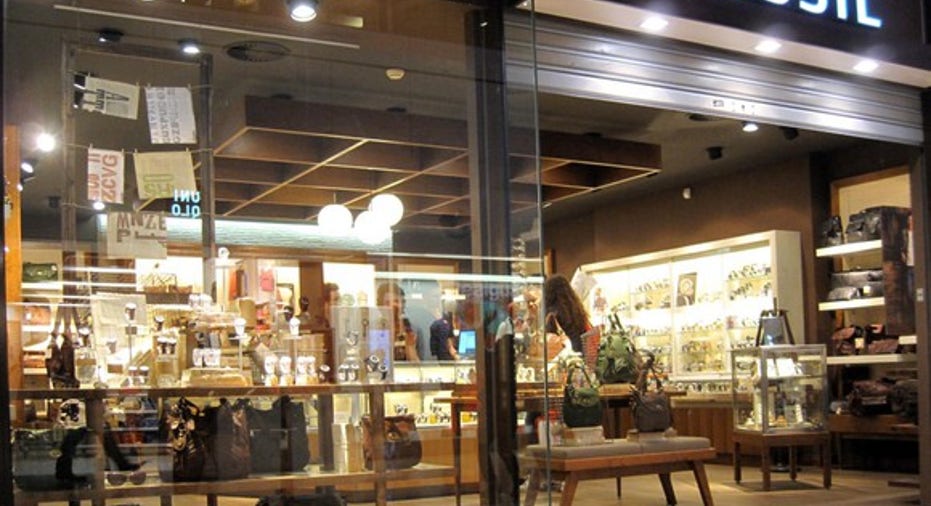 The stock market continued to gain ground on Thursday, with the prospect for a smooth and orderly transition of power in the U.S. appearing to be increasingly certain. Moreover, investors turned their attention back toward earnings season, and several companies within the market posted solid results that boosted their share prices. Some of the best performers were Fossil Group (NASDAQ: FOSL), TASER International (NASDAQ: TASR), and SodaStream (NASDAQ: SODA). Below, we'll look more closely at these stocks to tell you why they did so well.
Image source: Fossil.
Fossil earns positive comments from the Other Oracle of Omaha
Fossil Group jumped 11% after the watchmaker became the subject of positive commentary from Wally Weitz, who runs the Omaha-based Weitz Investment Management and is a prominent investment advisor. Fossil was featured in Weitz's Hickory Fund quarterly commentary as one of the primary detractors from performance so far in 2016, but Weitz believes that even though the watchmaker might continue to do poorly for the rest of the year, Fossil's launches of wearable products should help it rebound in 2017. If Fossil's work to reach out across the retail and e-commerce worlds and broaden its exposure pay off, then the stock has plenty of room to gain further next year.
TASER sees lightning-fast growth
TASER International was up 13% in the wake of its third-quarter financial report. The maker of stun guns said that net sales soared by 43% during the quarter, with solid gains in its namesake weapons segment but even faster growth in sales of its Axon body-warn law enforcement cameras. TASER said that more than half of the 68 major city law enforcement agencies in the U.S. had purchased either cameras or its digital evidence management system, showing the extent to which the company has diversified its business from its past focus on stun guns. Looking forward, with many expecting greater emphasis on security and law enforcement domestically in 2017 and beyond, TASER is well positioned to benefit from prevailing trends.
SodaStream fizzes higher
Finally, SodaStream jumped 16%. The maker of home-carbonation systems released its third-quarter financial report Thursday morning, and results included a solid 13% gain in revenue and a tripling of net income from the year-ago period. Sales of its home carbonators hit their highest level in nearly two years, with the company selling 788,000 units. Having moved away from marketing the ability to make flavored soda and instead toward sparkling water as an end in itself has apparently been a smart move, and a record-high 7.7 million gas-canister refills point to increased use among its customers. With falling sales and marketing costs and lower overhead expenses, SodaStream made the most of its profit opportunities during the quarter.
10 stocks we like better than Fossil When investing geniuses David and Tom Gardner have a stock tip, it can pay to listen. After all, the newsletter they have run for over a decade, Motley Fool Stock Advisor, has tripled the market.*
David and Tom just revealed what they believe are the ten best stocks for investors to buy right now... and Fossil wasn't one of them! That's right -- they think these 10 stocks are even better buys.
Click here to learn about these picks!
*Stock Advisor returns as of November 7, 2016
Dan Caplinger has no position in any stocks mentioned. The Motley Fool owns shares of SodaStream. The Motley Fool recommends Fossil and Taser International. Try any of our Foolish newsletter services free for 30 days. We Fools may not all hold the same opinions, but we all believe that considering a diverse range of insights makes us better investors. The Motley Fool has a disclosure policy.