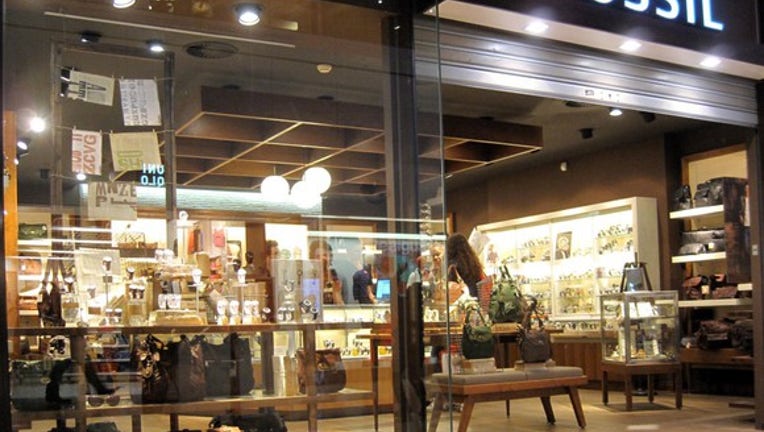 The stock market was mixed on Wednesday, with the Nasdaq Composite continuing to gain ground even as the Dow and S&P 500 posted modest declines. Flat industrial production and prices at the producer level threw cold water on investor expectations for stronger economic growth, and a decline in mortgage applications reflected the recent jump in interest rates. Yet some stocks still managed to post solid gains, and Fossil Group (NASDAQ: FOSL), Advanced Micro Devices (NASDAQ: AMD), and Danaos (NYSE: DAC) were among the best performers on the day. Below, we'll look more closely at these stocks to tell you why they did so well.
Image source: Fossil Group.
Fossil gets an upgrade
Fossil Group climbed 8% after receiving an upgrade from analysts at KeyBanc Capital Markets. The analyst company hinged its positive call on the watchmaker on Fossil's initiatives to continue building up its presence in the market for wearable devices. The upgrade, which took Fossil from underweight to overweight, asserts that Fossil is ready to turn around what has been a long period of falling earnings, and early reports suggest that some of its higher-end wearable devices are satisfying shoppers. Given how much the stock has suffered, many believe that Fossil has great turnaround potential if it can find a way to tap into its brand value more effectively. Wearables might be exactly that opportunity going forward.
AMD climbs into the cloud
Advanced Micro Devices was up 10% in the wake of news that a key server graphics processing unit would become part of the cloud platform that Google offers to its customers. AMD has had recent success in the gaming console space, but its ability to break into the cloud computing market has been more limited, and AMD's primary rival has been far more successful in working its way into data centers for cloud computing applications in the past. With the move, however, AMD will start seeing its FirePro S9300 x2 server GPU show up in certain Google services, and investors hope that the exposure will be a game-changer for Advanced Micro in its competitive efforts against its closest GPU rivals. Investors will want to keep a close eye on AMD to see if the reality of this move lives up to the hype that today's stock-price advance suggests.
Danaos rides the shipping wave higher
Finally, Danaos gained 9%. The shipping company was just one of many companies in the industry that posted sharp advances, with DryShips in particular having halted trading of its stock in light of massive increases in its share price. In the wake of competitor Hanjin Shipping's bankruptcy, Danaos and its peers faced investor concerns about overcapacity in the market. Yet an increase in the Baltic Dry Index has raised prospects for dry-bulk shipping companies, and for whatever reason, some investors seem to believe that after such a long period of rock-bottom shipping rates, a recovery could help lift the entire industry higher -- even for container-focused ships like the ones that Danaos specializes in operating. That remains to be seen, but for now, the sector is locked in a frenzied run-up that could eventually crash back down to earth as fast as it gained.
Forget the 2016 Election: 10 stocks we like better than Fossil Donald Trump was just elected president, and volatility is up. But here's why you should ignore the election:
Investing geniuses Tom and David Gardner have spent a long time beating the market no matter who's in the White House. In fact, the newsletter they have run for over a decade, Motley Fool Stock Advisor, has tripled the market.*
David and Tom just revealed what they believe are the ten best stocks for investors to buy right now... and Fossil wasn't one of them! That's right -- they think these 10 stocks are even better buys.
Click here to learn about these picks!
*Stock Advisor returns as of November 7, 2016
Dan Caplinger has no position in any stocks mentioned. The Motley Fool recommends Fossil. Try any of our Foolish newsletter services free for 30 days. We Fools may not all hold the same opinions, but we all believe that considering a diverse range of insights makes us better investors. The Motley Fool has a disclosure policy.