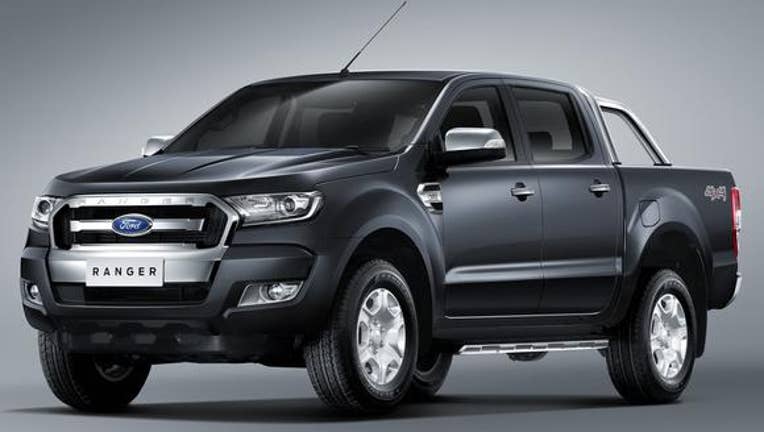 The Ford Focus is currently built at this factory in Wayne, Michigan. But it could be moving to a brand-new Ford factory in Mexico. Image source: Ford Motor Company.
Ford Motor Company said on Tuesday that it will spend $1.6 billion to construct a brand-new factory to build small cars -- in Mexico.
What Ford said: Ford's announcement didn't give a lot of details. It said that the new factory will be sited somewhere in San Luis Potos, a state in north-central Mexico, as reported by The Wall Street Journal earlier this year. Ford said that the new factory will begin to produce "small cars" in 2018, and that it will create 2,800 new jobs by 2020.
Ford said that the new Mexican factory won't affect jobs in the United States. The Blue Oval has hired about 25,000 new workers in the U.S. over the last five years. The new plant will be the first new Ford factory in North America since 1986, when the company opened its plant in Hermosillo, Mexico.
Ford is positioning the move as a way to boost the profitability of its small cars. Construction of the factory will begin this summer.
What Ford didn't say: The claim that the new factory won't affect U.S. jobs is almost certainly true. Ford didn't say what vehicles would be built at this new plant, but your humble Fool's educated guess is that it will produce the next-generation Focus and C-Max. That may sound like Ford is moving jobs out of the United States, but hang on.
The Focus and C-Max are currently built at Ford's Michigan Assembly Plant in Wayne, Michigan. Slumping sales of compact cars have left that factory running at less than full capacity, while other Ford factories making trucks and SUVs are running flat-out. Ford said in July that the next-generation versions of the Focus and C-Max will be built at a different factory outside of the United States.
Ford hasn't yet said what it will do with the Michigan factory -- and that silence has led to some harrumphing from a certain orange-hued presidential candidate, as well as some serious concerns from the United Auto Workers. The UAW released a terse statement on Tuesday calling Ford's announcement "a disappointment and very troubling" and "another example of what's wrong with NAFTA," the North American Free Trade Agreement.
Analysts expect Ford to start building a new version of its midsize Ranger pickup at the Michigan Assembly Plant in 2018, after the Focus and C-Max move elsewhere. Image source: Ford Motor Company.
It is, however, widely believed that the reason Ford is moving its compact-car production to Mexico is to use the Michigan plant to build more popular and profitable products. Specifically, it's widely expected that the factory will start building a new midsize Ranger pickup, a new Ranger-based SUV to be called the Bronco, and possibly a version of the truck-based Everest SUV that Ford sells in many overseas markets.
Those new products should keep the existing workers atMichigan Assembly quite busy. In fact, demand for the new Ranger and its SUV siblings may well lead Ford to add more shifts at the Michigan plant, whichwould be a net win for the UAW.
What's next for Ford: The Blue Oval's plan to move production of the Focus and C-Max to Mexico and repurpose the Michigan Assembly Plant has been unfolding in slow motion for nearly a year now. The next steps for Ford would be to announce what will be built at the new factory and to reveal whatever it is that it plans to build at Michigan Assembly starting in 2018.
The Ford Everest is a Ranger-based SUV sold in many world markets. It has won high praise from off-road enthusiasts in places like Australia. Ford could be planning to bring it to the United States to compete with vehicles like Jeep's Grand Cherokee. Image source: Ford Motor Company.
My sense is that a new Ford Ranger would be very happily received by fans of the Blue Oval, and new truck-based SUVs with strong offload capabilities would also likely be strong sellers. But we'll probably have to wait until next year's auto-show season to find out exactly what Ford has in mind. Stay tuned.
The article Why Ford's New Factory in Mexico Won't Mean Lost U.S. Jobs originally appeared on Fool.com.
John Rosevear owns shares of Ford. The Motley Fool owns shares of and recommends Ford. Try any of our Foolish newsletter services free for 30 days. We Fools may not all hold the same opinions, but we all believe that considering a diverse range of insights makes us better investors. The Motley Fool has a disclosure policy.
Copyright 1995 - 2016 The Motley Fool, LLC. All rights reserved. The Motley Fool has a disclosure policy.