Why Ford's Latest Pickup Truck Could Squeeze Its 2016 Profits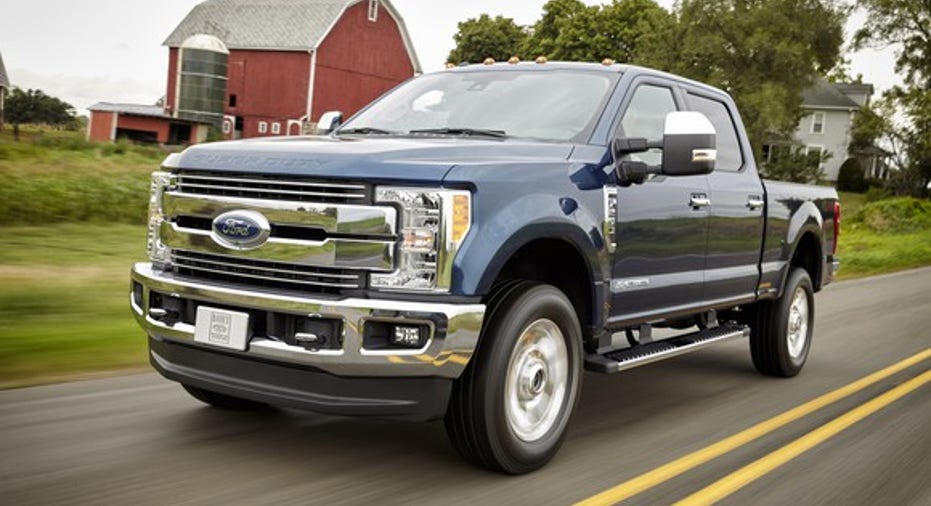 The launch of the new-for-2017 Super Duty pickups could squeeze Ford's results in the second half. But the Blue Oval should be able to make up any lost ground next year. Image source: Ford Motor Company.
Ford Motor Company's (NYSE: F) profit in the first quarter was more than double its result from a year ago. On a pre-tax basis, the Blue Oval earned $3.8 billion in the quarter, versus just $1.7 billion a year ago. In large part, that big jump was powered by a $3.1 billion profit in Ford's North America region, nearly double the $1.6 billion it earned in the first quarter of last year, and with an outstanding pre-tax profit margin of 12.9%.
That was a huge leap. But Ford's full-year guidance calls for its pre-tax profit in North America for the full year to be roughly equal to the $9.3 billion it booked least year.
We're one quarter into 2016, and Ford is already way ahead of last year's results in North America. Does that mean that the rest of the year isn't going to look so hot for the Blue Oval in North America?
Why Ford is being careful about expectations for the second half of 2016 That question was on the minds of several analysts during Ford's first-quarter earrings call. But there's a good reason for Ford's caution.
Ford CFO Bob Shanks explained that the Blue Oval is being conservative with its guidance in large part because it has a major new product launch coming up later this year: All-new 2017 Super Duty pickups.
The Super Duty models are part of Ford's F-Series lineup, the heavy-duty siblings of the hot-selling F-150. They account for roughly 30% of total F-Series sales, and they're significant contributors to Ford's bottom line in North America.
That makes them a big deal, and that makes this year's launch of the all-new models a significant event for the Blue Oval and its shareholders.
Ford: This won't be as disruptive as the F-150 launchAll that said, the good news is that Ford doesn't expect the Super Duty launch to be nearly as disruptive as the launch of the new-for-2015 F-150.
That launch was a major effort. Each of the two factories that make the F-150 had to be closed for about 12 weeks for drastic changes. The tools and processes used to manufacture the new F-150, which has aluminum body panels, were different enough from the tools and methods used to make its steel-bodied predecessor that major portions of the two factories had to be gutted and rebuilt.
The upshot was that supplies of F-150s (old and new) were tight for months, and Ford's full-size pickup sales (and its profits in North America) lagged while it worked its way through the launch. The good news for shareholders was that Ford's guidance had anticipated the disruption-- and Ford was able to make up the lost ground once its factories were back up to full speed.
While the new Super Duty trucks also feature aluminum body panels, Ford has already made some of the factory changes necessary to build it -- without having to disrupt production of the current Super Duty models. That, and its ability to apply lessons learned from the F-150 changeovers, mean that Ford expects to get through the transition with much less disruption than it experienced with the F-150.
The upshot: An investment in 2016 that should pay off next year The upshot is that Super Duty sales (and thus overall F-Series sales) might be a bit tight in the second half of 2016. That might squeeze Ford's bottom line in North America a bit before the year end.
But as Shanks has repeatedly noted, the new-for-2017 Super Duty is expected to be a more profitable product than its predecessor -- meaning that Ford's results in 2017, once its production lines are back up to full speed, should more than make up for any squeezing that happens later this year.
The article Why Ford's Latest Pickup Truck Could Squeeze Its 2016 Profits originally appeared on Fool.com.
John Rosevear owns shares of Ford. The Motley Fool owns shares of and recommends Ford. Try any of our Foolish newsletter services free for 30 days. We Fools may not all hold the same opinions, but we all believe that considering a diverse range of insights makes us better investors. The Motley Fool has a disclosure policy.
Copyright 1995 - 2016 The Motley Fool, LLC. All rights reserved. The Motley Fool has a disclosure policy.