Why Ford's CEO Thinks Profits Will Dip in 2017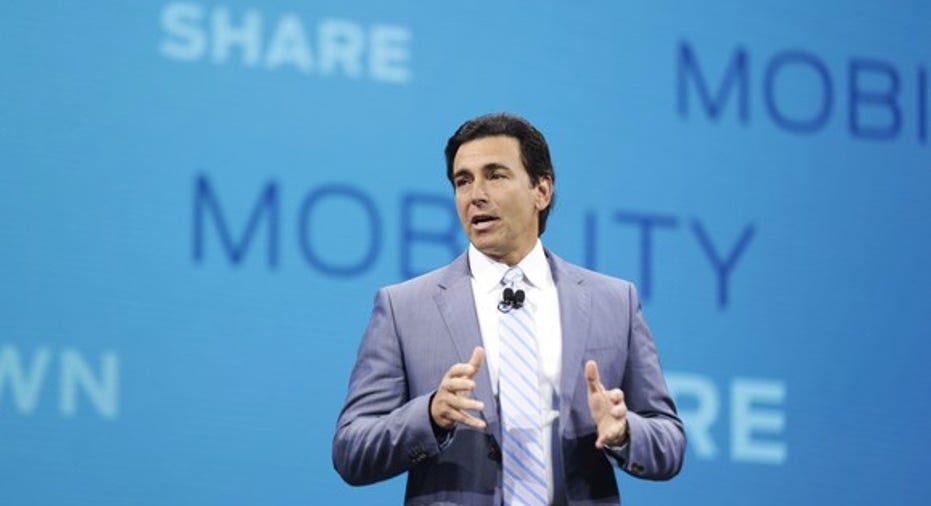 Ford Motor Company (NYSE: F) expects its profit to dip a bit in 2017 as it makes some big investments for the future. But it expects its profit to recover -- and then some -- in 2018 and beyond.
That was the key takeaway in Ford's 2017 guidance, as delivered by CEO Mark Fields in a presentation to investors on Tuesday. Here's what else Ford shareholders can expect this year.
Ford CEO Mark Fields on stage at the North American International Auto Show in Detroit on Monday. Image source: Ford Motor Company.
Why Fields expects Ford's profit to dip this year
Ford's outlook for 2017 starts with its view on the prospects for the worldwide new-vehicle market. Fields said that the Blue Oval expects total industrywide sales around the world (including medium and heavy trucks) to grow to 93.1 million vehicles from 91.2 million in 2016. But it believes that total industry sales in the highly profitable U.S. market are likely to slip slightly from 2016's record levels.
That slip in the U.S., plus Ford's ramp-up of investments, means that its total company profit is likely to dip a bit from the roughly $10.2 billion it expects to report for 2016 later this month.
Image source: Ford Motor Company.
Fields said that Ford expects its pre-tax profit to fall largely because of rising costs (including those investments) and unfavorable exchange-rate movements, primarily those linked to Britain's decision to exit the European Union.
But he emphasized that a significant portion of the change in pre-tax profit would be driven by investments in "emerging opportunities," including self-driving research, new electric and hybrid models, alternative "mobility" opportunities such as Ford's new Chariot shuttle service, and the "big data" infrastructure required to support them.
Image source: Ford Motor Company. YoY = year-over-year; "PBT" = profit before tax.
As in most years, the bulk of Ford's spending in 2017 will be related to its ongoing development and production of vehicles. Ford has 11 global product launches planned for 2017, Fields said, including revamped versions of the F-150 and the small EcoSport SUV; that will mean an increase in spending over 2016. But Ford expects to offset much of that added spending via about $3 billion in cost reductions driven by changes to some of its smaller models.
Fields attributes much of the cost increase over and above that $3 billion in savings to those "emerging opportunities."
Image source: Ford Motor Company.
Ford's guidance for its individual business units
In North America, where Ford generates the bulk of its profits, lower sales volumes and rising commodity prices will mean lower pre-tax profits in 2017 versus 2016.
Ford has taken huge losses in South America over the last several quarters. But It expects things to improve in 2017 versus 2016, thanks to higher sales volumes and somewhat stronger pricing.
In Europe, Brexit exchange-rate effects and rising costs will lead to a lower profit than the (likely record) 2016 result. But those costs will be offset somewhat by improved pricing, as Ford's European customers continue to select well-optioned models.
Image source: Ford Motor Company.
Results will improve in 2017 for Ford's tiny-but-growing Middle East and Africa unit, as cost improvements and favorable exchange-rate shifts offset a likely year-over-year decline in sales volumes.
Ford's Asia Pacific unit includes its huge operation in China. Sales volumes remain very strong in China, but pricing came under pressure in 2016 as domestic Chinese automakers became more competitive at the lower end of the market, particularly in SUVs. Cost improvements and rising sales should generate an improvement over 2016's (good) results, Fields said.
Ford Credit, the Blue Oval's in-house bank, will see profit decline in 2017 because of falling "residual values." Translation: A jump in the number of just-off-lease vehicles coming onto the used-car market (industrywide) means that values are falling, so Ford Credit expects to get less for its own just-off-lease vehicles this year.
The upshot: No big surprises here
The good news is that Fields and his team are taking strong steps to position Ford well for the technological transformations that are coming to the industry. Also good news: Investments in 2017 should lead to even better profits in 2018 and beyond.
But Ford has been saying for a few months now that its ongoing transformation into "an automotive and mobility company" would require some heavy investments, particularly in 2017. It's no surprise to see that idea confirmed in its formal guidance, and it's not something that should trouble long-term shareholders.
10 stocks we like better than Ford When investing geniuses David and Tom Gardner have a stock tip, it can pay to listen. After all, the newsletter they have run for over a decade, Motley Fool Stock Advisor, has tripled the market.*
David and Tom just revealed what they believe are the 10 best stocks for investors to buy right now... and Ford wasn't one of them! That's right -- they think these 10 stocks are even better buys.
Click here to learn about these picks!
*Stock Advisor returns as of January 4, 2017
John Rosevear owns shares of Ford. The Motley Fool owns shares of and recommends Ford. The Motley Fool has a disclosure policy.