Why Ford Motor Company Is Finally Bringing Back the Ranger and Bronco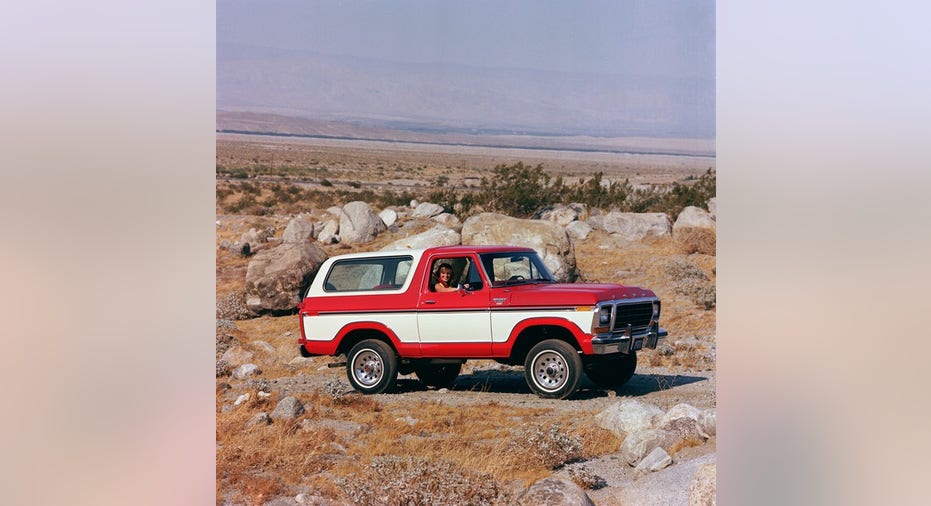 Ford Motor Company (NYSE: F) made headlines this past week with a not-so-surprising announcement: The midsize Ranger pickup and an all-new Bronco SUV are coming to the United States in a couple of years.
I say "not-so-surprising" because we've been hearing hints for over a year now that these iconic products would return. But now that it's official, we can ask: Why now?
The 2019 Ford Ranger will probably be just what you expect
Ford discontinued the Ranger in the U.S. in 2011, partly out of fears that it would cannibalize sales from the larger (and at the time, more profitable) F-150. But the company continues to sell the Ranger in other markets around the world, and Ford executives say that market research conducted more recently helped to change their minds about selling it in the United States as well.
A 2016 Ford Ranger as sold in Great Britain. Image source: Ford Motor Company.
In that research, Ford found that potential Ranger customers weren't interested in the midsize truck just because an F-150 seemed a little too big or thirsty. It's because they specifically wanted the smaller pickup.
After pondering that, as well as the decline in gas prices, slipping compact-car sales, and probably the success of the midsize Chevrolet Colorado and GMC Canyon introduced by General Motors (NYSE: GM) in 2015, Ford decided that it would retool its Michigan Assembly Plant near Detroit to make the Ranger starting late next year.
The 2016 Ford Ranger's interior. Expect a new design for theupcoming U.S. model. Image source: Ford Motor Company.
That Ranger will be an all-new version of the truck currently sold in Europe, Asia, Australia, and some other markets. In 4x4 trim, that Ranger gets high marks for its off-road prowess -- and it's a safe bet that off-road ability will be a key selling point for the upcoming new U.S. Ranger as well.
The 2020 Ford Bronco will be all-new -- but definitely a Bronco
Off-road ability will also be a key selling point of the new Bronco, which will arrive about a year after the Ranger's late-2018 launch. Ford global product chief Raj Nair confirmed to me that the Bronco will be an all-new model based on the Ranger's chassis, with new styling that nods to the Bronco's heritage -- and it'll be sold around the world, not just in the United States. Strong ongoing demand for SUVs make it a good time to bring the Bronco back.
(Nair also confirmed to me that the new Bronco won't be based on the Everest, a Ranger-based SUV that Ford sells now in Australia, China, and some other places. I had speculated last week that the Bronco might turn out to be an Americanized Everest, but Nair was clear: It will be an all-new vehicle much more in line with Ford Broncos of decades past. As of now at least, there are no plans to sell the Everest in the U.S.)
This 1978 Ford Bronco shows the classic design format: a two-door 4x4 SUV. Image source: Ford Motor Company.
My sense from conversations with Nair and other senior Ford executives this past week is that Ford hopes the new Bronco will find an enthusiast following along the lines of the one that Fiat Chrysler Automobiles' iconic Jeep Wrangler enjoys. Historically, the Bronco was a two-door SUV with four-wheel drive that was marketed as an alternative to Jeeps and similar vehicles.
It's not clear (at least to me) whether the new Bronco will keep the historic two-door format or move to a more practical four-door design. But it is clear that Ford hopes to bring the essence of those old Broncos to the new product.
That probably means a vehicle marketed to the same audience that buys Wranglers, GMC Canyons, Toyota Tacomas, and similar models: Outdoorsy enthusiasts seeking a vehicle that's practical for everyday use, but that also has strong off-road abilities. Ford will probably offer the Bronco (and the Ranger) in several different trims, including high-end models loaded with advanced electronic safety and convenience features. It's a safe bet that they'll bothbe quite profitable.
The upshot: The new models are good news for Ford fans -- and for U.S. Ford workers, too
Ford's Michigan Assembly Plant currently makes the compact Focus and the C-Max Hybrid, two models that haven't been helped by low gas prices and a broad shift in buyer preferences away from sedans and toward SUVs.
Despite the cancellation of a planned new Mexican factory earlier this month, Ford still plans to move Focus production to Mexico. The C-Max will probably be discontinued, which will leave Michigan Assembly free to build the new Ranger and Bronco. Unless gas prices skyrocket over the next couple of years, it's a safe bet that the Ranger and Bronco will keep that factory quite busy (and quite profitable) once they're in production.
10 stocks we like better than Ford Motor Company When investing geniuses David and Tom Gardner have a stock tip, it can pay to listen. After all, the newsletter they have run for over a decade, Motley Fool Stock Advisor, has tripled the market.*
David and Tom just revealed what they believe are the 10 best stocks for investors to buy right now... and Ford wasn't one of them! That's right -- they think these 10 stocks are even better buys.
Click here to learn about these picks!
*Stock Advisor returns as of January 4, 2017
John Rosevear owns shares of Ford and General Motors. The Motley Fool owns shares of and recommends Ford. The Motley Fool recommends General Motors. The Motley Fool has a disclosure policy.