Why Ford is Spending $1 Billion on a Tiny Self-Driving Start-Up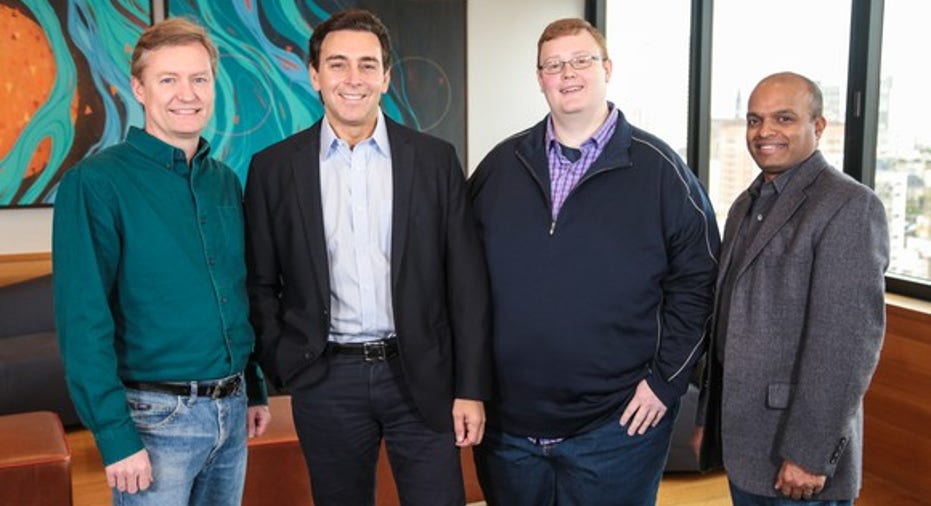 Ford Motor Company (NYSE: F) announced on Friday that it is acquiring a majority stake in artificial-intelligence start-up Argo AI for $1 billion, to be paid over five years.
What is Argo AI?
Argo AI is a new company, founded late last year by CEO Bryan Salesky and COO Peter Rander. Both are big names in self-driving circles: Salesky was the head of hardware at Alphabet's (NASDAQ: GOOG) (NASDAQ: GOOGL) Waymo unit (formerly known as the Google Self-Driving Car Project); Rander was a top engineer in Uber Technologies' autonomous-vehicle division. Both were previously at the robotics institute at Carnegie Mellon University, where they worked on artificial-intelligence (AI) technology.
The plan for Argo AI is to use the founders' expertise in AI to develop autonomous-vehicle software. The company is headquartered in Pittsburgh. It's small now, but it expects to have more than 200 employees by the end of 2017.
Argo COO Peter Rander (left), Ford CEO Mark Fields, Argo CEO Brian Salesky, and Ford CTO Raj Nair. Image source: Ford Motor Company.
What Ford said about the deal
Ford said that Argo AI "is bringing together some of the most experienced roboticists and engineers working in autonomy from inside and outside of Ford." An existing Ford team that has been working on what Ford calls its "virtual driver system," the brain of an autonomous vehicle, will become part of Argo AI.
While Ford will continue to develop its self-driving hardware in-house, it appears that Argo AI will be responsible for much of the software development. That software could be licensed to other companies, CEO Mark Fields said, and it's possible that Argo AI will go public at some point.
"The next decade will be defined by the automation of the automobile, and autonomous vehicles will have as significant an impact on society as Ford's moving assembly line did 100 years ago," Fields said. "As Ford expands to be an auto and a mobility company, we believe that investing in Argo AI will create significant value for our shareholders by strengthening Ford's leadership in bringing self-driving vehicles to market in the near term and by creating technology that could be licensed to others in the future."
Ford will hold a majority stake in the new company. Fields wouldn't say exactly what Ford's ownership percentage will be, but he did say that it was gauged to leave plenty of room to provide equity compensation to new employees.
Ford's global product chief and CTO, Raj Nair, and group vice president of global strategy, John Casesa, will hold two of the five seats on Argo AI's board. Salesky and Rander will hold two more, and the fifth will go to an independent director to be named later.
Investors, take note: Fields said that Argo AI's spending and results will be consolidated into Ford's automotive financial results, primarily in the North America region.
What this deal is really about
Here's how I'm thinking about this deal: Ford just hired two rock stars in AI and autonomous vehicles, put them in charge of its self-driving software team, and structured the whole thing to give the team members -- and very importantly, future hires, in a field in which the competition for talent is fierce -- the upside of a start-up with lower risk, because Ford's investment has essentially capitalized the company and Ford will be its first customer. It's an intriguing idea; it could turn out to be a brilliant one.
During a conference call for analysts and media, Salesky emphasized that the structure of what he called the "collaboration" between Argo AI and Ford would help recruiting: New hires (and Ford's existing virtual-driver team) will go to work for a start-up with significant potential upside, not (directly, at least) for giant Ford.
And while it's a start-up, Ford's involvement means that new hires can be assured that Argo AI has both solid funding and a major customer. The combination of relatively low risk with high potential upside should make for a potent recruiting tool in a field where the competition for talent has been extremely fierce.
The upshot: An intriguing move to boost Ford's technology push
For Ford, this is a way to bring some deep AI expertise into its self-driving development project, structured in a way that will help boost its recruiting efforts going forward. Nair said that he doesn't expect the deal to "accelerate" Ford's effort -- he stuck by the previously announced 2021 deadline for Ford's first mass-produced self-driving vehicle.
But there's a clear advantage to putting the team under the leadership of Salesky and Rander, in a company that offers the upside of a start-up with less risk than most. We'll have to wait to learn more about the structure of the deal to evaluate it fully, but right now it looks like Ford has taken an intriguing step ahead.
10 stocks we like better than FordWhen investing geniuses David and Tom Gardner have a stock tip, it can pay to listen. After all, the newsletter they have run for over a decade, Motley Fool Stock Advisor, has tripled the market.*
David and Tom just revealed what they believe are the 10 best stocks for investors to buy right now... and Ford wasn't one of them! That's right -- they think these 10 stocks are even better buys.
Click here to learn about these picks!
*Stock Advisor returns as of February 6, 2017
Suzanne Frey, an executive at Alphabet, is a member of The Motley Fool's board of directors. John Rosevear owns shares of Ford. The Motley Fool owns shares of and recommends Alphabet (A and C shares) and Ford. The Motley Fool has a disclosure policy.