Why Fogo de Chao Inc Stock Jumped 17% in November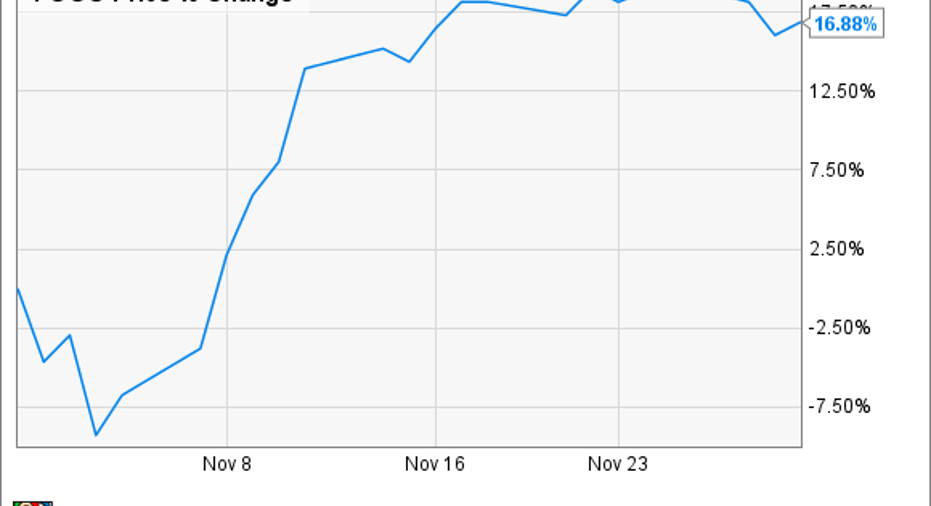 Image source: Fogo de Chao Twitter page.
What happened
Shares ofFogo de Chao (NASDAQ: FOGO) surged 17% last month according to data from S&P Global Market Intelligence as the Brazilian steakhouse chain gained on a strong third-quarter earnings report and seemed to benefit from the election of Donald Trump. As you can see from the chart below, the stock jumped on November 8 as the earnings report came out and continued to rise following the election results.
So what
The steakhouse chain reported a modest increase in comparable sales of 0.6%, and adjusted earnings per share fell from $0.18 to $0.16 as expenses grew faster than revenue, which increased 13.2%. Still, the EPS results beat estimates by a penny, and revenue of $69.1 million was also better than the consensus at $66 million.
CEO Larry Johnson noted that the industry experienced a weak quarter, but Fogo de Chao's U.S. comparable sales results were more than 200 basis points better than its peer group. He also acknowledged that "the current sales environment continues to be challenging." The company's Brazilian restaurants benefited from the Olympics, and overall comparable sales were down 0.8% when adjusted for their effect.
Shares gained 6% after the report came out, and they continued to rise throughout the week, perhaps benefiting from Trump's victory, which gave a boost to a number of restaurant stocks as the market expects his administration to have more business-friendly labor policies.
Now what
Despite the strong gains last month, Fogo de Chao's performance still leaves something to be desired. At a time when beef prices are down, the company is still seeing overall costs outpace sales, and comparable sales would have fallen without the Olympics. In the U.S., its biggest market and the focus of its expansion, comps declined 1%.
The stock is benefiting from low expectations as it carries a P/E ratio of just 13 even after last month's gains, and the company's expansion in the U.S. is going smoothly with six new restaurants opened so far this year and another three expected this quarter, which will bring the grand total to 46.
With a long-term goal of at least 125 restaurants, the stock should move higher as long as those new locations prove they can generate a profit.
10 stocks we like better than Fogo de Chao When investing geniuses David and Tom Gardner have a stock tip, it can pay to listen. After all, the newsletter they have run for over a decade, Motley Fool Stock Advisor, has tripled the market.*
David and Tom just revealed what they believe are the 10 best stocks for investors to buy right now...and Fogo de Chao wasn't one of them! That's right -- they think these 10 stocks are even better buys.
Click here to learn about these picks!
*Stock Advisor returns as of Nov. 7, 2016.
Jeremy Bowman has no position in any stocks mentioned. The Motley Fool has no position in any of the stocks mentioned. Try any of our Foolish newsletter services free for 30 days. We Fools may not all hold the same opinions, but we all believe that considering a diverse range of insights makes us better investors. The Motley Fool has a disclosure policy.