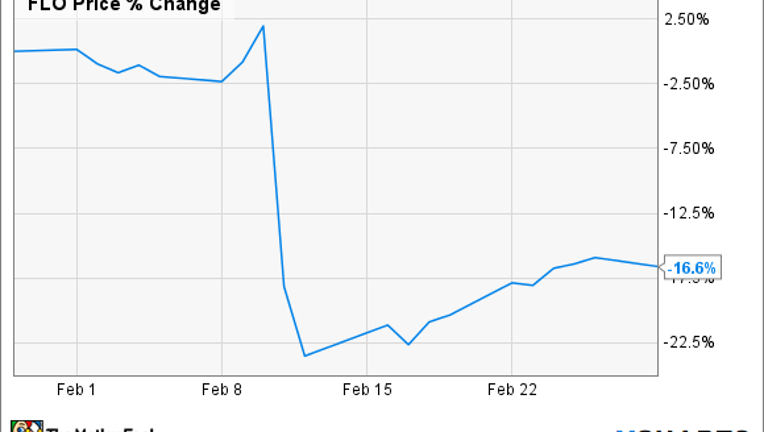 What:Shares ofFlowers Foods tumbled last month, falling 17% on a disappointing earnings report according to data from S&P Global Market Intelligence. As the chart below shows, the sell-off came on February 11, following the earnings release.
So what:The wholesale bakery company said sales declined 2.2% in the quarter, though they would have increased 0.5% after adjusting for acquisitions and an extra week last year. Earnings per share fell 20% to $0.16, missing estimates at $0.21, as CEO Allen Shiver said he was not "satisfied" with the fourth-quarter performance. He cited "significant progress" in strategic initiatives but also said sales were below expectations.
Flowers, the parent of classic food brands likeWonder BreadandTastykake, finds itself in a similar position to other legacy food companies. Like the major producers, Flowers is diversifying into organic foods with acquisitions last year ofDave's Killer Bread and Alpine Valley Bread. Additionally, it invested in growth by opening a new bakery in Lenexa, Kan., and has added to its product assortment in its current brand portfolio.
Now what:Looking ahead to the current year, Flowers is projecting revenue growth of 5.5%-8% to $3.99-$4.08 billion. On the bottom line, it sees EPS growth of 6.5%-13%, or $0.98-$1.04, up from $0.92 in 2015.
The fourth-quarter report marks the second straight quarter that the stock has sold off following its earnings report. Shares are now down a third from their peak in November, but they have recovered nearly 15% since bottoming out after the earnings report. With a portfolio of well-known brands, a plan for growth, and a solid dividend yield at 3.3%, Flowers Foods stock should be able to recover from the recent sell-off. If management can deliver on guidance, expect shares to continue to creep higher.
The article Why Flowers Foods Stock Sank 17% in February originally appeared on Fool.com.
Jeremy Bowman has no position in any stocks mentioned. The Motley Fool recommends Flowers Foods. Try any of our Foolish newsletter services free for 30 days. We Fools may not all hold the same opinions, but we all believe that considering a diverse range of insights makes us better investors. The Motley Fool has a disclosure policy.
Copyright 1995 - 2016 The Motley Fool, LLC. All rights reserved. The Motley Fool has a disclosure policy.