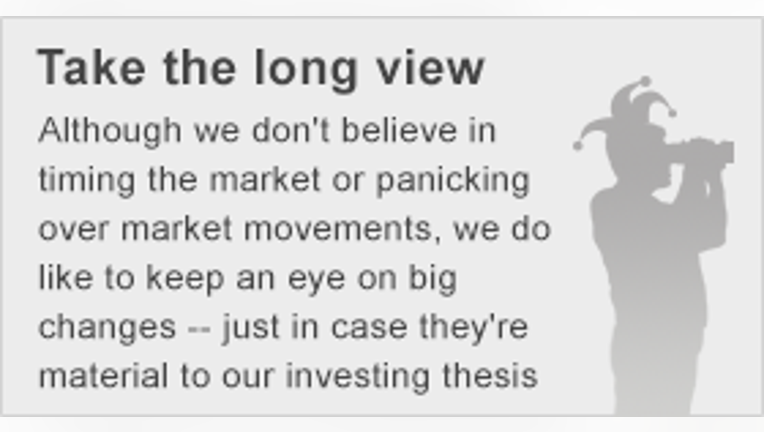 Source: Flamel Technologies S.A.
What: After providing updated financial guidance that disappointed investors, shares in Flamel Technologies S.A. slumped by 14.9% today.
So what: Volume in the small-cap drugmaker quadrupled as investors reacted to the company's prediction that revenue this year will total between $100 million and $120 million.
That projection falls well short of the $189 million annualized sales run-rate for the company exiting Q3 and the company's current full-year 2015 guidance for sales of $170 million to $185 million.
The revenue drop is being blamed on expected market-share losses for Bloxiverz, Flamel Technologies' top-selling medication. In December, the FDA approved another generic version of neostigmine, the active ingredient in Bloxiverz, which brings the number of neostigmine formulations on the market from two to three.
Now what: Flamel Technologies holds onto 55% to 60% of the neostigmine market, and Bloxiverz accounted for 87% of its Q3 sales,but following the approval of this new competitor, Flamel expects that its market share will slip to 30%-40% and that pricing pressure will reduce the net price of Bloxiverz by 20%-30%.
Obviously, that's not the direction investors (or management) want to see in terms of sales and profit, but without a needle-moving approval on tap in 2016, Flamel Technologies is forced to focus investors' attention further out.
To that end, the company highlighted a slate of promising therapies in development in its press release, the most advanced of which is Micropump sodium oxybate, a formulation of Jazz Pharmaceuticals' $950 million per-year Xyrem.
A trial evaluating Micropump sodium oxybate is expected to run into mid-2017, and if it's successful, then Flamel Technologies thinks its once-nightly dosing will allow it to steal away considerable market share from Xyrem, which is dosed twice-nightly.
Clearly, Micropump sodium oxybate's success could erase a lot of the pain expected in 2016 from the loss of sales from Bloxiverz, but there's no guarantee that the Micropump sodium oxybate trial will succeed, and because of that, I'll stay on the sidelines with this company -- at least until later this year.
The article Why Flamel Technologics S.A. Tumbled 15% Today originally appeared on Fool.com.
Todd Campbell has no position in any stocks mentioned. Todd owns E.B. Capital Markets, LLC. E.B. Capital's clients may have positions in the companies mentioned. The Motley Fool has no position in any of the stocks mentioned. Try any of our Foolish newsletter services free for 30 days. We Fools may not all hold the same opinions, but we all believe that considering a diverse range of insights makes us better investors. The Motley Fool has a disclosure policy.
Copyright 1995 - 2016 The Motley Fool, LLC. All rights reserved. The Motley Fool has a disclosure policy.