Why Five9 Inc. Stock Popped Today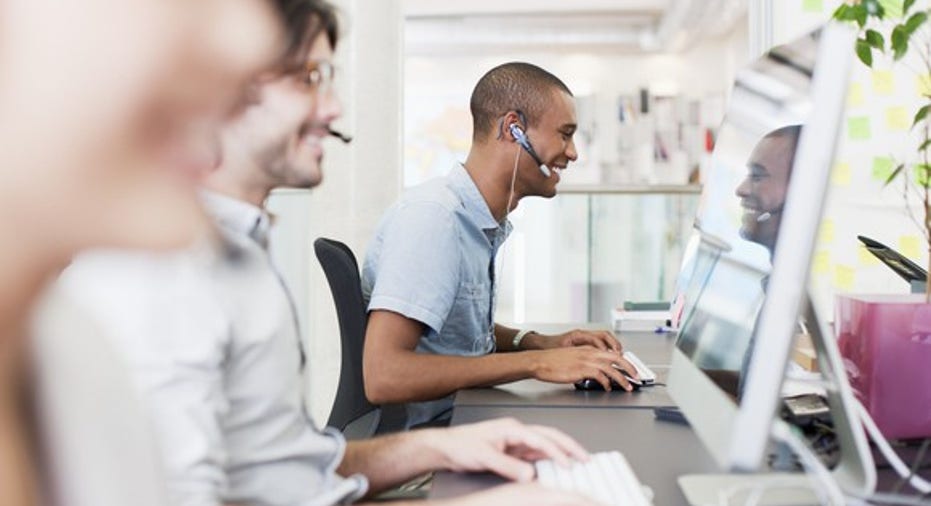 What happened
Shares of Five9 Inc. (NASDAQ: FIVN) were up 16.5% as of 3:00 p.m. EDT Thursday after the contact-center software specialist announced stronger-than-expected first-quarter 2017 results.
So what
Quarterly revenue climbed 23.7% year over year, to $47 million, including40% growth in LTM enterprise subscription revenue. That translated to an adjusted net loss of $0.3 million, or roughly breakeven on a per-share basis, narrowed from an adjusted net loss of $2.7 million, or $0.05 per share in the same year-ago period. By comparison, analysts' consensus estimates predicted a net loss of $0.03 per share on lower revenue of $44.8 million.
IMAGE SOURCE: GETTY IMAGES.
"I am extremely pleased that we had our second best quarter ever for Enterprise bookings in the first quarter and our sales pipeline reached another all-time high," added Five9 CEO Mike Burkland. "Furthermore, we continued to deliver leverage in our business model even as we accelerated hiring in a number of areas, most notably in our professional services capacity, in response to the ongoing momentum in our Enterprise bookings."
Now what
For the current quarter, Five9 expects revenue in the range of $45.3 million to $46.3 million, which should result in an adjusted net loss of $1.3 million to $2.3 million, or $0.02 to $0.04 on a per-share basis.
As such, Five9 now anticipates full-year 2017 revenue of $190.6 million to $193.6 million -- an increase from $187 million to $190 million previously -- and an adjusted net income or loss in the range of $0.5 million to ($2.5) million, up from ($1.5) million to ($4.5) million previously. That equates to an adjusted bottom line ranging from earnings of $0.01 per share to a loss of $0.04 per share compared to previous guidance for a loss of $0.03 to $0.09 per share. Here again, even the bottom ends of both ranges were above Wall Street's expectations for a full-year loss of $0.06 per share on revenue of $188.8 million.
In the end, it doesn't get much more straightforward than this beat and raise. And even with shares up almost 27% year to date as of yesterday's close, it's hard to blame the market for bidding up Five9 stock even more today.
10 stocks we like better than Five9When investing geniuses David and Tom Gardner have a stock tip, it can pay to listen. After all, the newsletter they have run for over a decade, Motley Fool Stock Advisor, has tripled the market.*
David and Tom just revealed what they believe are the 10 best stocks for investors to buy right now... and Five9 wasn't one of them! That's right -- they think these 10 stocks are even better buys.
Click here to learn about these picks!
*Stock Advisor returns as of May 1, 2017
Steve Symington has no position in any stocks mentioned. The Motley Fool has no position in any of the stocks mentioned. The Motley Fool has a disclosure policy.