Why Five Below, Inc. Stock Popped Today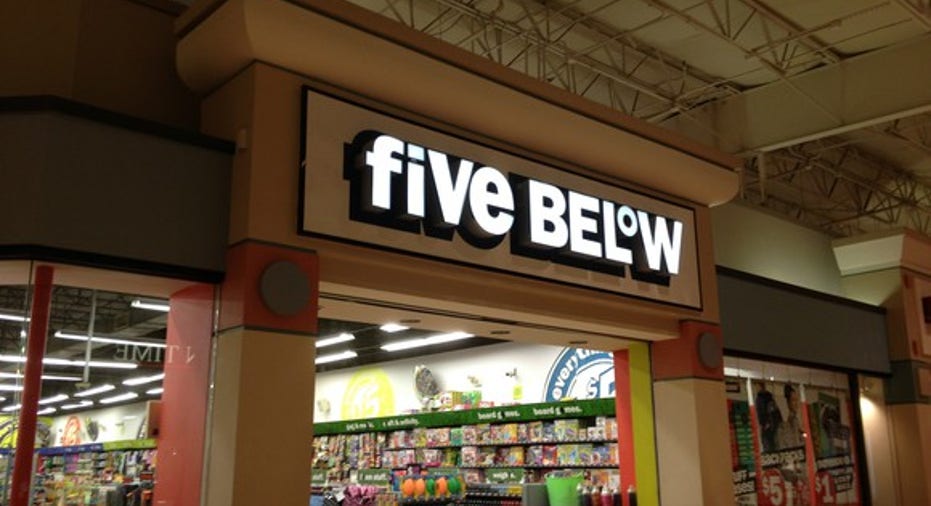 What happened
Shares ofFive Below, Inc.(NASDAQ: FIVE) were surging higher today after the discount retailer beat expectations in its fourth-quarter earnings report. As of 11:04 a.m. EDT, the stock was up 11.6%.
So what
The retailer, which sells everything for $5 or less, said revenue increased 18.9% to $388.1 million, ahead of estimates at $387 million, as comparable sales increased 1%. Earnings per share, meanwhile, also bumped up 17% to $0.90, topping the consensus by $0.01.
Image source: The Motley Fool.
CEO Joel Anderson commented, "Our performance in 2016 once again illustrates the strength, consistency and broad appeal of the Five Below model with a compelling merchandise assortment designed to 'wow' our customers at incredible values." He also noted the company completed its 11th consecutive year of comparable-sales growth.
Now what
Investors were also impressed with Five Below's guidance for 2017, as the company expects to open another 100 stores in the current year, increasing its base by 19%. Management also projected revenue of $1.21 billion to $1.23 billion, which includes an extra week in the year, representing an increase of 21% to 23% over the $1 billion in 2016. On the bottom line, the company expects earnings per share to improve from $1.30 to $1.55-$1.61. Both projections were in line with analyst estimates. Management also called for a low-single-digit increase in comparable sales this year.
In a challenging retail climate, Five Below's ability to aggressively open new stores and grow comparable sales is impressive, and the company's mixture of cheap, fun products appears to be protected from e-commerce threats. Considering that, I'd expect profits to continue marching higher.
10 stocks we like better than Five BelowWhen investing geniuses David and Tom Gardner have a stock tip, it can pay to listen. After all, the newsletter they have run for over a decade, Motley Fool Stock Advisor, has tripled the market.*
David and Tom just revealed what they believe are the 10 best stocks for investors to buy right now... and Five Below wasn't one of them! That's right -- they think these 10 stocks are even better buys.
Click here to learn about these picks!
*Stock Advisor returns as of February 6, 2017
Jeremy Bowman has no position in any stocks mentioned. The Motley Fool recommends Five Below. The Motley Fool has a disclosure policy.