Why Five Below Inc Stock Jumped 24% in 2016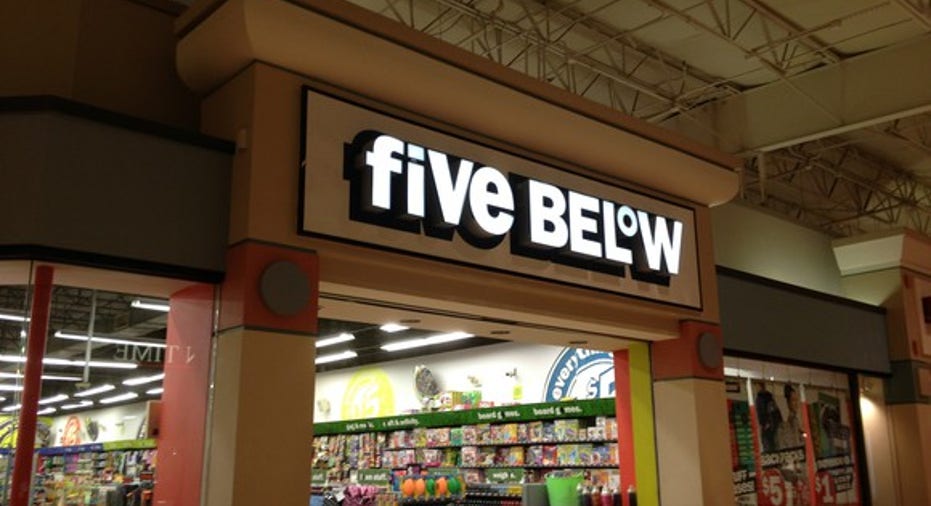 Image source: The Motley Fool.
What happened
Shares of discount retailerFive Below Inc(NASDAQ: FIVE) marched 24% higher last year, according to data from S&P Global Market Intelligence. The fast-expanding chain saw strong same-store sales growth in the first half of the year, but that slowed in the second half as the stock came down with it.
So what
Five Below, which competes with dollar store chains, has been rapidly expanding, growing its base by nearly 20% last year. The stock rose quickly through the spring, tracking with the market's recovery, and it got a boost from a strong fourth quarter in 2015 when comparable sales jumped 3.6% and EPS increased 26%.
In the first quarter of 2016, comparable sales growth accelerated to 4.9%, and EPS increased 50% to $0.12, as the stock continued to move higher. Around July, the stock hit its 2016 peak, but it began to recede as its valuation looked stretched. In its second-quarter report at the end of August, comparable sales growth moderated to 3.1%, and EPS grew 38% to $0.18. Despite management's decision to raise full-year guidance, the stock still continued to slide after the report.
After falling over the next couple of months, the stock got a boost after Donald Trump's election victory, as did many retailers, and the stock popped on its third-quarter earnings report, even as comps slid 0.2%, as the company still beat earnings estimates. The stock fell through much of December on concerns about retail's holiday season.
Now what
In its holiday season update, Five Below said comparable sales grew 0.5%, and the company raised its full-year EPS guidance to $1.28-$1.29, though that was below analyst estimates at $1.30. However, the stock still moved up about 5% on the news.
Going into 2017, the slowing comparable sales growth could spell trouble for Five Below, especially as a number of other retailers are facing similar challenges. Analysts are expecting EPS growth of 22% next year, but I wouldn't expect the stock to repeat last year's performance -- even if it can hit the analyst mark -- as its valuation looks a bit stretched.
10 stocks we like better than Five Below When investing geniuses David and Tom Gardner have a stock tip, it can pay to listen. After all, the newsletter they have run for over a decade, Motley Fool Stock Advisor, has tripled the market.*
David and Tom just revealed what they believe are the 10 best stocks for investors to buy right now... and Five Below wasn't one of them! That's right -- they think these 10 stocks are even better buys.
Click here to learn about these picks!
*Stock Advisor returns as of January 4, 2017
Jeremy Bowman has no position in any stocks mentioned. The Motley Fool recommends Five Below. The Motley Fool has a disclosure policy.