Why Five Below Inc. Shares Dropped 18% in November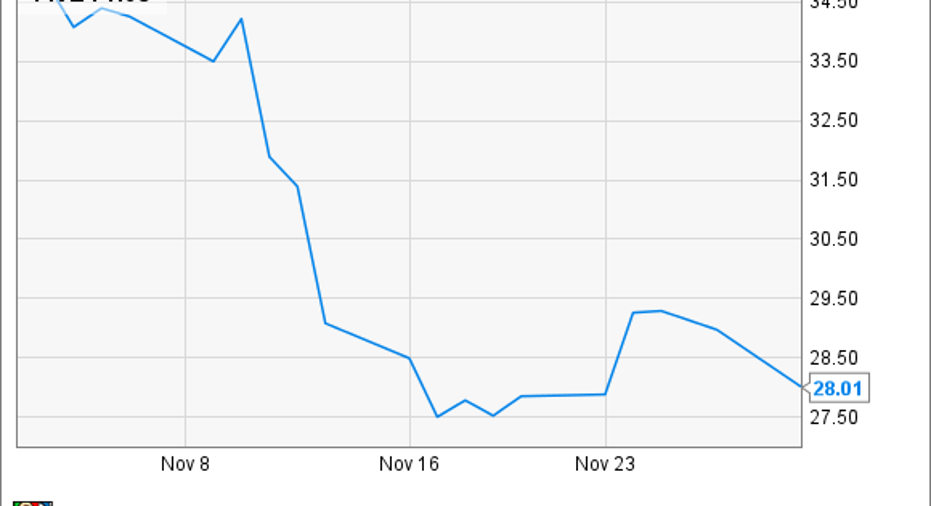 What:Shares ofFive Below were getting put on the discount rack last month, falling 18% according to data from S&P Capital IQ on general negativity in the retail sector and an analyst downgrade.
So what:Five Below's slide began on Nov. 11 as the discount retailer's stock dipped 7% on the same day thatMacy'sreleased a downbeat earnings report, kicking off a stinker of an earnings season in the retail sector. Shares fell another 7% two days later as another broad sell-off hit the sector following a weak earnings report fromNordstrom.
As a discount retailer, Five Below is seen as more susceptible to economic pressures than other retailers, so its stock is more volatile because it's more likely to react to weak retail signs.
Finally, shares skidded another 5% over a two-day period following a ratings cut by Deutsche Bank from buy to hold, citing a likely slowdown in traffic. Analyst Paul Trussell also said that lapping sales of the popular Frozen merchandise from a year ago would create tough comparisons and warned of the long-term effects of the growing e-commerce sector. As a seller of items at $5 or less, Five Below's model is not well-suited to the online channel.
Now what:Despite concerns about the company's performance, its third-quarter report, which came out in early December, was better than expected as shares jumped 5% on the news. Five Below's per-share profit of $0.08 beat estimates by a penny, while revenue jumped 23% to $169.7 million, well ahead of expectations at $166.6 million.
Same-store sales, a key metric for the company, was also stronger than expected, growing 4.8%. CEO Joel Anderson overall cited better-than-expected performance from its new stores and above-average comps, and said its "compelling assortment of trend-right products at a great value resonated with customers."
The strong quarter positions Five Below well heading into the holiday season. Considering the undeserved sell-off in November, there seems to be ample room for the stock to bounce back if the comparable sales growth continues.
The article Why Five Below Inc. Shares Dropped 18% in November originally appeared on Fool.com.
Jeremy Bowman has no position in any stocks mentioned. The Motley Fool recommends Five Below. Try any of our Foolish newsletter services free for 30 days. We Fools may not all hold the same opinions, but we all believe that considering a diverse range of insights makes us better investors. The Motley Fool has a disclosure policy.
Copyright 1995 - 2015 The Motley Fool, LLC. All rights reserved. The Motley Fool has a disclosure policy.