Why Fitbit Stock Crashed 75% in 2016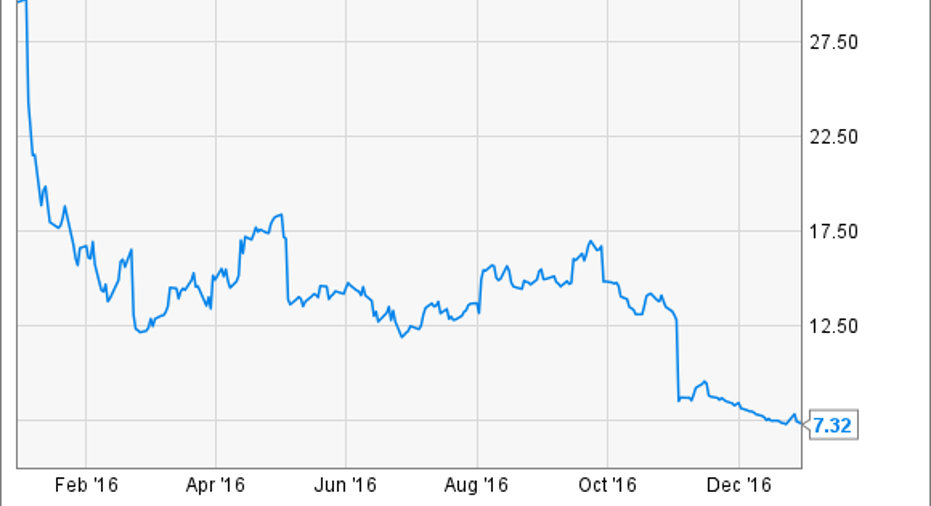 Image source: Fitbit.
What happened
Shares of Fitbit (NYSE: FIT) tumbled 75% in 2016, according to data provided byS&P Global Market Intelligence. Investors weren't thrilled about heavy spending on R&D knocking down profitability, especially when that spending failed to produce anything other than weak guidance for the fourth quarter.
So what
In an effort to keep up its impressive growth rate, Fitbit began to dramatically increase its spending in 2016. For the first three quarters of the year, total operating expenses more than doubled, with R&D spending soaring by nearly 150%. This spending helped the company launch a number of new products throughout the year, including the Alta, Blaze, Charge 2, and Flex 2.
The downside of this spending was a steep decline in earnings. EPS tumbled more than 60% during the first three quarters of 2016, with revenue not growing fast enough to counteract the massive increase in spending. With a new slate of products, the holiday season was the ultimate test of Fitbit's strategy. Unfortunately for investors, the company's guidance was a disappointment.
Fitbit announced when it reported its third-quarter results that it was expecting fourth-quarter revenue to grow by just 2% to 5% year over year. The stock tumbled on the news, adding to its losses for the year. CEO James Park admitted that growth was slower than expected:
Investors took that statement as a sign that the days of rapid growth are likely over for Fitbit.
Now what
Whether Fitbit is able to hit its guidance for the fourth quarter remains an open question. Reports of high levels of channel inventories for the Charge 2 and Flex 2 suggest that the devices aren't selling as well as the company expected. Fitbit's ability to get its current customers to upgrade will determine whether the company beats or falls short of expectations.
With Fitbit facing the possibility of slumping sales in 2017, the stock could continue to decline going forward. On the other hand, if Fitbit managed a better holiday season than expected, the beaten-down stock could soar. There's a lot of uncertainty surrounding the company right now, and we won't know more until Fitbit reports its results.
10 stocks we like better than Fitbit When investing geniuses David and Tom Gardner have a stock tip, it can pay to listen. After all, the newsletter they have run for over a decade, Motley Fool Stock Advisor, has tripled the market.*
David and Tom just revealed what they believe are the 10 best stocks for investors to buy right now...and Fitbit wasn't one of them! That's right -- they think these 10 stocks are even better buys.
Click here to learn about these picks!
*Stock Advisor returns as of January 4, 2017.
Timothy Green has no position in any stocks mentioned. The Motley Fool owns shares of and recommends Fitbit. The Motley Fool has a disclosure policy.