Why Fitbit, Sears Holdings, and Exact Sciences Jumped Today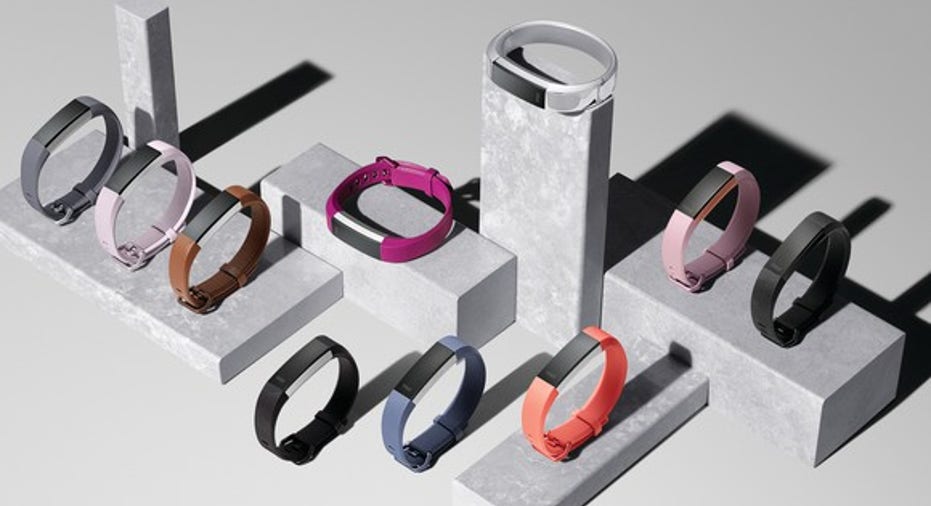 The stock market started the week in mixed territory on Monday as investors mulled the potential for legislative roadblocks on the Trump administration's promise for pro-growth tax reform and infrastructure spending. Late last week, Republicans failed to gather enough support for their healthcare reform bill to pass a key House vote.
Even so, the Dow Jones Industrial Average pared an early triple-digit decline to close down around 0.2%. Other broader market indexes saw similar early negative moves, though the Nasdaq ultimately closed up 0.2% while the S&P 500 fell 0.1%.But several individual stocks bucked the bearish trend, including Fitbit(NYSE: FIT), Exact Sciences (NASDAQ: EXAS), andSears Holdings(NASDAQ: SHLD). Read on to see what drove these positive moves.
Fitbit's new Alta HR family of fitness bands. Image source: Fitbit.
An exciting new Fitbit
Shares of Fitbit climbed 5.6% Monday after the wearable technology specialist announced global availability of its new Alta HR fitness wristband. Touted by Fitbit as the the world's slimmest fitness wristband to include continuous heart rate tracking, the Fitbit Alta HR family is now available on Fitbit's website and at most major retailers. Alta HR also features automatic exercise recognition, sleep tracking, smart notifications, and can run on a single battery charge for up to a week.
Shares of Fitbit are still down more than 60% over the past year amid disappointing sales of its flagship hardware products. The company has shown very little progress diversifying into software and services following its $25 million acquisition of coaching app FitStar in 2015. But many investors are now looking at the Fitbit stock as a speculative turnaround play, and it's clear they're hoping the new Alta HR proves a step in the right direction to that end.
Renewed optimism for Sears Holdings
Sears Holdings stock climbed nearly 11% today as opportunistic investors took advantage of the struggling retailer's recent plunge. For perspective, Sears Holdings stock dropped as much as 16.5% last Wednesday after the company revealed in its annual 10-K filing with the SEC that "substantial doubt exists related to the company's ability to continue as a going concern."
To be fair, Sears also voiced its belief that management's recent actions to turn around the business -- including the sale of its Craftsman brand, as well as closing 108 underperforming K-Mart stores and 42 Sears locations -- will prove effective in driving cost savings and mitigating that doubt. If that turns out to be the case and Sears can indeed save what many view as a sinking ship, investors who bought shares following last week's drop could be in for more significant gains going forward.
A positive initiation for Exact Sciences
Finally, shares of Exact Sciences rose 9.1% after Cowenanalyst Doug Schenkel initiated coverage on the colorectal cancer detection specialist with an outperform rating and a per-share price target of $30. Shares closed Monday after the pop at $22.99.
To justify his bullishness, Schenkel noted, "Exact Sciences' Cologuard is less invasive than colonoscopy, more accurate than alternatives, FDA approved, in [screening] guidelines, and increasingly reimbursed."
What's more, because colon cancer is the second-leading cause of cancer death in the U.S., Exact Sciences should be able to grow annual revenue at a roughly 50% clip over the next five years as the company targets $4 billion of an approximately $15 billion annual market. So even with shares of Exact Sciences having nearly quadrupled over the past year, Cowen believes the stock has even more room to run going forward.
Offer from The Motley Fool: The 10 best stocks to buy nowMotley Fool co-founders Tom and David Gardner have spent more than a decade beating the market. In fact, the newsletter they run, Motley Fool Stock Advisor, has tripled the S&P 500!*
Tom and David just revealed their ten top stock picks for investors to buy right now.
Click here to get access to the full list!
*Stock Advisor returns as of 3/24/2017.
Steve Symington has no position in any stocks mentioned. The Motley Fool owns shares of and recommends Fitbit. The Motley Fool has a disclosure policy.