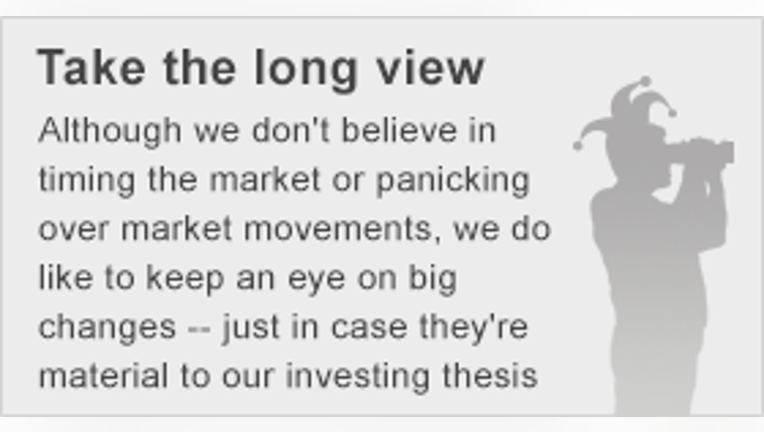 What: Shares of fitness tracker maker Fitbit got crushed today, down by 12% as of 3:00 p.m. ET, after the company unveiled a new smartwatch at the Consumer Electronics Show in Las Vegas as competition continues to heat up.
So what: The company took the wraps off of its new Blaze smartwatch, which features a color touchscreen alongside other expected functions like notifications and the requisite set of sensors to track fitness data. Blaze offers up to five days of battery life, and has interchangeable bands for user customization.
Image source: Fitbit.
The new device will cost $200, and Fitbit has started taking pre-orders. Meanwhile, Under Armour is jumping into the activity tracker market with a new suite of fitness products including a wearable band priced at $180.
Now what: As Fitbit continues its push upmarket to compete directly with other smartwatches, it's seeing competition intensify in the lower-end market for stand-alone fitness trackers. Full-featured smartwatches are already beginning to cannibalize stand-alone trackers, and Fitbit is responding to changing market conditions. Investors were also disappointed that Fitbit didn't introduce any meaningful updates to its current flagship Charge and Charge HR devices, which were released over a year ago.
The article Why Fitbit, Inc. Shares Got Crushed Today originally appeared on Fool.com.
Evan Niu, CFA has no position in any stocks mentioned. The Motley Fool owns shares of and recommends Under Armour. Try any of our Foolish newsletter services free for 30 days. We Fools may not all hold the same opinions, but we all believe that considering a diverse range of insights makes us better investors. The Motley Fool has a disclosure policy.
Copyright 1995 - 2016 The Motley Fool, LLC. All rights reserved. The Motley Fool has a disclosure policy.