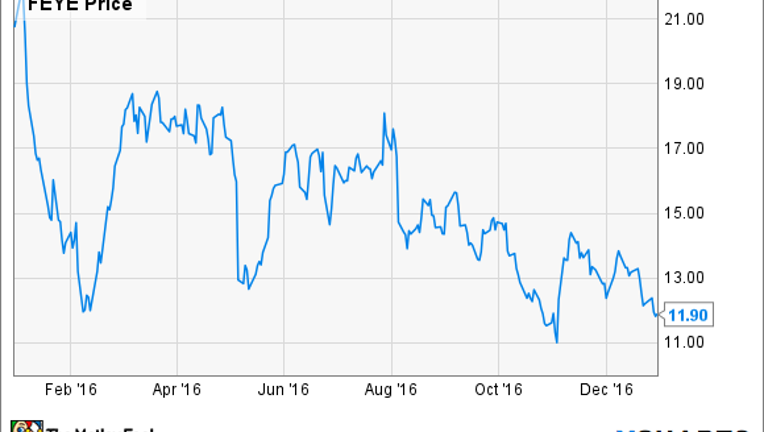 Image source: FireEye.
What happened
Shares of cybersecurity company FireEye (NASDAQ: FEYE) dropped 42.6% in 2016, according to data provided byS&P Global Market Intelligence. The stock began to decline in mid-2015 as revenue growth slowed and quarterly revenue estimates began to be missed. That decline extended into 2016 as the company's results further deteriorated.
So what
During the third quarter of 2016, FireEye managed to grow revenue by just 12.5% year over year. That's down from 45% growth during the third quarter of 2015. FireEye has been chronically unprofitable since its founding, posting a staggering $539 million net loss during 2015. However, the market largely didn't care about these losses as long as revenue growth met expectations.
With FireEye now struggling to grow, those massive losses can no longer be ignored. The company announced a major restructuring in August along with its second-quarter results, and an effort to knock down costs by laying off a few hundred employees. The company has set a goal of producing positive free cash flow in 2017, but with significant stock-based compensation expense, producing a GAAP profit is still in the distant future.
Now what
FireEye expects its fourth-quarter revenue to grow by just 1%-4% year over year, although CEO Kevin Mandia is optimistic that new products will eventually return the company to robust growth:
FireEye is still valued at about $2.2 billion compared to expected revenue of between $716 million and $722 million for 2016. With the company's growth grinding to a halt, the market isn't as pessimistic as it seems. FireEye will need to return to meaningful growth and improve its bottom line in 2017 just to justify its current valuation. Anything short of that could lead to another terrible year for the stock.
10 stocks we like better than FireEye When investing geniuses David and Tom Gardner have a stock tip, it can pay to listen. After all, the newsletter they have run for over a decade, Motley Fool Stock Advisor, has tripled the market.*
David and Tom just revealed what they believe are the 10 best stocks for investors to buy right now... and FireEye wasn't one of them! That's right -- they think these 10 stocks are even better buys.
Click here to learn about these picks!
*Stock Advisor returns as of January 4, 2017
Timothy Green has no position in any stocks mentioned. The Motley Fool owns shares of and recommends FireEye. The Motley Fool has a disclosure policy.