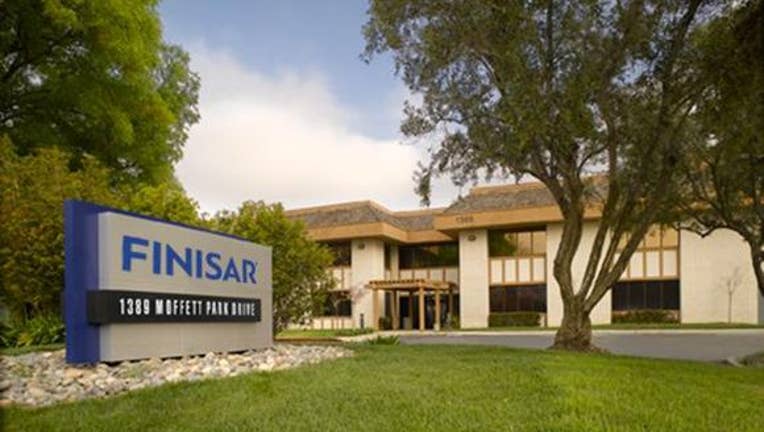 Image source: Finisar Corporation.
What:Shares of Finisar Corporation climbed as much as 20% early Friday after the fiber optic subsystems and components company released stronger-than-expected fiscal third-quarter 2016 earnings and forward guidance.
So what: Quarterly revenue fell 3.7% year over year, to $309.2 million, while GAAP net income nearly doubled to $12.1 million, or $0.11 per share. On an adjusted (non-GAAP) basis, Finisar's net income fell 1% year over year, to $26.6 million, and stayed flat on a per-share basis at $0.25.
For perspective, Finisar's guidance called for revenue in the range of $300 million to $320 million, and adjusted net income per share of $0.19 to $0.25. Analysts, on average, were anticipating slightly higher revenue of $312 million, but lower adjusted earnings of $0.22 per share.
Regarding the bottom line, Finisar CEO Jerry Rawls elaborated, "Better than expected gross margins, due to favorable product mix, as well as lower than expected operating an other expenses, resulted in earnings per fully diluted share at the upper end of our prior guidance range."
Now what:For the current quarter, Finisar anticipates revenue of $307 million to $327 million and adjusted earnings per share of $0.22 to $0.28. By comparison, analyst consensus estimates predicted fiscal Q4 revenue of $314.7 million and earnings below the bottom end of Finisar's guidance at $0.21 per share.
All things considered, this report contains no big surprises. But in the absence of significant top-line growth, it's equally unsurprising to see investors celebrating Finisar's outsized profitability today.
The article Why Finisar Corporation Stock Jumped Today originally appeared on Fool.com.
Steve Symington has no position in any stocks mentioned. The Motley Fool has no position in any of the stocks mentioned. Try any of our Foolish newsletter services free for 30 days. We Fools may not all hold the same opinions, but we all believe that considering a diverse range of insights makes us better investors. The Motley Fool has a disclosure policy.
Copyright 1995 - 2016 The Motley Fool, LLC. All rights reserved. The Motley Fool has a disclosure policy.