Why Fiat Chrysler Shareholders Should Watch the Google Deal Carefully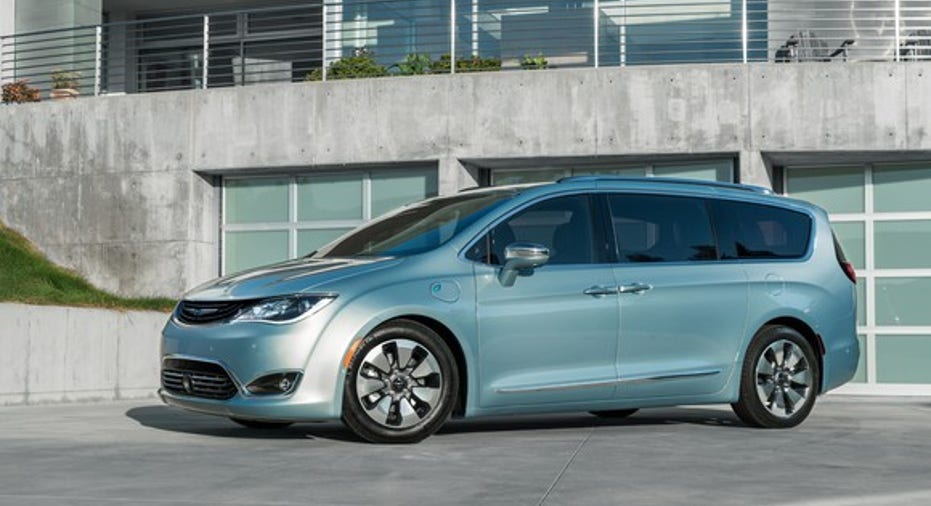 Google and Fiat Chrysler will collaborate on self-driving versions of FCA's new Chrysler Pacifica minivan. But what's in it for FCA? That's not a simple question. Image source: Fiat Chrysler Automobiles.
It's official: Alphabet's Google Self-Driving Car Project will work with Fiat Chrysler Automobiles on self-driving minivans, the partners said last week.
But what exactly is this deal? Does it put FCA in the forefront of self-driving efforts, or is FCA just supplying the sheetmetal to house Google's technological wizardry?
What FCA and Google said: In a joint statement, the companies said they "will integrate Google's self-driving technology intoall-new 2017 Chrysler Pacifica Hybrid minivans to expand Google's existing self-driving test program."
What it means for FCA: Despite reports that Google's deal with FCA could be a sweeping long-term effort, the actual deal as announced appears -- right now, at least -- to be pretty limited. Although the deal could well expand as the partners get more comfortable with one another, FCA isn't close to having a self-driving car (or minivan) for sale to the public.
"The first phase of the operation is very targeted. It's designed to take Google technology into the minivan. It's very, very focused," said FCA CEO Sergio Marchionne to reporters last week, as reported by Automotive News.
Marchionne emphasized that the tie-up isn't exclusive for either party. He said FCA is determined to keep its options open and not "pre-empt what I consider to be a natural evolution of choices." FCA is exploring, he said, without a clear (and potentially limiting) outcome in mind.
Why collaboration with Google could be troublingOf course, Marchionne (like executives at all of the major global automakers) is mindful of the painful example of Google's domination in the cell phone space. While a number of companies make Android phones, the Android operating system allows Google (and only Google) to collect the valuable data generated by the phone's users.
FCA, like other automakers, doesn't want to end up in the low-margin business of making the hardware for Google's valuable (and value-creating) software. On the other hand, FCA -- unlike most of its global rivals -- doesn't have a significant self-driving research-and-development program of its own.
While General Motors is expected to put self-driving Chevy Bolts on public roads in a test with Lyft later this year, and Ford showed off its fleet of self-driving Fusions in cold-weather tests in Michigan last winter, FCA has been understandably preoccupied with getting its global house in order. Unlike its old Detroit rivals, FCA has a sizable net debt position and is in the midst of multiple regional overhauls. It hasn't had the time, or the cash, to spare for technological moonshots like a self-driving program.
That's probably why Google chose FCA as its first auto-making partner. But it's also why FCA shareholders will need to keep a close eye on this deal as it develops.
The article Why Fiat Chrysler Shareholders Should Watch the Google Deal Carefully originally appeared on Fool.com.
Suzanne Frey, an executive at Alphabet, is a member of The Motley Fool's board of directors. John Rosevear owns shares of Ford and General Motors. The Motley Fool owns shares of and recommends Alphabet (A and C shares) and Ford. The Motley Fool recommends General Motors. Try any of our Foolish newsletter services free for 30 days. We Fools may not all hold the same opinions, but we all believe that considering a diverse range of insights makes us better investors. The Motley Fool has a disclosure policy.
Copyright 1995 - 2016 The Motley Fool, LLC. All rights reserved. The Motley Fool has a disclosure policy.