Why Fiat Chrysler Automobiles Gained 20% in January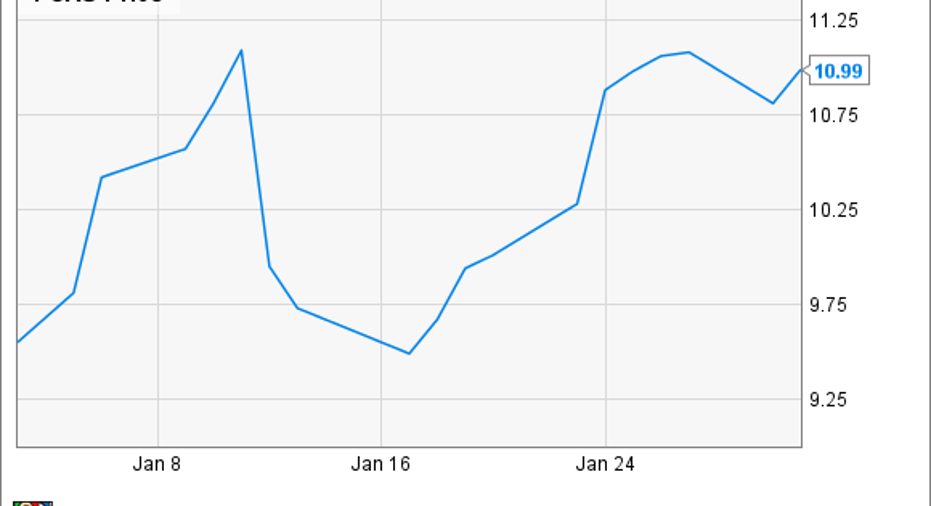 FCA is closer to delivering on CEO Sergio Marchionne's ambitious five-year transformation plan. Image source: Fiat Chrysler Automobiles.
What happened
Shares of Fiat Chrysler Automobiles (NYSE: FCAU) surged in January. FCA's NYSE-traded common stock ended the month at $10.99, up 20.5% from its closing price on the last day of December.
So what
FCA shareholders had a bumpy ride in January. Share prices spiked early in January, after the company showed an electric minivan concept vehicle. Prices then fell sharply after the U.S. Environmental Protection Agency charged the company with civil violations related to a diesel engine used in Ram pickups and the Jeep Grand Cherokee -- but began to recover once it became clear that the diesel issue was a minor one.
The month's big news, however, was FCA's earnings report. FCA reported its fourth-quarter and full-year 2016 earnings on Jan. 26, and they were very good. The Italian-American automaker generated a net profit of 1.8 billion euros ($1.9 billion) in 2016, up from just 93 million euros ($100 million) the year before.
That report cheered investors. FCA's guidance may have been even more cheering: The company forecasts increases in revenue, pre-tax earnings, and net profit in 2017, along with a significant reduction in its heavy long-term debt load. And it reiterated earlier guidance saying that it expects its total debt to fall below its cash holdings sometime in 2018.
The debt goal is one of a series of ambitious goals set by CEO Sergio Marchionne in a "five-year plan" first announced in 2014. FCA's shares have struggled, partly because investors have been skeptical that the debt-burdened company would be able to achieve those goals. But FCA's 2016 results and 2017 guidance appear to have alleviated some of that skepticism.
Now what
Now FCA has to deliver. That might not be easy: Its U.S. sales have been down for five months in a row, held back in part by an increasingly dated product portfolio. New products are coming; they'll need to be good to deliver the profits that Marchionne expects.
10 stocks we like better than Fiat Chrysler Automobiles When investing geniuses David and Tom Gardner have a stock tip, it can pay to listen. After all, the newsletter they have run for over a decade, Motley Fool Stock Advisor, has tripled the market.*
David and Tom just revealed what they believe are the 10 best stocks for investors to buy right now... and Fiat Chrysler Automobiles wasn't one of them! That's right -- they think these 10 stocks are even better buys.
Click here to learn about these picks!
*Stock Advisor returns as of January 4, 2017
John Rosevear has no position in any stocks mentioned. The Motley Fool has no position in any of the stocks mentioned. The Motley Fool has a disclosure policy.