Why FedEx Surges on Strong Holiday Results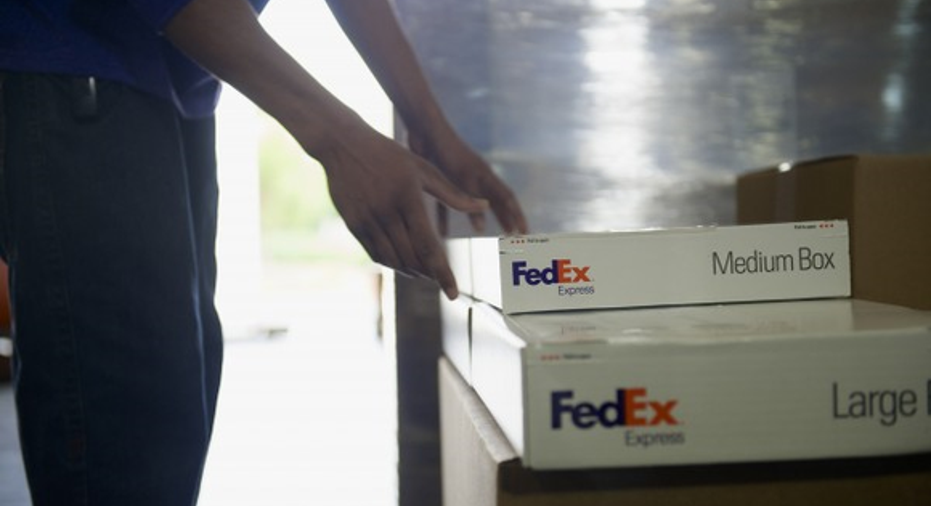 Following a strong set of results from rival United Parcel Service, Inc , FedEx Corporation too reported standout results for the quarter that included the holiday season. Moreover, FedEx management emboldened investors by predicting earnings would come in toward the high end of its full-year guidance range amid impressive margin improvement in its key express segment. Let's take a closer look at the numbers and what they mean.
IMAGE SOURCE: FEDEX CORPORATION
FedEx Corporation's third quarter: The raw numbersThe figures need explaining because there are a lot of moving parts.
Before getting into segmented detail, it should be noted that FedEx had $344 million in "corporate eliminations and other" involving $273 millionfor legal matters and $23 million in expenses related to TNT Express. Since these expenses are likely to be non-recurring it's better tofocus on segment performance.
| | | | | |
| --- | --- | --- | --- | --- |
| | Revenue | growth | Operating Income | growth |
| Express | 6,557 | (1.5%) | 595 | 51% |
| Ground | 4,408 | 29.9% | 557 | 0.4% |
| Freight | 1,447 | 1.3% | 56 | (16.4%) |
| Total | 12,654 | 8% | 864 | (16.7%) |
DATA SOURCE: FEDEX CORPORATION PRESENTATIONS. ALL DATA IN MILLIONS OF US DOLLARS
UPS's fourth-quarter results, delivered in February, saw double-digit volume growth in its more expensive air deliveries -- something that could indicate a shift in customer preference that would benefit FedEx's express segment. This proved to be the case in FedEx's third-quarter results, but perhaps not in the way that many envisaged.
As you can see above, the express segment generated a whopping 51% increase in operating income despite revenue falling, with express operating margin at 9.1% compared to 5.9% in the same period last year. How did FedEx do this?
Management cited three reasons:
Improved yield management
U.S. domestic volume growth counteracting soft international growth
Ongoing benefits from its profit improvement program
As with UPS, FedEx has been making initiatives to improve yields by using pricing initiatives in order to maximize profitability of increasing volumes in e-commerce deliveries. Clearly the initiatives are working for both companies. Similarly, domestic volume increases mirror what UPS reported concerning the peak demand period in the U.S. On a stock specific note, FedEx's profit improvement program continues to lead to margin expansion in the express segment.
Ground segmentWhile express saw margin expansion on lower revenue, it was quite the opposite at ground -- operating income margin declined to 12.6% from 16.5%, or 390 basis points in last year's third-quarter, even as revenue increased 29.9%.
Management outlined five causes on the earnings call:
190 basis points of the decline is due to reporting SmartPost revenue on a gross basis rather than net, and due to the inclusion of results from its May 2015 acquisition of third-party logistics provider GENCO.
60 basis points due to higher costs "higher cost driven significantly by peak season demand that exceeded both volume and package size expectations," according to CFO Alan Graf.
60 basis points due to higher self-insurance reserves.
30 basis points due to purchased transportation costs.
30 basis points for network expansion.
On a more positive note, Graf expects ground to return to "mid-teens margins in the fourth quarter" so many of these issues look temporary. However, he also outlined FedEx's intent to spend additional capital to expand capacity for e-commerce growth. Indeed, e-commerce growth is proving an opportunity and a challenge for FedEx and UPS particularly during peak demand periods.
Freight segmentGraf described the Less-Than-Truckload (LTL) market as being "very challenging," and in common with under transportation companies such as J.B. Hunt Transport Services Graf cited the negative impact of lower fuel surcharges.
Graf also disclosed how inefficient packaging was causing lower weight per shipment, and how FedEx would be installing additional dimensional scanners -- which help cost shipments -- and should improve productivity in future.
Looking aheadFollowing a successful third-quarter, management updated its full-year diluted EPS guidance range to $10.70 - $10.90 compared to a previous range of $10.40 to $10.90, with adjusted earnings expected to be up 20% to 22% in 2016.
All told, it was a good report, especially as the peak season has produced some negative surprises for FedEx and UPS in recent years. Investors warmed to the positive outlook on the ground segment, while ongoing execution at express continues to impress.
The article Why FedEx Surges on Strong Holiday Results originally appeared on Fool.com.
Lee Samaha has no position in any stocks mentioned. The Motley Fool recommends FedEx and United Parcel Service. Try any of our Foolish newsletter services free for 30 days. We Fools may not all hold the same opinions, but we all believe that considering a diverse range of insights makes us better investors. The Motley Fool has a disclosure policy.
Copyright 1995 - 2016 The Motley Fool, LLC. All rights reserved. The Motley Fool has a disclosure policy.