Why Facebook Inc Is a Stock to Buy and Hold Forever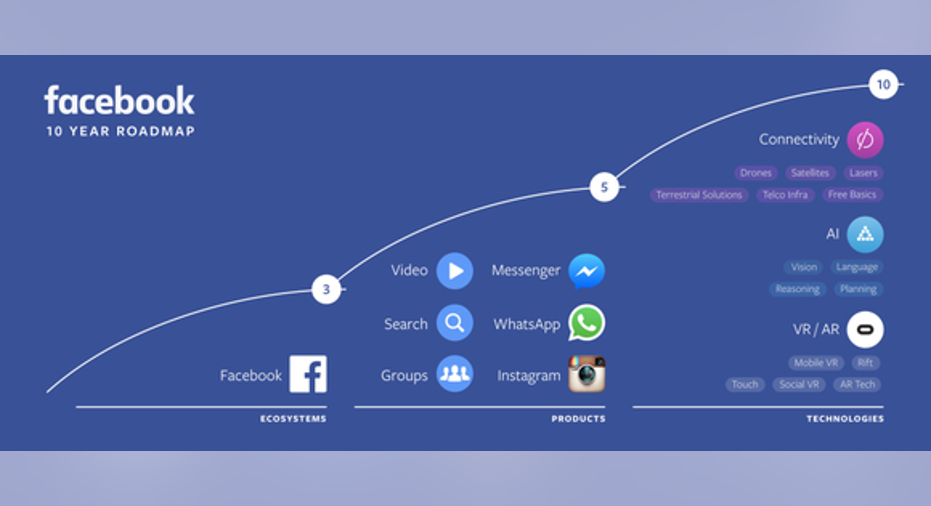 Image Source: Getty Images.
By virtually every measure, Facebook (NASDAQ: FB) has nearly unlimited upside as the world transitions to digital. In the U.S. -- the world's largest advertising market -- digital spots are expected to surpass longtime mainstay TV this year with an estimated $72 billion in sales.
As dominate as Facebook already is on both social media ad spend and usage, it still manages to report stellar growth quarter in, quarter out. And there are several reasons why Facebook can not only maintain its phenomenal run, it could gain even more positive momentum in the months and years ahead.
The Facebook of today
Pundits and investors expecting what would seem to be the inevitable slowdown of Facebook's growth were sadly disappointed again last quarter. Due in part to "making progress putting video first," Facebook reported a mind-boggling 59% improvement in ad sales in its third quarter, accounting for $6.8 billion of its $7 billion in total revenue.
For some perspective, Facebook's primary digital advertising rival Alphabet (NASDAQ: GOOG) (NASDAQ: GOOGL) generated $20.45 billion in total revenue last quarter, of which $19.8 billion were from ads. Given Alphabet's size it's not surprising its growth rates doesn't match Facebook's, but the gap is closing. A year ago Facebook's ad sales compared to Alphabet's were just 26%. Today, that percentage has climbed to 34%, a trend that shows no signs of slowing.
But as impressive as Facebook's revenue gains are, even those take a back seat to user growth. As far back as 2013 "concerns" were running rampant about "Facebook fatigue" among its 1.11 billion monthly average users (MAUs). Fast forward to today, and Facebook boasts more daily users -- 1.18 billion of its 1.79 billion MAUs -- than monthly users back when saturation concerns were all the rage.
Mobile was also cited as a Facebook shortcoming the past couple of years. Today mobile spots equate to 84% of Facebook's ad revenue, up from "just" 78% a year-ago. As for spending, Facebook CFO David Wehner had forecast an increase of over 50% plus this year. But thanks to overhead climbing just 28% in Facebook's third quarter, net income soared 166% to $2.38 billion.
The Facebook of tomorrow
While Facebook's earnings and user growth warrant sky-high optimism, better still are its multiple, untapped revenue opportunities waiting in the wings. WhatsApp is in the early stages of becoming monetized, and could have a positive impact on Facebook even before it begins generating its own sales.
The new privacy policy for WhatsApp's billion plus MAUs allows for sharing of user information with Facebook. If there's one thing that's become apparent over the years it's that Facebook CEO Mark Zuckerberg recognizes the value of data-driven target marketing. And you can bet a good portion of WhatsApp users are also Facebook "friends."
Let's not forget Messenger's more than one billion MAUs that are still on the backburner. Facebook's in-house messaging service offers another treasure trove of revenue possibilities. Similar to WhatsApp, it's not likely Messenger's per-spot charges will be on par with those of Facebook or its photo-sharing site Instagram, but sheer volume should more than make up for less fees per ad.
The new Facebook Workplace and Oculus Rift virtual reality (VR) headset are still in the early stages of growth, but significant revenue from either one or both is just icing on the revenue cake. Not to mention Zuckerberg's plans to incorporate VR into the Facebook user experience, which in turn should boost engagement and possibly gaming sales.
Considering its rapid organic growth, along with the multiple revenue opportunities Facebook will unleash on digital advertisers in the coming years, it's a stock is that long-term growth investors should buy and hold for forever.
Find out why Facebook is one of the 10 best stocks to buy now
Motley Fool co-founders Tom and David Gardner have spent more than a decade beating the market. (In fact, the newsletter they run, Motley Fool Stock Advisor, has tripled the market!*)
Tom and David just revealed their ten top stock picks for investors to buy right now. Facebook is on the list -- but there are nine others you may be overlooking.
Click here to get access to the full list!
*Stock Advisor returns as of November 7, 2016
Tim Brugger has no position in any stocks mentioned. The Motley Fool owns shares of and recommends Facebook. The Motley Fool owns shares of LinkedIn and Microsoft. Try any of our Foolish newsletter services free for 30 days. We Fools may not all hold the same opinions, but we all believe that considering a diverse range of insights makes us better investors. The Motley Fool has a disclosure policy.