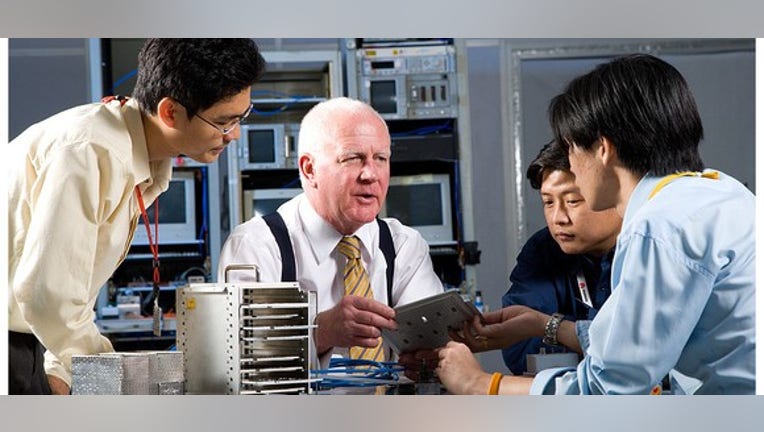 What happened
Shares of Fabrinet (NYSE: FN) popped as much as 12.7% early Tuesday and then settled to close up 8.3% after the advanced optical packaging company announced strong fiscal third-quarter 2017 results.
So what
Quarterly revenue rose 46.2% year over year to $366.8 million and translated to 46.6% growth in adjusted net income to $30.5 million. Adjusted net income per share increased 42.9%, to $0.80. By comparison -- and keeping in mind that adjusted earnings included a foreign exchange loss of $3.7 million, or $0.10 per share -- analysts' consensus estimates predicted adjusted earnings of $0.88 per share on lower revenue of $362.2 million.
IMAGE SOURCE: FABRINET
Fabrinet CEO Tom Mitchell stated:
Now what
For the current (fiscal fourth) quarter, Fabrinet expects revneue of $361 million to $365 million, and adjusted net income per diluted share of $0.82 to $0.84. Curiously, both ranges fell below investors' expectations for fiscal fourth-quarter revenue of $371 million and adjusted earnings of $0.88 per share.
Of course, given Fabrinet's relative outperformance in fiscal Q3, this doesn't rule out the possibility that it's once again under-promising with the aim of over-delivering. Fabrinet's quarter also helped alleviate fears that it would feel the brunt of industry slowdowns in China. So with shares still down more than 16% over the past three months as those fears had intensified leading up to today's report, it's no surprise to see Fabrinet stock rebounding today.
10 stocks we like better than FabrinetWhen investing geniuses David and Tom Gardner have a stock tip, it can pay to listen. After all, the newsletter they have run for over a decade, Motley Fool Stock Advisor, has tripled the market.*
David and Tom just revealed what they believe are the 10 best stocks for investors to buy right now... and Fabrinet wasn't one of them! That's right -- they think these 10 stocks are even better buys.
Click here to learn about these picks!
*Stock Advisor returns as of May 1, 2017
Steve Symington has no position in any stocks mentioned. The Motley Fool has no position in any of the stocks mentioned. The Motley Fool has a disclosure policy.