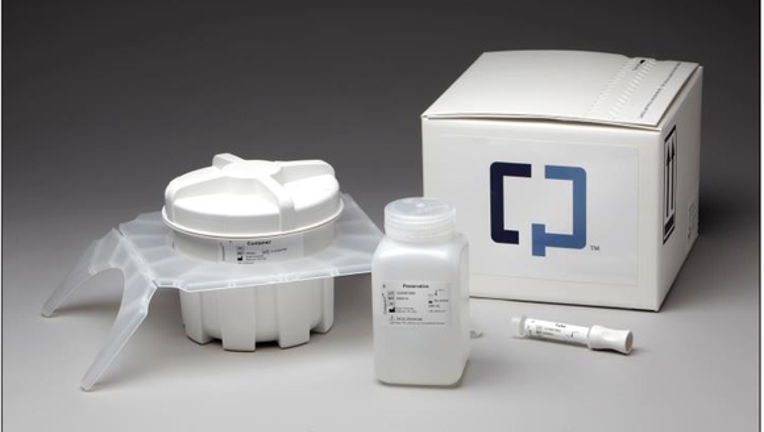 What happened
Following the release of fourth-quarter and full-year 2016 financial results,Exact Sciences' (NASDAQ: EXAS) shares are climbing 12.9% at 12 p.m. EST.
So what
A colonoscopy is the best way to determine a patient's risk of colon cancer, but colonoscopies are costly and invasive, and as a result, many people who should be tested avoid it.According to guidelines, anyone between age 50 and 75 should be evaluated for colon cancer, but the American Cancer Society reports that just 58% of people in this target population are doing so.
Image source: Exact Sciences.
That's a pretty poor rate, especially given that colon cancer is the second-deadliest cancer, and it can be much more effectively treated if it's caught early. Clearly, there's room for a new testing alternative, and that's good news for Exact Sciences' Cologuard, a lower-cost, non-invasive colon-cancer screening test that looks for cancer markers in stool samples.
Cologuard's cost and convenience advantages resulted in 244,000 Cologuard test completions last year, up 135% from 2015, and that translated into $99.4 million in full-year sales, up 152% from the previous year.
Now what
Exact Sciences is spending heavily on marketing to boost awareness and test completion rates, and that spending is creating a big profit headwind.Last year, $223 million in operating expenses resulted in a net loss of $167 million. Operating expenses of $59 million in Q4 show that the company's going to have to get a lot bigger if it hopes to post a profit.
Management forecasts that growing insurance coverage will lead to 415,000 completed tests in 2017. However, even at that rate of completions, sales of between $170 million and $180 million will probably still fall shy of the company's expenses.
While it's unclear when this company could get itself into the black, investors might not want to avoid Exact Sciences' stock altogether. The addressable patient population is undeniably big, and management pegs themarket opportunity for Cologuard at $4 billion. If Exact Sciences continues to grow as quickly as management predicts, then it's only a matter of time before profits begin to flow in.
10 stocks we like better than EXACT SciencesWhen investing geniuses David and Tom Gardner have a stock tip, it can pay to listen. After all, the newsletter they have run for over a decade, Motley Fool Stock Advisor, has tripled the market.*
David and Tom just revealed what they believe are the 10 best stocks for investors to buy right now... and EXACT Sciences wasn't one of them! That's right -- they think these 10 stocks are even better buys.
Click here to learn about these picks!
*Stock Advisor returns as of February 6, 2017
Todd Campbell has no position in any stocks mentioned.His clients may have positions in the companies mentioned.The Motley Fool has no position in any of the stocks mentioned. The Motley Fool has a disclosure policy.