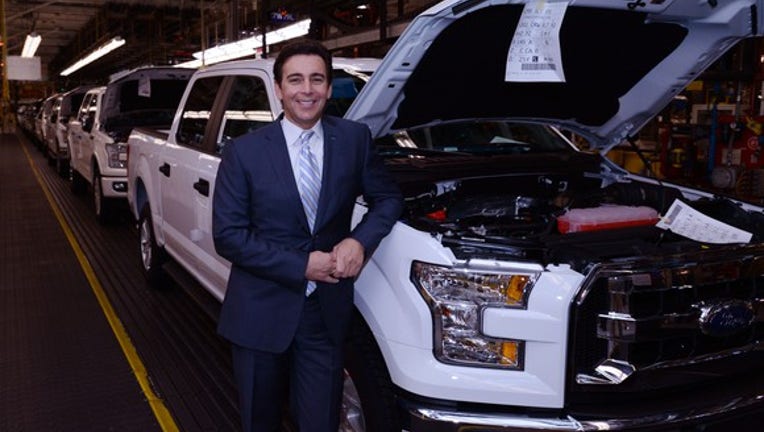 News last week that President-elect Donald Trump had selected climate-change skeptic Myron Ebell to lead the transition at the Environmental Protection Agency was received with alarm in some quarters and glee in others. Tesla Motors' (NASDAQ: TSLA) shares had a rough few days last week, but shares of General Motors (NYSE: GM), Ford Motor Company (NYSE: F), and Fiat Chrysler Automobiles (NYSE: FCAU) all surged after the news was announced.
Investors appear to be optimistic that the tough fuel-economy rules put in place under President Obama will be relaxed under President Trump -- and that policies favoring electric cars might go away entirely.
That would seem to be good news for Detroit in the near term, and bad news for the future of electric cars. But the reality might be more mixed: While Detroit might get a near-term profit boost, the industry's transition to electric cars is probably unstoppable at this point.
Detroit may have more time to sell SUVs and pickups
Back in 2011, the Obama administration announced an aggressive change to fuel-economy rules. The new rules were set to tighten in phases, up to a radical-sounding goal: average fuel economy of 54.5 miles per gallon by 2025.
Of course, the devil was in the details, and the actual goal wasn't quite as radical as it sounded. Still, it was a big change, and it was one that the automakers were happy to support. It may sound counter to conventional wisdom, but automakers don't mind tight fuel-economy rules, as long as they apply equally to all -- and as long as they have plenty of time to develop and implement the technology required to meet the rules.
They saw Obama's plan as a workable one. But in the years since the deal, the market hasn't played its part. Because gas prices have dropped significantly, buyers haven't embraced hybrids and electric cars in the numbers that were anticipated when the rules were adopted. Instead, buyer preferences have swung strongly toward SUVs and trucks.
Ford CEO Mark Fields with F-150 pickups at Ford's Dearborn Truck Plant. Image source: Ford Motor Company.
That's a profitable situation for Detroit, but it makes it harder for them to comply with the rules while giving buyers what they want. Or put another way, the automakers would be happy to bring cleaner vehicles (and hybrids and electric vehicles) to market if buyers were willing to pay the added costs -- but under current conditions, they're clearly not.
That has led many in the industry, including Ford CEO Mark Fields, to argue more recently that President Obama's aggressive plan should be relaxed. Again, Fields and most of his peers aren't opposed to tighter fuel-economy rules. Nor are they (most of them, at least) resisting the industry's shift toward electrified vehicles.
They're opposed to adding expensive new technology to their vehicles when buyers have no reason to pay for it. A relaxation of the Corporate Average Fuel Economy (CAFE) standards, or a postponement of the more aggressive post-2017 timetable, would give Detroit some breathing room -- and some more time to reap fat profits from SUV and truck sales.
Electric-car tax breaks could go away
Tesla Motorshas benefited greatly from the Obama administration's moves to favor the adoption of electric vehicles. Among other things, the U.S. government currently offers a tax rebate of up to $7,500 to buyers of electric vehicles. Tesla's current models are expensive, but that tax break has helped encourage buyers to pay up for them.
Tax breaks have helped Tesla's Model S become one of the best-selling big luxury sedans. But at this point, they may not be essential to Tesla's continued success. Image source: Tesla Motors.
More broadly, the tax break helps offset the (currently) higher cost of an electric drivetrain. That, along with other policies, has in turn has helped drive the build-out of a supply base to support truly mass production of electric vehicles in the near future.
Ebell's appointment to lead the EPA transition team is an unsubtle hint that those favorable policies and tax breaks might not last long under the Trump administration.
But can even Trump stop the momentum of electric cars?
The reality is that Ford and GM (and a lot of other established automakers) have already made huge investments in advanced hybrid and battery-electric drivetrains. Meanwhile, the costs of lithium-ion battery cells are coming down quickly as the battery industry scales up to meet anticipated demand.
GM's groundbreaking all-electric Chevrolet Bolt EV is now in full production. GM isn't likely to abandon its electric-car ambitions now, and neither are its rivals. Image source: General Motors.
At some point in the not-too-distant future, the subsidies won't matter: Electric cars will make more financial sense on their own merits. And as Tesla has shown, it's possible to create electric vehicles that are as good as or better than the best gasoline-powered alternatives. Electric vehicles will soon make more sense on other fronts, too.
The shift toward electric cars is still in its early days, but it may have already acquired enough global momentum to be inevitable, no matter what Trump does. Remember, this isn't just about the United States. China's government is also pushing electric-car development aggressively, and Europe's automakers have made big investments in electrified vehicles to meet the competitive challenge posed by Tesla.
Ford, GM, and Fiat Chrysler all compete around the world. The writing is already on the wall: They'll need to develop good electric vehicles if they want to continue to be competitive in the long term, no matter what the Trump administration does in the near term.
The upshot: A near-term win for Detroit, but not a long-term loss for electric cars
If the EPA under Donald Trump does water down CAFE, that will be a near-term boon for Detroit: It'll be able to sell a greater percentage of SUVs and trucks without penalty for a while longer. That will keep profits strong for as long as the U.S. market stays strong, and will help Detroit's margins during the next cyclical decline.
But the reality is that even in Detroit, movement toward electric drivetrains will almost certainly continue without much delay, even if the EPA is run by climate-change skeptics. In time, that will be seen as good news for consumers, not just environmentalists.
Forget the 2016 Election: 10 stocks we like better than Tesla Motors Donald Trump was just elected president, and volatility is up. But here's why you should ignore the election:
Investing geniuses Tom and David Gardner have spent a long time beating the market no matter who's in the White House. In fact, the newsletter they have run for over a decade, Motley Fool Stock Advisor, has tripled the market.*
David and Tom just revealed what they believe are the ten best stocks for investors to buy right now... and Tesla Motors wasn't one of them! That's right -- they think these 10 stocks are even better buys.
Click here to learn about these picks!
*Stock Advisor returns as of November 7, 2016.
John Rosevear owns shares of Ford and General Motors. The Motley Fool owns shares of and recommends Ford and Tesla Motors. The Motley Fool recommends General Motors. Try any of our Foolish newsletter services free for 30 days. We Fools may not all hold the same opinions, but we all believe that considering a diverse range of insights makes us better investors. The Motley Fool has a disclosure policy.