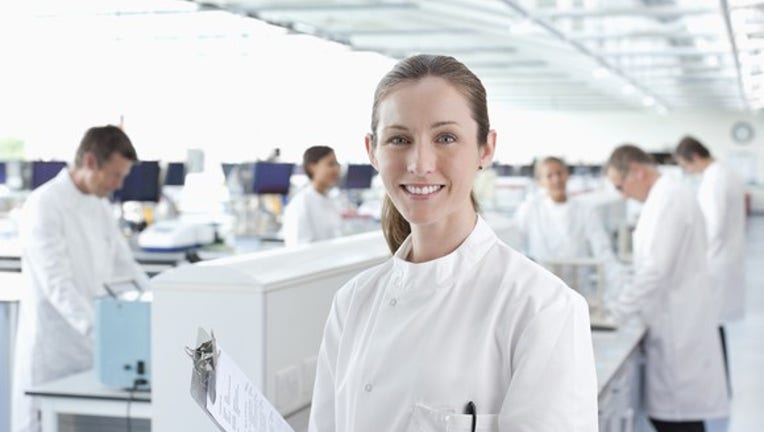 What happened
Following a big move higher earlier this year, an absence of news regarding its cholesterol-lowering drug contributed to Esperion Therapeutics(NASDAQ: ESPR) shares gaining just 1.2% in April, according toS&P Global Market Intelligence.
So what
Statins are the most-prescribed drugs in the world. However, they don't lower cholesterol adequately for everyone, and that means there's an unmet need for new treatment options that can help patients reach their cholesterol targets.
Image source: Getty Images.
Esperion Therapeutics is developing bempedoic acid, a drug that can be taken orally alongside statins to reduce cholesterol levels further. Bempedoic acid is currently being studied in phase 3 studies, but in phase 2 trials, adding it to statin therapy reduced bad cholesterol levels by about an additional 20%.
After reporting earlier this year that the Food and Drug Administration (FDA) has confirmed it will consider an application to approve bempedoic acid based on its phase 3 trial, Esperion Therapeutics shares have shot 195% higher, making it one of the market's best-performing stocks this year.
Absent any news, investors sat on the sidelines last month, choosing instead to wait for insight from first-quarter financial results, which were reported this week.
Now what
On Thursday, Esperion Therapeutics reported first-quarter financials and updated investors on its clinical-stage progress. In the quarter, the company reported that research and development expenses were $35.9 million, up from $9.8 million last year, and that general and administrative expenses were $5 million, in line with last year. Overall, the company reported a net loss of $40.5 million, and it exited March with $207.8 million in cash, down from $242.5 million in December.
In the report, management also reiterated that it plans to have bempedoic acid phase 3 trial results available next year, and it intends to file for FDA approval in early 2019 if results are positive. It also discussed plans for a single-tablet combination of bempedoic acid and the cholesterol drug Zetia, and for trials evaluating bempedoic acid's use alongside PCSK9 inhibitors, another cholesterol-lowering therapy.
While investors sold shares off following the update, there was little in the report to make me think bempedoic acid's chances for success are any worse than they were before. Because Esperion Therapeutics has proven leaders (it was founded by Roger Newton, the person who led the development of Lipitor), I think it's an intriguing stock to own if you're a risk-tolerant investor.
10 stocks we like better than Esperion TherapeuticsWhen investing geniuses David and Tom Gardner have a stock tip, it can pay to listen. After all, the newsletter they have run for over a decade, Motley Fool Stock Advisor, has tripled the market.*
David and Tom just revealed what they believe are the 10 best stocks for investors to buy right now... and Esperion Therapeutics wasn't one of them! That's right -- they think these 10 stocks are even better buys.
Click here to learn about these picks!
*Stock Advisor returns as of May 1, 2017
Todd Campbell has no position in any stocks mentioned.His clients may have positions in the companies mentioned.The Motley Fool has no position in any of the stocks mentioned. The Motley Fool has a disclosure policy.