Why Endologix, Inc. Is Getting Crushed Today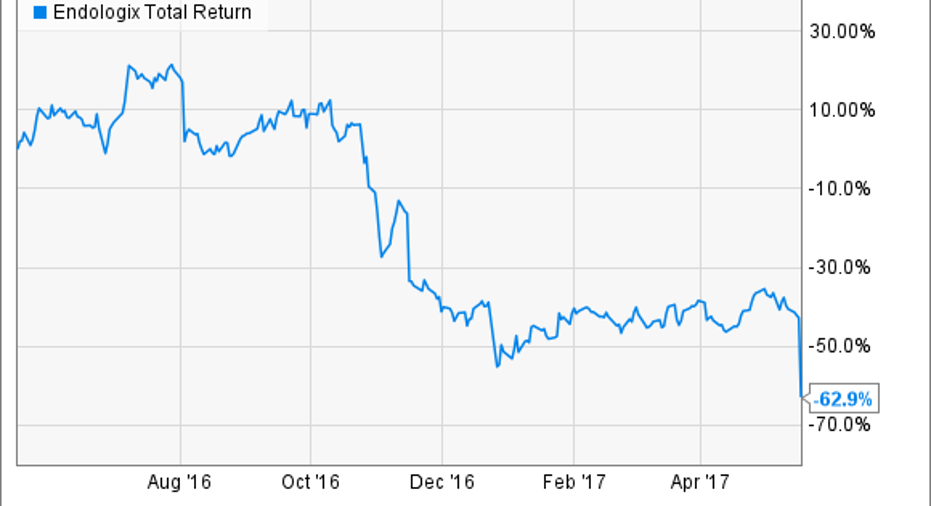 What happened
In response to the medical device company's updated regulatory timeline for its next-generation Nellix System, shares ofEndologix (NASDAQ: ELGX), which focuses on minimally invasive treatments foraortic disorders, fell 36% as of 11:00 a.m. EDT on Thursday.
So what
Endologixrecently held a meeting with the Food and Drug Administration to firm up the regulatory pathway for its Gen2 Nellix Endovascular Aneurysm Sealing System. Unfortunately, the agency said it wants to see data from a confirmatory clinical study before it will give the device the thumbs-up. As a result, the company now believes that the product will be available for sale in the U.S. around 2020. That represents atwo-year delay from the timeline that it had previously communicated to investors.
Here's what Endologix CEOJohn McDermott had to say about the delay:
The market didn't take the news well, which is why shares are tanking today.
Image source: Getty Images.
Now what
Endologix's shareholders have been hit by a number of setbacks over the last few months. The stock took a nose-dive late last year after management announced a temporary hold on shipments of its AFX Endovascular AAA System. Regulators in the EU even suspended the company's CE Mark over reports of type 3 endoleaks in some of its older devices. While CE Mark was reinstated just a few months later, the damage had already been done to its share price. More recently, Endologixraised its GAAP loss-per-share estimate in 2017 due to higherinterest expense and debt extinguishment-related charges. When adding in today's timeline update, it is understandable why shareholders have been mauled over the past year.
ELGX Total Return Price data by YCharts.
Given the delay of theNellix system, it is hard to determine when the company will be able to turn a profit. That's a big problem considering that its net loss was $21.3 million and it ended March with only $36 million in cash. Those numbers suggest that stayingon the sidelines is likely to be the smart move for now.
10 stocks we like better than EndologixWhen investing geniuses David and Tom Gardner have a stock tip, it can pay to listen. After all, the newsletter they have run for over a decade, Motley Fool Stock Advisor, has tripled the market.*
David and Tom just revealed what they believe are the 10 best stocks for investors to buy right now... and Endologix wasn't one of them! That's right -- they think these 10 stocks are even better buys.
Click here to learn about these picks!
*Stock Advisor returns as of May 1, 2017
Brian Feroldi has no position in any stocks mentioned. The Motley Fool has no position in any of the stocks mentioned. The Motley Fool has a disclosure policy.