Why Endo International plc Is Crashing Today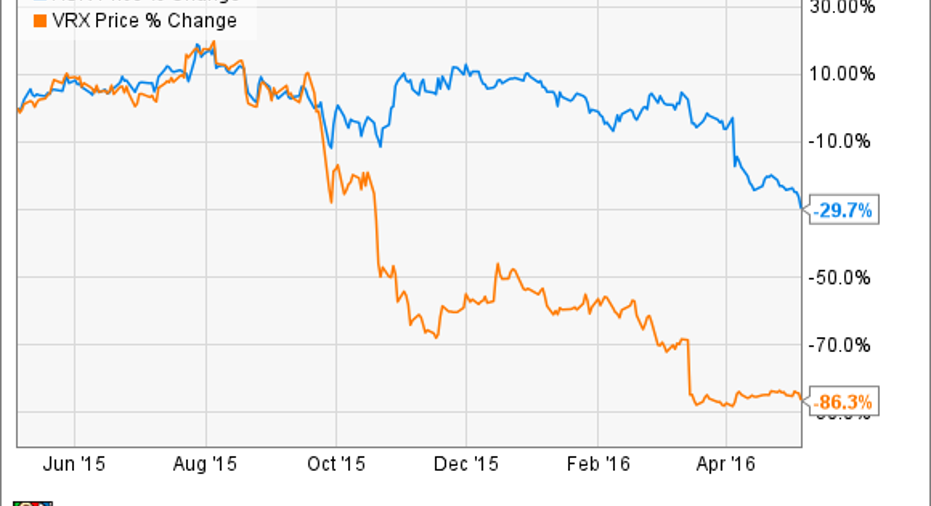 Source: Flickr via user Images Money.
What: Shares ofEndo International plc dropped by more than 40% today on roughly seven times the stock's normal volume. The drugmaker's stock is tumbling after management slashed the company's full year annual guidance for both total revenue (cut by 11% from its former high end estimate), and adjustedearnings per share (revised downwards by 23%).Endo's revised outlook stems from the loss of exclusivity for the anti-inflammatory medicineVoltaren Gel, as well as increasing competition in the generic drug space.
So what: Endo's problems spilled over to its peers today, dragging down shares of nearly every company with a footprint in the generic-drug arena. For example, Allergan saw its shares print new 52-week lows in the wake of this news, and Valeant Pharmaceuticals lost more than 13% of its value today, as well.
Now what: The magnitude of these revisions seems to be the real problem. In a nutshell, analysts are questioning how management got it so wrong in the first place, and whether they even have a reliable estimate in place now. If not, Endo could continue to slide until the generic drug market finds a bottom.
Looking ahead, Allergan is set to release its earnings next week, which should provide additional insight into the generic drug space as a whole. Endo shareholders therefore may want to check out what Allergan's management has to say in its upcoming first-quarter conference call.
In the meantime, I think investors are best served by taking a wait-and-see approach with Endo. While this stock seems to offer strong value after this hefty sell-off, it's important to bear in mind that the market has shown little patience with pharma companies after Valeant's well-documented problems earlier this year.
In other words, the worst may be yet to come for Endo. Stay tuned.
The article Why Endo International plc Is Crashing Today originally appeared on Fool.com.
George Budwell owns shares of Allergan PLC. The Motley Fool owns shares of and recommends Valeant Pharmaceuticals. Try any of our Foolish newsletter services free for 30 days. We Fools may not all hold the same opinions, but we all believe that considering a diverse range of insights makes us better investors. The Motley Fool has a disclosure policy.
Copyright 1995 - 2016 The Motley Fool, LLC. All rights reserved. The Motley Fool has a disclosure policy.