Why Emergent Biosolutions Inc. Stockpiled a Higher Price Today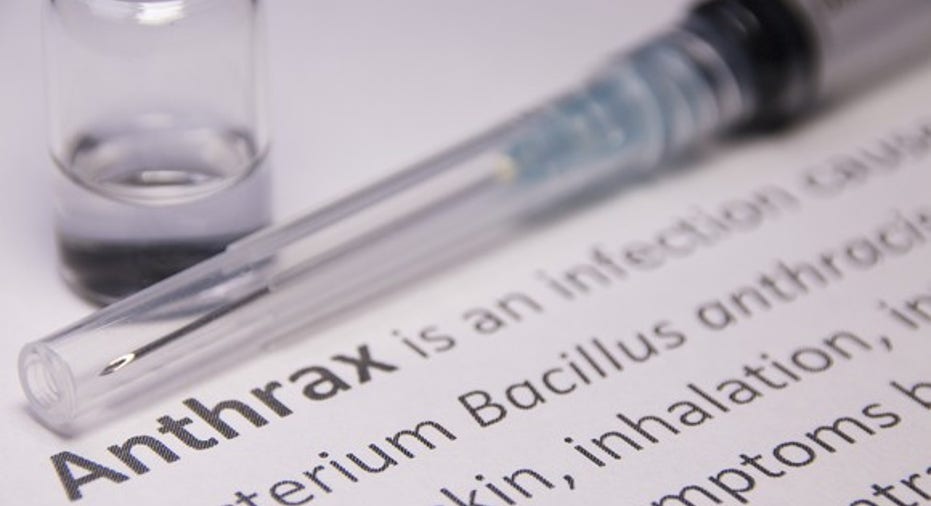 Image source: Getty Images.
What happened
Emergent BioSolutions (NYSE: EBS) is up 19.5% at 3:02 p.m. EST, after announcing a new contract with the Centers for Disease Control and Prevention (CDC) and a separate deal with the Biomedical Advanced Research and Development Authority (BARDA), both to supply its anthrax vaccine BioThrax to the Strategic National Stockpile.
So what
Emergent BioSolutions previously disclosed that the CDC had picked the biotech as its sole source for anthrax vaccine -- not surprisingly since Emergent is the only company with an anthrax vaccine licensed by the Food and Drug Administration -- but the details on pricing and delivery were still to be worked out.
Under the new contract that runs through September 2021, Emergent will get $911 million to ship approximately 29.4 million doses of BioThrax to the stockpile. The previous contract, which expired in September, called for Emergent to deliver 44.75 million doses of BioThrax over a period of five years, for a total value of up to $1.25 billion. While the total contract is for fewer doses, Emergent is getting more for each dose, which should help expand its gross and net margins.
And in addition to the known CDC deal, Emergent announced that BARDA will also buy $100 million worth of BioThrax for the stockpile within the next two years. The procurement is essentially an acceleration of some of the money BARDA allotted to buy Emergent's next-generation anthrax vaccine NuThrax, in a contract that was announced in September. The NuThrax contract, which calls for potentially delivering doses starting in 2019 after securing an Emergency Use Authorization preapproval from the FDA, will be adjusted to a maximum of $1.5 billion, down from the previously announced value of up to $1.6 billion.
Now what
With the CDC and BARDA contracts completed, Emergent can focus on potentially signing up other governments to buy BioThrax, since its new manufacturing plant, Building 55, has a larger capacity.
Management has also expressed interest in diversifying away from BioThrax and NuThrax, potentially through licensing or acquisitions.
10 stocks we like better than Emergent BioSolutions When investing geniuses David and Tom Gardner have a stock tip, it can pay to listen. After all, the newsletter they have run for over a decade, Motley Fool Stock Advisor, has tripled the market.*
David and Tom just revealed what they believe are the 10 best stocks for investors to buy right now... and Emergent BioSolutions wasn't one of them! That's right -- they think these 10 stocks are even better buys.
Click here to learn about these picks!
*Stock Advisor returns as of Nov. 7, 2016
Brian Orelli has no position in any stocks mentioned. The Motley Fool recommends Emergent BioSolutions. Try any of our Foolish newsletter services free for 30 days. We Fools may not all hold the same opinions, but we all believe that considering a diverse range of insights makes us better investors. The Motley Fool has a disclosure policy.