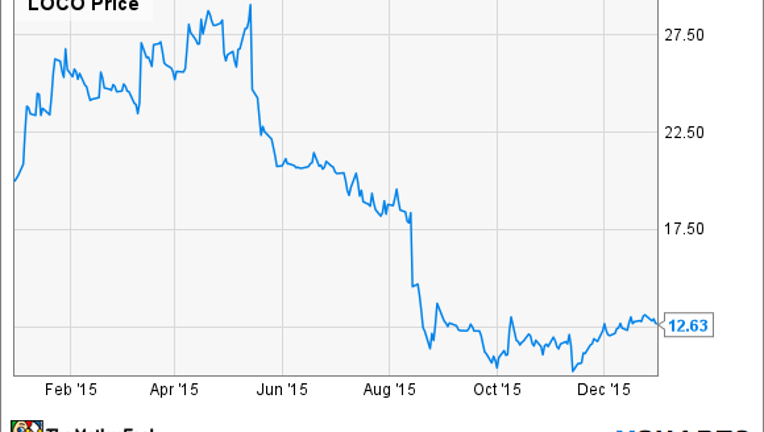 What: El Pollo Loco Holdings shares were driving investors loco once again last year, falling 36%, according to data from S&P Capital IQ. The fast-casual chain's shares started off the year solidly, but then slid from the spring onward as the chart below shows.
So what:El Pollo Loco is one of several recently debuted restaurant stocks to have fallen after what may have been overhyped demand for such businesses. The trouble started on May 15 when shares fell 15% after the company issued a disappointing forecast in its first-quarter results. Despite posting respectable comparable sales growth at 5.1%, management didn't lift its full-year earnings forecast of $0.67-$0.71, a foreboding sign as the market interpreted it.
Following that report, investor bullishness continued to cool off over the summer until it fell off a cliff again after the company's next earnings report in August. Same-store sales fell at company-owned restaurants by 0.5%, a scary sign for a stock once valued as a growth vehicle. Foot traffic was down by 3.9%, though a higher average transaction mostly made up for it. The company also saw margins compress due to the addition of non-poultry items like shrimp and carne asada to the menu.
Shares of the chicken chain fell further in the week following the earnings report before stabilizing around $12.
Now what: After its final earnings report of 2015, El Pollo Loco sold off again, falling 11% after yet another underwhelming earnings report. Systemwide same-stores sales growth, which includes franchised locations, dipped to 1.1%, while adjusted earnings improved from $0.13 a share to $0.18.
For a small restaurant stock, flat-lining same-store sales growth can be a death knell. El Pollo Loco still has aggressive expansion plans, and the stock now carries a more modest valuation. But if it can't revive long-term growth at established restaurants, I'd question the long-term viability of the stock.
The article Why El Pollo Loco Holdings, Inc. Fell 36% in 2015 originally appeared on Fool.com.
Jeremy Bowman has no position in any stocks mentioned. The Motley Fool has no position in any of the stocks mentioned. Try any of our Foolish newsletter services free for 30 days. We Fools may not all hold the same opinions, but we all believe that considering a diverse range of insights makes us better investors. The Motley Fool has a disclosure policy.
Copyright 1995 - 2016 The Motley Fool, LLC. All rights reserved. The Motley Fool has a disclosure policy.