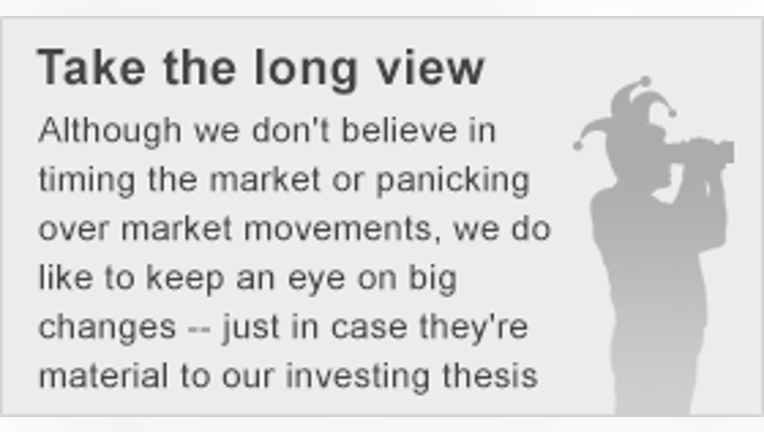 SOURCE: EDWARDS LIFESCIENCES CORP.
What: After releasing fourth-quarter results and forecasting additional growth in 2016, Edwards Lifesciences Corp. saw its shares climb 10.4% last month, according to S&P Global Market Intelligence.
So what: Sales at the heart-valve maker continue to grow as surgeons increasingly embrace transcatheter heart valve (THV) procedures in high-risk patients.
In large part thanks to growing demand for the company's Sapient THV, Edwards Lifesciences sales grew 8.6% to $671.1 million in the fourth quarter. Ex-out the negative drag on overseas sales caused by the strong dollar, and the company grew 15.1%.
Full-year results were similarly strong.
Revenue improved 7.4% to $2.5 billion in 2015, and adjusting out currency headwinds results in sales growth of 16.8%.
Importantly, a shift in product mix to the profit-friendly Sapient, and the benefit of leveraging more sales against fixed costs, allowed the company to deliver fourth-quarter and full-year adjusted EPS of $0.63 and $2.29, respectively. Notably, the 2015 full-year EPS figure was an impressive 30.9% higher than 2014.
Now what: THV product sales rose 25% to $334.3 million in Q4, and that gives the company plenty of momentum to deliver on management's outlook for 2016. Edwards Lifesciences CEO Michael Mussallem expects another 15% to 25% THV growth this year because of "momentum and expectation of continued therapy adoption."
If he's right, then the company has a good shot at delivering on its top-line sales guidance of $2.6 billion to $2.85 billion and EPS guidance of between $2.57 and $2.67 in 2016
Given that the company's been one of the brightest shining stars in med-tech over the past few years, Mussallem's optimism seems warranted. In fact, management may be low-balling guidance. After all, the company has outpaced industry watchers' outlooks in each of the past four quarters, and if the company's R&D and marketing team can expand the THV patient pool to include more people, then the company may be able to over-deliver again this year. That prospect could be even more likely given that the bottom line benefits from Congress' decision in December to suspend the 2.3% medical-device tax for two years.
Overall, while the med-tech space is highly competitive, Edwards Lifesciences has the go-to THV solution, and I think that advantage may be reason enough to stash shares in it away in portfolios.
The article Why Edwards Lifesciences Shares Soared 10.4% in February originally appeared on Fool.com.
Todd Campbell has no position in any stocks mentioned. Todd owns E.B. Capital Markets, LLC. E.B. Capital's clients may have positions in the companies mentioned. The Motley Fool has no position in any of the stocks mentioned. Try any of our Foolish newsletter services free for 30 days. We Fools may not all hold the same opinions, but we all believe that considering a diverse range of insights makes us better investors. The Motley Fool has a disclosure policy.
Copyright 1995 - 2016 The Motley Fool, LLC. All rights reserved. The Motley Fool has a disclosure policy.