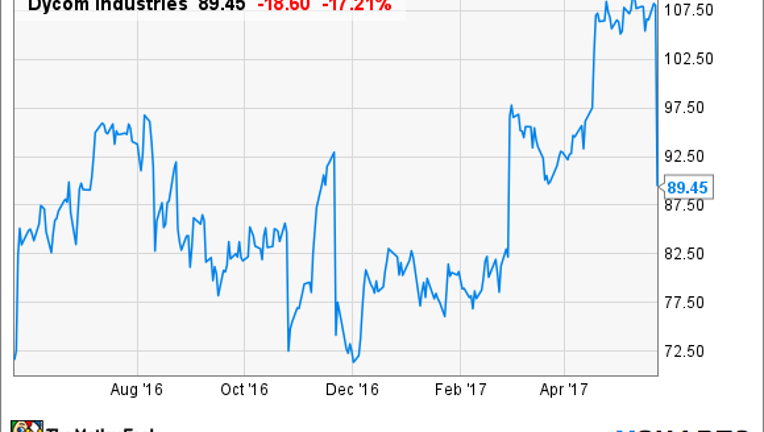 What happened
Shares of Dycom Industries Inc. (NYSE: DY), a provider of contract services to design and build infrastructure for telecommunications providers, are down a significant 18% after the company released its third-quarter 2017 results.
So what
Looking at the company's third-quarter results, you wouldn't expect such a drastic decline. Dycom posted an 18% increase in revenue, up to $786.3 million, which topped consensus estimates calling for $736.7 million, per Thomson Reuters. Dycom's bottom line also seemed healthy, with adjusted earnings checking in at $1.30 per share, a 20% increase from the prior year and higher than analysts' estimates for $1.19 per share.
Image source: Getty Images.
Now what
There is an important factor to note as investors sell the stock. As you can see in the chart below, Dycom often surges or plunges on earnings releases.
So what spooked investors this time around? Even though this was the company's 10thstraight quarter of double-digit non-GAAP organic growth, the 14.9% rate was the slowest quarterly result since the fourth quarter of 2015.
Another factor hurting the stock price today is that management's earnings-per-share forecast disappointed investors and analysts. On the top line, management expects revenue to check in between $789 million and $810 million, compared with analysts' forecasts for just under $850 million. Management expects the fourth-quarter adjusted earnings to be $1.35 to $1.50 per share, which is well below analyst estimates for $1.79 per share.
If you're invested in Dycom for the long term, take today's drop -- albeit a large one -- with a grain of salt because this is historically how Dycom trades on its guidance. Today the stock is going lower, but it has popped to the upside just as easily in the past. If nothing about your investing thesis has changed, stay the course.
10 stocks we like better than Dycom IndustriesWhen investing geniuses David and Tom Gardner have a stock tip, it can pay to listen. After all, the newsletter they have run for over a decade, Motley Fool Stock Advisor, has tripled the market.*
David and Tom just revealed what they believe are the 10 best stocks for investors to buy right now... and Dycom Industries wasn't one of them! That's right -- they think these 10 stocks are even better buys.
Click here to learn about these picks!
*Stock Advisor returns as of May 1, 2017
Daniel Miller has no position in any stocks mentioned. The Motley Fool has no position in any of the stocks mentioned. The Motley Fool has a disclosure policy.