Why Duluth Holdings, TETRA Technologies, and Synergy Pharmaceuticals Slumped Today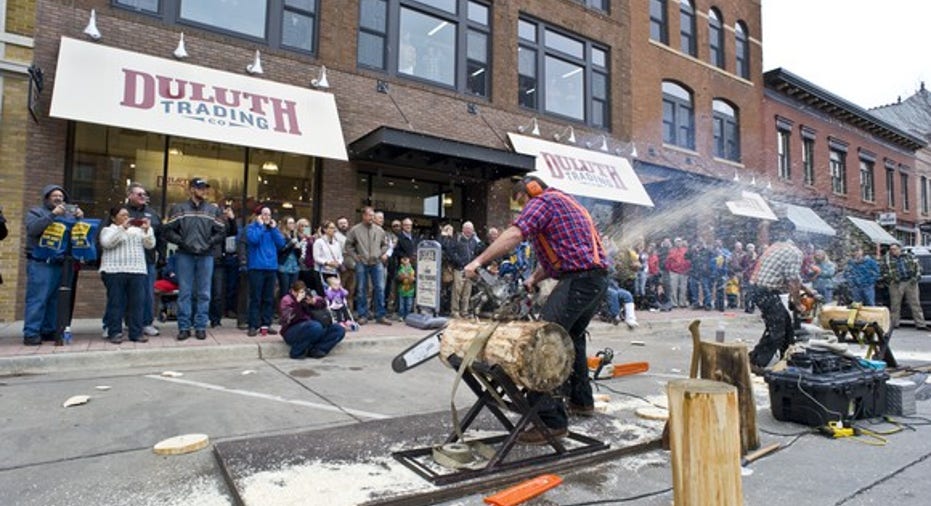 The stock market continued its impressive run on Friday with another slew of record performances from major market benchmarks. The Dow, S&P 500, and Nasdaq Composite all reached unprecedented levels as investors kept seeing more potential for gains in 2017 and beyond. Yet some stocks didn't participate in the rally today, and Duluth Holdings (NASDAQ: DLTH), TETRA Technologies (NYSE: TTI), and Synergy Pharmaceuticals (NASDAQ: SGYP) all fell sharply today. Below, we'll look more closely at these stocks to tell you why they did so poorly.
Image source: Duluth Trading.
Duluth falls down on the job
Duluth Holdings plunged 23% after its third-quarter financial report left investors disappointed. The maker of apparel and accessories reported profit of just $500,000, and although that was slightly better than the roughly breakeven results that investors had expected, sales gains of 21% didn't quite live up to expectations. In addition, Duluth made some negative revisions to its guidance for the full fiscal year, with current projects of $360 million to $370 million in sales and earnings of $0.52 to $0.60 per share. That would be less profit than Duluth made last year, and given the sharp rise in Duluth stock over the past year, anything short of the best possible performance left shareholders vulnerable to a decline like today's. What will be important is whether Duluth can do better during the holidays than many now fear, and if so, the stock might rebound from today's drop.
TETRA sells out
TETRA Technologies dropped 9% in the wake of its pricing a secondary offering of common stock and warrants. The oil and gas services company said that it would sell 19.4 million shares of common stock for $5.15 per share, which is just a bit higher than where the stock closed Thursday. In addition, TETRA will offer warrants to purchase 9.7 million more shares of stock over the next five years at an exercise price of $5.75 per share. The offering was expanded from its original 15 million share size, and TETRA said it would use the proceeds to pay down debt and for other corporate purposes. Given how negatively the stock moved when the offering was first announced, it's clear that people aren't happy about the potential dilution that the deal will cause for existing shareholders.
Synergy gives back its gains
Finally, Synergy Pharmaceuticals ended the day down 6%. The biopharmaceutical company's stock had original climbed sharply this morning after it announced favorable data in one of its phase 3 trials of irritable bowel syndrome treatment plecanatide. Synergy said that preliminary analysis showed that two different doses of the drug met the study's primary endpoint of seeing reductions in abdominal pain and increases in frequency of spontaneous movement of bowels in the same week for at least half of the trial's 12-week cycle. Some adverse events were observed, but CEO Gary Jacob said that the data support the company's "belief that plecanatide may represent an important new treatment option for the millions of patients currently suffering from [irritable bowel syndrome]." Yet over the course of the day, early gains gave way to losses, as investors apparently believe that the stock has climbed too far too quickly since early November and reined in their enthusiasm.
10 stocks we like better than Duluth Holdings When investing geniuses David and Tom Gardner have a stock tip, it can pay to listen. After all, the newsletter they have run for over a decade, Motley Fool Stock Advisor, has tripled the market.*
David and Tom just revealed what they believe are the 10 best stocks for investors to buy right now... and Duluth Holdings wasn't one of them! That's right -- they think these 10 stocks are even better buys.
Click here to learn about these picks!
*Stock Advisor returns as of Nov. 7, 2016
Dan Caplinger has no position in any stocks mentioned. The Motley Fool recommends Duluth Holdings. Try any of our Foolish newsletter services free for 30 days. We Fools may not all hold the same opinions, but we all believe that considering a diverse range of insights makes us better investors. The Motley Fool has a disclosure policy.