Why Duluth Holdings Inc Stock Is Plunging Today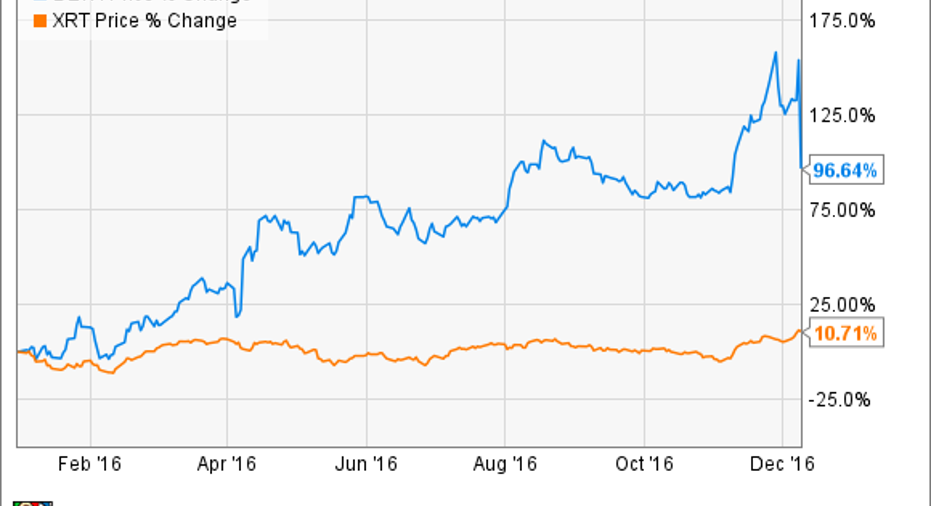 Image source: Duluth Holdings.
What happened
After reporting disappointing third-quarter results, shares of Duluth Holdings (NASDAQ: DLTH), a niche apparelmaker that caters to tradesmen in rural areas, fell by more than 22% as of 11:30 a.m. EST on Friday.
So what
Here's a quick look at the quarterly highlights:
Duluth opened three new retail stores during the quarter, bringing its total up 12 retail stores and two outlets.
Revenue grew 21% to $67 million. This figure came up short of the $69 million in revenue that Wall Street had expected.
Gross margin expanded by 60 basis points in the period to 57.8%.
Costs related to new store openings caused selling, general, and administrative expenses to rise by 27% to $37.9 million.
Net income for the quarter dropped 67% to $0.5 million, or$0.01per diluted share. That was roughly in line with what market watchers had expected.
Management blamed the revenue shortfall on "unseasonable weather, coupled with a highly promotional environment."In response, it lowered guidance forfiscal 2016.
Here's an updated look what it expects to happen during the full year:
Data source: Duluth Trading.
Given the disappointing third-quarter sales and cut to full-year guidance, it's no surprise to see shares cratering today.
Now what
Duluth's long-term shareholders have enjoyed a fantastic run in 2016. Even after including today's huge drop, shares are still up more than 96% since the start of the year. That blows past the returns of the retail sector in general as measured by the SPDR S&P Retail ETF (NYSEMKT: XRT).
While Duluth's third-quarter results were a bit light of expectations, the company continues to feel good about its long-term prospects. In the release, management reaffirmed its long-term financial growth targets, which call for roughly 20% annual sales growth and 25% net income growth.
With plenty of room left for new store openings and rising gross margins, these long-term targets appear to be achievable. If true, then it wouldn't surprise me one bit to see shares continue to provide investors with market-beating returns.
10 stocks we like better than Duluth Holdings When investing geniuses David and Tom Gardner have a stock tip, it can pay to listen. After all, the newsletter they have run for over a decade, Motley Fool Stock Advisor, has tripled the market.*
David and Tom just revealed what they believe are the 10 best stocks for investors to buy right now... and Duluth Holdings wasn't one of them! That's right -- they think these 10 stocks are even better buys.
Click here to learn about these picks!
*Stock Advisor returns as of Nov. 7, 2016
Brian Feroldi has no position in any stocks mentioned.Like this article? Follow him onTwitter where he goes by the handle@Longtermmindsetor connect with him on LinkedIn to see more articles like this.
The Motley Fool recommends Duluth Holdings. Try any of our Foolish newsletter services free for 30 days. We Fools may not all hold the same opinions, but we all believe that considering a diverse range of insights makes us better investors. The Motley Fool has a disclosure policy.