Why Dow Chemical, Wynn Resorts, and AeroVironment Jumped Today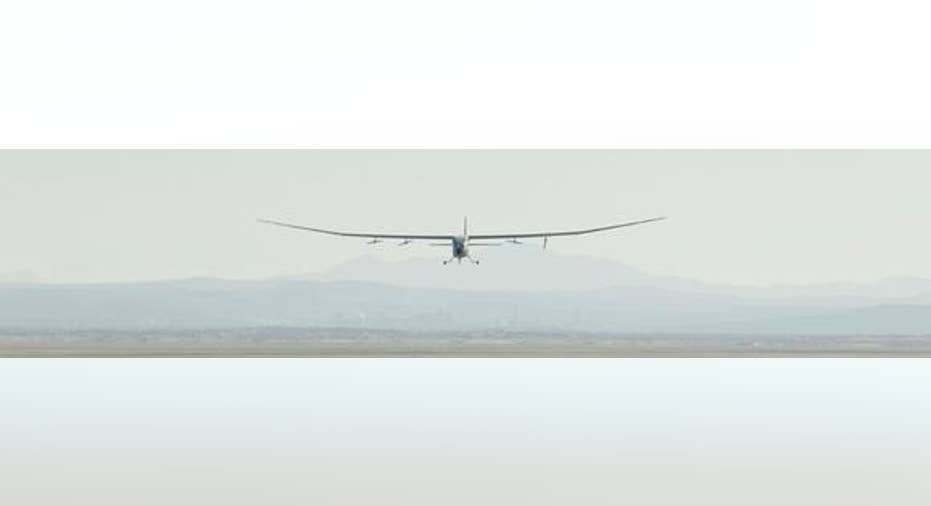 AeroVironment reported solid earnings to jump Wednesday. Image: AeroVironment.
Wednesday was an unusual day for the stock market, with morning gains giving way to afternoon losses that left the Dow Jones Industrials trading in a 360-point range. By the end of the day, major market benchmarks were down between 0.5% and 1.5%, but several stocks managed to hang onto their gains. Dow Chemical , Wynn Resorts , and AeroVironment were among the top-performing stocks in the market Wednesday.
Dow Chemical jumped 12% on speculation that it was in merger discussions with fellow chemicals giant DuPont . Various sources noted that a merger could create a $120 billion to $130 billion powerhouse in the industry, but a possible follow-up to a merger would be a subsequent split of the merged entity into separate divisions concentrating on specialty chemicals, agricultural products, and chemical commodities. A combination would make Dow Chemical and DuPont more competitive against other rivals in their respective industries, and analysts believe that a merger could save the two companies billions in costs through synergies. Skeptics noted that antitrust obstacles could block a potential deal even if it included a subsequent breakup, but shares of both companies climbed substantially on the news, showing investors' general comfort level with the concept.
Wynn Resorts climbed 13% after the company announced Tuesday night that CEO Steve Wynn had purchased slightly over 1 million shares on the open market over the past week. The insider purchase boosted Wynn's total direct and indirect holdings by roughly 10% and represented a key vote of confidence in the ailing casino company, which has been hit hard by the slump in the Macau gaming industry. Wynn has a reputation for making smart capital-allocation decisions, with the company having often executed stock repurchases at relatively low levels and then making secondary offerings of new shares once they've hit higher marks. Wynn Resorts has plenty of uncertainty ahead, but its CEO's financial position gives investors the confidence of knowing that their economic interests are aligned going forward.
Finally, AeroVironment soared 15% on the day following the drone-maker's latest quarterly financial report. The company reported a 23% rise in revenue led by its Unmanned Aircraft Systems unit, and AeroVironment reversed a year-earlier loss with an unexpected profit of $0.19 per share. The drone-maker was upbeat about its future, noting that it pulled in $66 million in drone-related contracts and extensions during the quarter. AeroVironment also repeated its upbeat guidance for the full fiscal year and believes that the budding commercial drone space still has untapped potential to become the next huge growth driver for the company going forward. Despite some challenges in adapting drone use to the current aviation environment, investors are hopeful that AeroVironment can play a leadership role from its niche position in the drone space.
The article Why Dow Chemical, Wynn Resorts, and AeroVironment Jumped Today originally appeared on Fool.com.
Dan Caplinger owns shares of Wynn Resorts, Limited. The Motley Fool owns shares of and recommends AeroVironment. Try any of our Foolish newsletter services free for 30 days. We Fools may not all hold the same opinions, but we all believe that considering a diverse range of insights makes us better investors. The Motley Fool has a disclosure policy.
Copyright 1995 - 2015 The Motley Fool, LLC. All rights reserved. The Motley Fool has a disclosure policy.