Why Domino's Pizza Soared 43% in 2016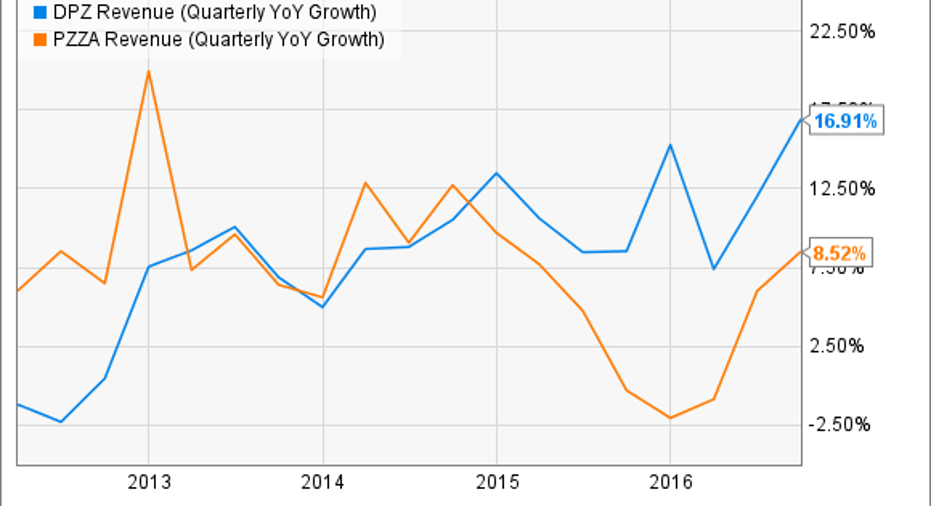 What happened
Domino's (NYSE: DPZ) stock gained 43% in 2016, according to data provided by S&P Global Market Intelligence.
The rally contributed to massive growth for long-term shareholders, who have seen their stock double over the past three years and spike by nearly 400% since 2012 -- a time during which the broader market rose by just 78%.
So what
Domino's 2016 operating results trounced other fast-food chains and also left rival Papa John's (NASDAQ: PZZA) far behind. Comparable-store sales rose by 6% in the first quarter, by 10% in the second quarter, and by 13% in the third quarter of the year. Papa John's, meanwhile, has seen its growth pace improve from flat, to 5%, to 6% in its most recent quarter, which adds up to a significant sales gap.
DPZ Revenue (Quarterly YoY Growth) data by YCharts.
Domino's remains far more profitable than its smaller rival, too. Operating margin clocks in at 18% over the past 12 months, or double Papa John's result. The gap isn't quite as large when you drill down to the bottom line, but Domino's is again in the lead with net margin of almost 9%, compared with 6% for its competitor.
Now what
Wowed by what CEO J. Patrick Doyle and his executive team recently called "unprecedented momentum," investors have bid the stock up to record highs, although last year's rally trailed Papa John's almost 60% spike.
Image source: Getty Images.
A big question going forward is just how deep of a moat is protecting Domino's business. It might just be a matter of time, for example, before menu tweaks allow rivals to steal back their lost market share. Another key risk is the company's elevated debt level, given that interest payments ate up a brutal 4.5% of sales last quarter. YetDomino's stock should march higher in 2017 if the pizza chain continues boosting its sales footprint and earnings at a market-thumping pace.
10 stocks we like better than Domino's Pizza When investing geniuses David and Tom Gardner have a stock tip, it can pay to listen. After all, the newsletter they have run for over a decade, Motley Fool Stock Advisor, has tripled the market.*
David and Tom just revealed what they believe are the 10 best stocks for investors to buy right now... and Domino's Pizza wasn't one of them! That's right -- they think these 10 stocks are even better buys.
Click here to learn about these picks!
*Stock Advisor returns as of January 4, 2017
Demitrios Kalogeropoulos has no position in any stocks mentioned. The Motley Fool owns shares of Papa John's International. The Motley Fool is short Domino's Pizza and has the following options: long June 2017 $140 puts on Domino's Pizza. The Motley Fool has a disclosure policy.