Why Doesn't This Analyst Believe Raytheon's Earnings Guidance?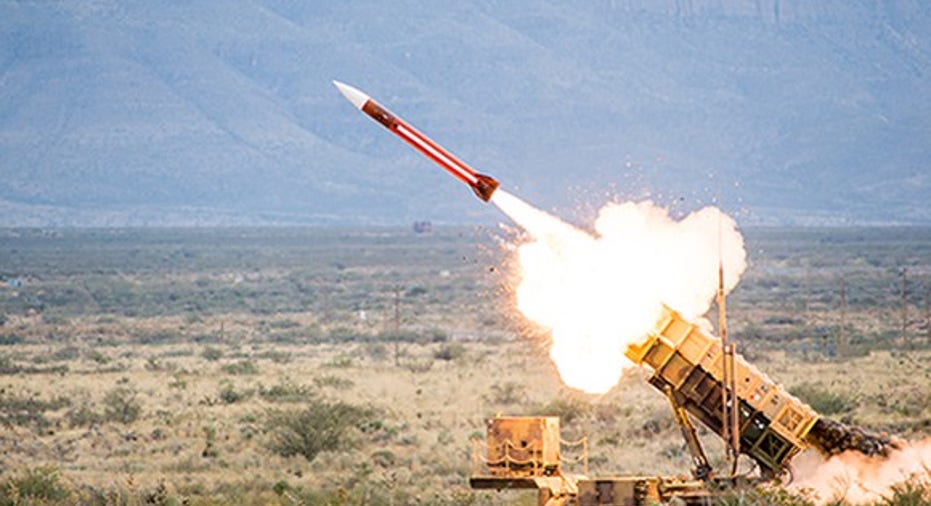 Raytheon (NYSE: RTN) wowed the stock markets on Thursday, blasting out of the gate with a Q1 2017 earnings report that blew away Wall Street's estimates for both sales and earnings. To top it all off, Raytheon then proceeded to raise its guidance for the rest of the year.
And yet, it appears that one analyst doesn't believe Raytheon's numbers. In an uber-optimistic recap of Raytheon's Q1 earnings, coupled with a hike to its price target, Stifel Nicolaus is insisting this morning that Raytheon has lowballed its estimates -- and will beat earnings again!
Here are three things you need to know about that.
It feels PATRIOT-ic to invest in Raytheon stock, but is the price too high? Image source: Raytheon.
1. Raytheon stuns the cynics
For months, I've argued that Raytheon (and pretty much every other military contractor in the defense space) is vastly overvalued relative to long-term historical trends, where we find defense contractors generally valued at about one times sales. (Raytheon, by the way, now costs 1.9 times sales.)
And yet, whether or not its stock is overvalued, Raytheon's business just keeps outperforming expectations. In its earnings report released Thursday, Raytheon reported:
3% revenue growth, with Q1 sales reaching $6 billion;
improved operating and net profit margins of 12.4% and 8.4%, respectively;
and a simply astounding 21% growth in earnings per share -- $1.73 for the quarter.
Those are some very impressive numbers, and one reason that Stifel Nicolaushas decided to double down on its buy rating, and hike its target price for Raytheon stock to $175 per share.
2. How Raytheon beat expectations
Raytheon grew its sales in four of its five main business segments last quarter -- integrated defense systems, missile systems, space and airborne systems, and Forcepoint. Revenue only declined in the company's intelligence, information and services division, and there, only by 2%.
The company also did a great job of improving the profitability of those revenues in four of the company's five divisions -- but not all the same ones. Operating profit margin declined in Raytheon's smallest business, the Forcepoint cyberwarfare division. Conversely, Raytheon's biggest profit driver, integrated defense systems (IDS), saw both revenue growth and growth in the profitability of that revenue. IDS operating profit margin exploded higher by 430 basis points, to 15.2%.
3. Stifel's reaction
That fact appears to be central to Stifel Nicolaus's decision to raise its price target on Raytheon stock. In an analysis covered on StreetInsider.com this morning, Stifel is quoted praising the "impressive" performance of Raytheon IDS -- and really, of Raytheon in general this past quarter.
And here's perhaps the best news for Raytheon shareholders: After crunching the numbers from Q1's impressive performance, and considering its prospects of growing revenue and profits even further under the now-hawkish Trump administration, Raytheon felt confident enough to raise its net earnings guidance for this year, to a new range of between $7.25 and $7.40 per share.
Yet Stifel thinks Raytheon didn't raise its guidance enough. According to Stifel, there's every possibility that when fiscal 2017 closes, we'll find Raytheon has earned closer to $7.50 or even $7.55 per share. (And then, Stifel goes on to predict profits of as much as $8.70 per share in fiscal 2018 -- as much as 16% growth.)
And one more thing: What it means to investors
In effect, Stifel Nicolaus is telling us that Raytheon lowballed its guidance for the rest of the year, and that after beating earnings in Q1, Raytheon will keep on beating earnings expectations all year long. That's a prediction calculated to raise a lot of excitement among Raytheon shareholders. But is it likely to happen?
I'm honestly not sure. On the one hand, I'm already inclined -- and I freely admit this -- to veer away from Raytheon stock on the feeling that it costs too much. On the other hand, there are two clear numbers I can point to that raise actual worries as to Raytheon's ability to continue outperforming this year.
Firstly, there's the fact that in Q1 2017, Raytheon booked only $5.7 billion in new business, which was not enough to replace the revenue it booked in the quarter, and which works out to a book-to-bill ratio of only 0.95. Assuming no uptick in bookings later this year, that seems to foreshadow a slowdown in Raytheon's sales in future quarters.
Granted, improvements in profit margins, combined with a few share buybacks, could keep earnings rising at Raytheon even with flat to falling sales. But that brings me to my second point: Free cash flow. In Q1, Raytheon reported net profits of $503 million, as calculated under generally accepted accounting principles (GAAP). And yet, the company generated no free cash flow at all during the quarter, instead burning through $127 million worth of cash -- negative free cash flow.
Unless and until Raytheon resumes its cash-producing ways, I can't endorse an investment in what still looks to me like one very expensive stock.
10 stocks we like better than RaytheonWhen investing geniuses David and Tom Gardner have a stock tip, it can pay to listen. After all, the newsletter they have run for over a decade, Motley Fool Stock Advisor, has tripled the market.*
David and Tom just revealed what they believe are the 10 best stocks for investors to buy right now... and Raytheon wasn't one of them! That's right -- they think these 10 stocks are even better buys.
Click here to learn about these picks!
*Stock Advisor returns as of April 3, 2017
Rich Smith has no position in any stocks mentioned. The Motley Fool has no position in any of the stocks mentioned. The Motley Fool has a disclosure policy.