Why Disney Stock Has Caught My Eye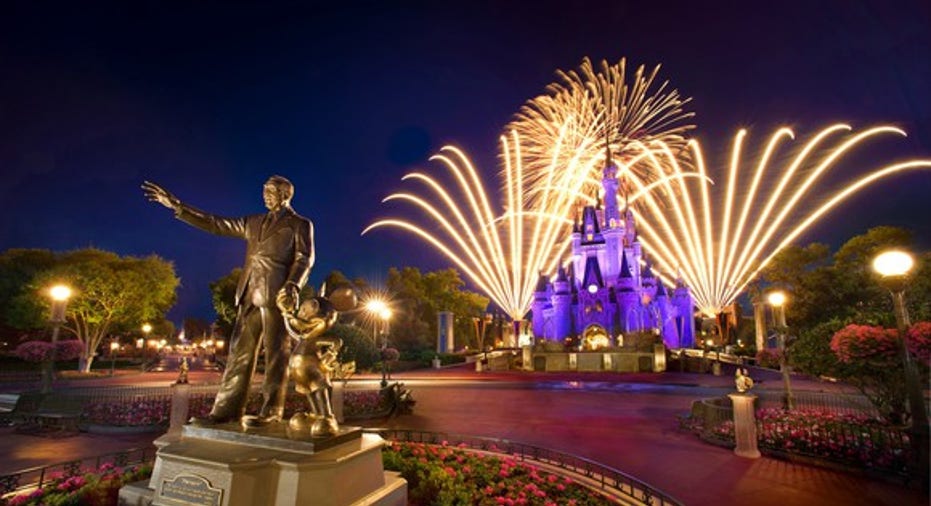 Image source: Disney.
Shares of great companies usually aren't cheap. With investors generally willing to pay a premium for quality, those looking for bargains need to be extremely patient, waiting for the right time and the right price. Temporary setbacks and overblown pessimism can occasionally cause the market to sour on even the best of companies, creating an opening for investors to pounce.
Shares ofWalt Disney(NYSE: DIS) are down about 25% since peaking in 2015. The main thing spooking investors seems to be the company's TV business. ESPN, the dominant cable sports network in which Disney owns an 80% stake, is a cash cow for the company. During the first nine months of fiscal 2016, Disney's cable networks segment generated $12.7 billion of revenue and $5.3 billion of operating income, making it easily the most profitable segment for Disney, both in absolute terms and as a percentage of revenue.
But ESPN is losing subscribers, due to the rise of streaming and the increased prevalence of skinny cable packages which exclude expensive channels like ESPN. According to Nielsen, EPSN has lost more than 11 million households over the past five years, a trend that could threaten one of Disney's most lucrative businesses.
ESPN is facing some serious problems, but with Disney stock down so much over the past year and with the rest of the business performing well, I'm putting Disney on my watch list.
What I like about Disney
Despite its media networks generating around half of the company's operating income over the past nine months, Disney is a fairly diversified company. Parks and resorts generated $12.6 billion of revenue and $2.6 billion of operating income in the first nine months of the year, with strong performance at its domestic parks offsetting weaker performance overseas. Costs associated with the opening of Shanghai Disney Resort hurt profits, but the new park offers a meaningful growth opportunity for the company.
The studio entertainment business has been on fire, with revenue and operating income up 37% and 61% year over year, respectively, during the first nine months of 2016. Disney owns Marvel, which has been incredibly successful building a cinematic universe based on its comic books. Disney also now owns the Star Wars franchise, and there will be no shortage of new films in the coming years.
Analysts expect Disney to produce $5.79 in per-share profits in fiscal 2016, putting the price-to-earnings ratio just shy of 16. Disney isn't the cheapest stock around, but a mid-teens P/E ratio for a company like Disney seems a bit pessimistic to me. Disney isn't a screaming bargain here, but if the stock continues slumping, it will be soon enough.
The big-picture bull argument for Disney is that the company owns a large amount of high-quality content and should be able to adapt to changes in how people watch TV. Content is king, and Disney is the king of content.
What I don't like about Disney
Having said all of that, there are some risks associated with Disney. ESPN is a problem, and it's unclear whether Disney will be able to replace the bonanza of fees paid by cable companies through other business models. Disney plans to launch a direct-to-consumer EPSN-branded sports streaming service by the end of this year, but it won't feature content that currently airs on ESPN. Sports is one area that streaming companies like Netflix have largely avoided, but Disney will need to eventually fully embrace streaming if it aims to remain the dominant provider of sports content.
The movie business is also a concern, albeit a small one. At the moment, the continued success of Marvel and Star Wars films are driving revenue and profits higher. Disney has a long history of successfully producing films, so I'm not concerned about the business as a whole. But I question whether the phenomenal success of the past few years can be maintained. It's a minor point compared to the problems with ESPN, but it's worth mentioning.
Rumors have recently surfaced that Disney is considering an acquisition of Twitter. I think it's a useful product wrapped in an awful business, and I hope Disney doesn't pull the trigger. Wasting potentially $20 billion on a struggling social media company with a stagnating user base sounds like a terrible idea to me.
Turning to the stock, I'd like to see a higher dividend coming from Disney. The stock yields just 1.55% at the moment, and the company pays out just 25% of its expected 2016 earnings to shareholders. Disney does actively buy back its own shares, knocking down the share count in the process, but I'd prefer a more balanced approach.
With Disney stock down 25% from its peak, it's got my attention. Much of the business is performing well, and ESPN, despite losing subscribers, is still producing solid results. The business model will need to change at some point in the future, but for now it remains a cash cow for the company. I'd like the price to be a bit lower before I consider buying shares of Disney, mostly to protect myself against bad-casescenarios that could play out with ESPN. But the opportunity to buy a high-quality company at such a reasonable price doesn't happen all that often. Investors would be wise to keep an eye on Disney.
A secret billion-dollar stock opportunity The world's biggest tech company forgot to show you something, but a few Wall Street analysts and the Fool didn't miss a beat: There's a small company that's powering their brand-new gadgets and the coming revolution in technology. And we think its stock price has nearly unlimited room to run for early in-the-know investors! To be one of them, just click here.
Timothy Green has no position in any stocks mentioned. The Motley Fool owns shares of and recommends Netflix, Twitter, and Walt Disney. Try any of our Foolish newsletter services free for 30 days. We Fools may not all hold the same opinions, but we all believe that considering a diverse range of insights makes us better investors. The Motley Fool has a disclosure policy.