Why Disney Should Spin Off ESPN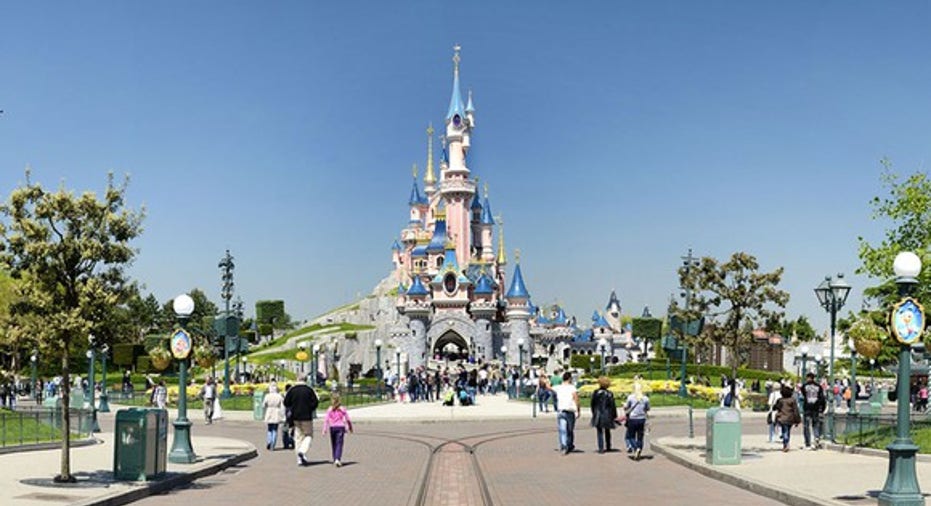 2016 has been an odd year forWalt Disney Co(NYSE: DIS). Its studio entertainment division has released a string of box office hits, including Star Wars: The Force Awakensat the end of last year, Zootopia, The Jungle Book,Finding Dory, and Moana. Shanghai Disneyland opened in June, and has drawn big crowds and rave reviews.
Image Source: Disney.
Yet despite those successes, the stock has underperformed theS&P 500by 12 percentage points so far this year, and could have its first down year since 2011, when it fell by less than 1%. There's been other news that's clouded the company's future too.
Rumors of a merger withNetflixandTwitterswirled during the year, but neither one is likely to come to fruition; COO Thomas Staggs bowed out in April, leaving CEO Bob Iger's replacement when he retires in 2018 an open question; and most importantly, the company remains troubled by declining subscribership at ESPN, as management has been hesitant to "cut the cord."
It's ironic that ESPN is now holding the media conglomerate back. The sports network came to Disney as a sort of third wheel in its merger with ABC in 1995. The broadcast network was the real prize, but ESPN went on to be a giant cash cow on its own, valued at an estimated $50 billion at one point, much more than the $19 billion Disney paid in the deal for ABC/Capital Cities.
But with the rise of Netflix and cord-cutting, times have changed, and Disney is being forced to recognize something it didn't have to earlier. ESPN simply doesn't fit with the rest of its business. It's the one thing that isn't like the others.
With his acquisitions of Pixar, LucasFilm, and Marvel, Iger has built an engine for extracting value out from entertainment and intellectual property that is unmatched in the industry. A hit movie likeFrozenleads to princess Anna becoming the hot toy for the holiday season, and spinoff productions likeFrozen the musical that bring in cash and add to the brand value. At its theme parks Disney has planned Star Wars Lands for both its parks in the U.S., and has begun opening a slate of Marvel-themed rides.
ESPN offers it no such leverage into other categories, and the world of sports is well removed from the fantasy land that is home to Disney's core brands.
We need to talk
In its full-year report in November, Disney reported a robust 17% increase in EPS. Disney's media networks still make up nearly half of its operating income, but that figure actually fell by less than 1% last year. Meanwhile, operating income was up 9% in its Parks and Resorts division. It jumped 37% in studio entertainment and increased 4% for consumer products. Studio entertainment tends to be volatile as box office hits are hard to predict, but the growth is increasingly coming from the non-media networks divisions.
Iger has tried to downplay the effect of ESPN's decline, and it's clear why. The sports network still generates a sizable portion of the company's operating profits, roughly a quarter, and Iger's reluctant to break up the cable bundle before he has to. Investors, however, don't see it that way, especially since Disney's fourth-quarter report includes lines like this: "The decrease (in operating income) at ESPN reflected lower advertising and affiliate revenue and higher programming and production costs." Those are secular trends that aren't going to change. ESPN is locked into expensive deals to carry NFL and NBA games through the 2020s, and subscribers are only going to have more reasons to cut the cord in the future.
Time to break up
Disney is two business masquerading as one. On one end is the growing flywheel of intellectual property centered on Disney's traditional reputation as a magical kingdom of family and children's entertainment.
On the other end is its declining set of media networks, which have little to do with Disney's core assets and are now an obvious weight on the stock. Spinning off ESPN or selling it would give investors a choice of businesses to invest in that intuitively belong together, and it would allow the core Disney assets to trade at a premium valuation rather than at a discount to the market, as investors respect the unique competitive advantages of the business model.
Until it does, its media networks will continue see profits dwindle, and the stock will languish.
Find out why Walt Disney is one of the 10 best stocks to buy now
Motley Fool co-founders Tom and David Gardner have spent more than a decade beating the market. (In fact, the newsletter they run, Motley Fool Stock Advisor, has tripled the market!*)
Tom and David just revealed their ten top stock picks for investors to buy right now. Walt Disney is on the list -- but there are nine others you may be overlooking.
Click here to get access to the full list!
*Stock Advisor returns as of November 7, 2016
Jeremy Bowman owns shares of Netflix. The Motley Fool owns shares of and recommends Netflix, Twitter, and Walt Disney. Try any of our Foolish newsletter services free for 30 days. We Fools may not all hold the same opinions, but we all believe that considering a diverse range of insights makes us better investors. The Motley Fool has a disclosure policy.