Why Disney Is the Best Buy in the Media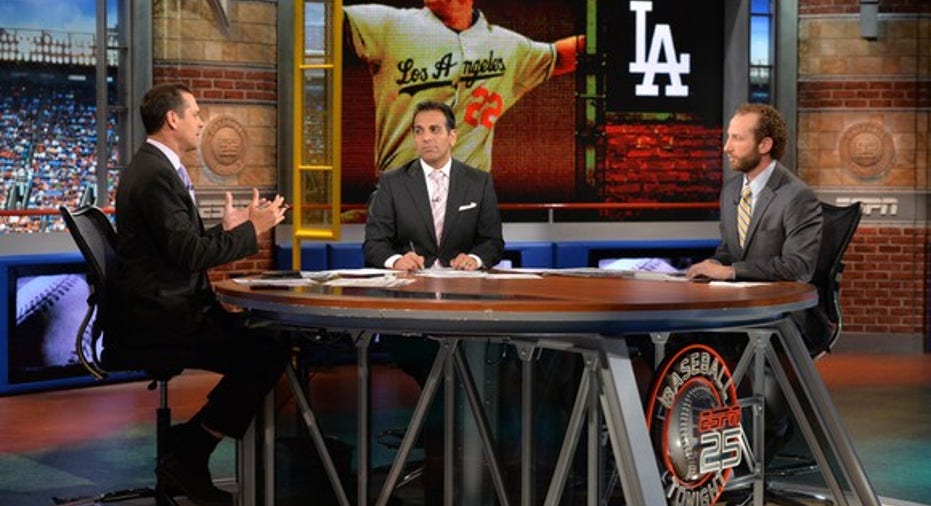 Inasmuch as you can hang a dollar value on it, the market currently values the Walt Disney Company (NYSE: DIS) -- the company behind many of our fondest childhood memories -- at a cool $175 billion.
That's because Disney is more than just an animation studio. It's a complex organization that goes on to profit from its own blockbusters at every step of the content's life cycle. And there's even more to the story than that. So let's examine the unique business model that makes Disney the best stock to own in the media industry.
Image source: Disney.
Inside the Magic Kingdom
Disney owns some of the most coveted and recognizable media assets in the world, and its ability to monetize them across multiple distribution channels allows it to print profits year after year. Its two content-producing segments -- media networks and studio entertainment -- are by far its most important, both in terms of their financial contributions and the support they provide for Disney's other segments.
The media networks segment generates the bulk of the company's revenue and operating profit. For Disney's fiscal 2016, the segment's $23.6 billion in sales constituted 51% of total revenue, and its $7.7 billion in segment operating profit provided 49% of total operating profit.It either owns or controls a host of TV networks, including ESPN, ABC, A&E, The History Channel, The Disney Channel, and more. Of Disney's four segments, media networks can be seen as the standalone profit center, whereas the rest of its business lines enjoy far more symbiotic relationships.
Through the studio entertainment division, the company produces and distributes films under the Walt Disney Pictures, Pixar, Marvel, LucasFilm, and Touchstone Pictures banners. The segment is responsible for producing the hit films for which the House of Mouse is synonymous, which means its financial performance can fluctuate from year to year based on the strength of the prevailing studio lineup. That variability means studio entertainment's financial impact tends to hover in the mid- to high teens of the company's annual sales and operating profit.However, Disney's parks and resorts and its consumer products and entertainment divisions rely on the characters studio entertainment invents to drive their businesses -- think Disneyland and Disney-branded toys and apparel -- as well as the remainder of the company's financial performance.
Altogether, this creates a powerful financial engine, one that has improved considerably under the tenure of current CEO Bob Iger. That's why Disney stock is one of the most widely recommended among the Fool's premium newsletter services.
However, for all its desirable elements, the company also faces one important risk factor that all investors should understand.
Image source: Disney.
Still the best, despite one big risk
The media landscape has been undergoing big changes in recent years, and the rise of streaming video threatens to alter the uber-profitable business model at ESPN. At present, ESPN -- and the rest of Disney's media networks segment -- generates the bulk of its revenue from affiliate fees it charges cable distributors and ad sales around each network's content.
With live sports networks such as ESPN considered to be one of cable's few remaining competitive advantages over streaming options such asHulu or Netflix, Disney has been able to negotiate annual per-subscriber rate increases from major cable providers in recent years. (Wonder why your cable bill keeps rising?) However, cord-cutting has driven the number of ESPN subscribers downward in recent years, from 100 million in 2010 to 90 million in fiscal 2016.Equally worrisome, new competition from sports networks such asFox Sports 1 also threatens to drive up content costs at ESPN.
As Iger has stated, ESPN is aware of these looming threats and taking steps to lean into the changing media landscape. So long as it can do so, ESPN will remain perhaps the most valuable asset in all of media, even in a company like Disney that's brimming with timeless TV and film properties. Disney has a long history of printing profits from its cherished content lineup, and the enduring affection of plenty of consumers for its cast of characters should remain through good management and bad. So while it will need to continue to sail with the changing industry tides, Disney remains one of the best media stocks to own today.
10 stocks we like better than Walt DisneyWhen investing geniuses David and Tom Gardner have a stock tip, it can pay to listen. After all, the newsletter they have run for over a decade, Motley Fool Stock Advisor, has tripled the market.*
David and Tom just revealed what they believe are the 10 best stocks for investors to buy right now... and Walt Disney wasn't one of them! That's right -- they think these 10 stocks are even better buys.
Click here to learn about these picks!
*Stock Advisor returns as of February 6, 2017
Andrew Tonner has no position in any stocks mentioned. The Motley Fool owns shares of and recommends Netflix and Walt Disney. The Motley Fool has a disclosure policy.