Why Disney and Wal-Mart Made Headlines Today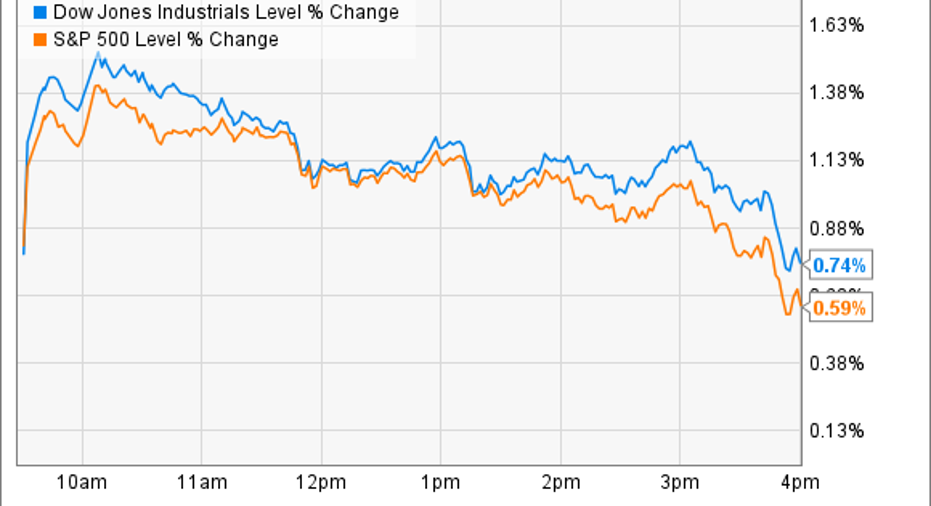 Stocks began Monday's trading session with big gains as they followed world indexes higher on news that United Kingdom residents will likely vote to stay in the European Union later this week. Afternoon selling removed some of those gains, but stocks still ended in solidly higher territory.
For the day, the Dow Jones Industrial Average added 131 points, or 0.7%, and the S&P 500 rose 12 points, or 0.6%:
Meanwhile, individual stocks making headlines on Monday included Dow giants Disney and Wal-Mart , along with Chinese e-commerce specialistJD.com .
Disney's winning movie streak swims along
Disney's stock briefly pushed back above the $100 mark following a strong release weekend for its Finding Dory movie. Dory pulled in $136 million, a record for an animated film and nearly double the opening take of its Finding Nemo predecessor, which booked $70 million of sales at launch back in 2003. The huge initial take and solid reviews from audiences suggest it will be a solidly profitable movie for the company.
Image source: Disney.
The success adds to a banner year for Disney at theaters. The House of Mouse has already made history by quickly passing $1 billion of sales thanks to a diverse group of hits from its Marvel (Captain America: Civil War), Disney Pictures (The Jungle Book), and Disney Animation (Zootopia) studios. With Finding Dory, investors can now add Pixar to that stacked win column.
In fact, Disney has a good shot at finishing 2016 as the top movie studio in the country, which hasn't happened in over a decade. There's much more than just bragging rights at stake, though. Disney's studio division's profits are up 60% over the last six months and are helping offset stubbornly slow growth from its media networks segment. Of course, ticket sales are just the beginning of a long trip through Disney's vast entertainment empire that includes profits from toy licensing and new theme park attractions.
Wal-Mart's new deal with JD.com
Chinese e-commerce giant JD.com saw its stock rise 5% after announcing a major new partnership with Wal-Mart. The deal transfers the mega retailer's online business in China over to JD.com, and in exchange, Wal-Mart will take a 5% stake of JD's outstanding shares.
Image source: Getty Images.
China is a critical market for Wal-Mart, its fourth largest by revenue. That's why the retailer plans to use JD.com's platform to dramatically expand its online reach, both for its regular stores and for Sam's Club locations. CEO Doug McMillon called JD.com an "ideal partner" for these purposes. It will "help us offer compelling new experiences that can reach significantly more customers," McMillon said in a press release.
Those new experiences will likely be focused on tighter integration between online and offline businesses, including same-day and next-day order delivery.
As for JD.com, its traffic should improve thanks to a much larger product selection and the ability to market to a wider range of customers, including the more affluent Sam's Club shoppers. "JD.com's reputation for authentic products and superior customer experience make it an outstanding home for these iconic businesses to reach hundreds of millions more customers in China," CEO Richard Liu said.
The article Why Disney and Wal-Mart Made Headlines Today originally appeared on Fool.com.
Demitrios Kalogeropoulos owns shares of Walt Disney. The Motley Fool owns shares of and recommends Walt Disney. Try any of our Foolish newsletter services free for 30 days. We Fools may not all hold the same opinions, but we all believe that considering a diverse range of insights makes us better investors. The Motley Fool has a disclosure policy.
Copyright 1995 - 2016 The Motley Fool, LLC. All rights reserved. The Motley Fool has a disclosure policy.