Why Did The Container Store Group, Inc. Gain 21% in April?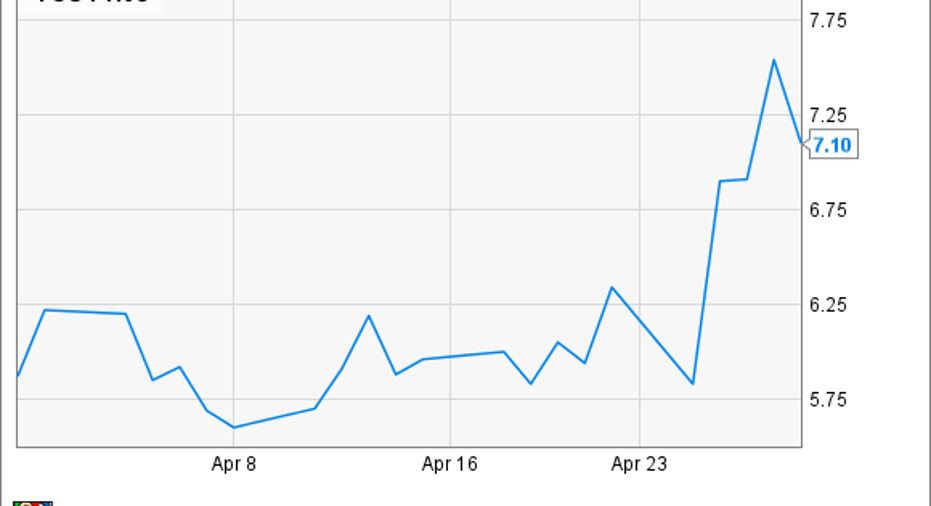 The Container Store Group dramatically beat its comparable-store sales growth guidance, which caused its shares to jump higher after it reported Q4 and year-end results.
What: After forecasting comparable-store sales of -3% to -5% in Q4, the company actually reported a 0.2% increase, the third quarter in a row in which the chain has posted positive comparable-store sales growth. It also grew net sales in Q4 to $232.1 million, up 3.5% over Q4, 2014. The company did post slightly lower earnings per share than in the previous year, $0.20 in Q4, 2015 versus $0.24 in Q4, 2015, but that clearly did not sway the market.
Based on these numbers, the company's shares, which closed March at $5.87, shot up after the earnings report to close April at $7.10 a nearly 21% increase according to data provided by S&P Global Market Intelligence.
Image source: YCharts.com
So what:The quarter was both a big surprise and a big win for the company. CEO Kip TIndell explained in part why the numbers were so much better than expected.
"From a comparable store sales standpoint we performed much better than we projected for the fourth quarter and importantly, saw improved and positive comparable store sales across non-TCS Closets and non-elfaareas of the store during the last two months of the fiscal quarter," he said. In addition, our TCS Closets initiative was again a key driver of performance, providing a 140 basis point lift to overall comparable store sales.
Now what: The market tends to reward a company that beats its projections, which clearly happened here, but The Container Store will need to do better at forecasting its results going forward to avoid a surprise in the other direction.
In 2016 the company expects consolidated net sales between $830 million and $845 million based on expected store openings and a comparable store sales change of -1.5% to +0.5%. It also predicts net income between $0.20 to $0.30 per diluted common share with adjusted EBITDA between $75 million to $85 million.
In the long run, The Container Store will serve its shareholders better by hitting those numbers or exceeding them slightly. Blowing them out of the water, which the chain did this quarter, can create an expectation of doing that every quarter, which can actually send share prices down even when the numbers are on target.
Basically, this was a big beat and that's great for a quarter, but not something the company should make a habit of.
The article Why Did The Container Store Group, Inc. Gain 21% in April? originally appeared on Fool.com.
Daniel Kline has no position in any stocks mentioned. He owns more than enough containers. The Motley Fool owns shares of and recommends The Container Store Group. Try any of our Foolish newsletter services free for 30 days. We Fools may not all hold the same opinions, but we all believe that considering a diverse range of insights makes us better investors. The Motley Fool has a disclosure policy.
Copyright 1995 - 2016 The Motley Fool, LLC. All rights reserved. The Motley Fool has a disclosure policy.