Why Did Papa John's International Inc. Drop 18% in November?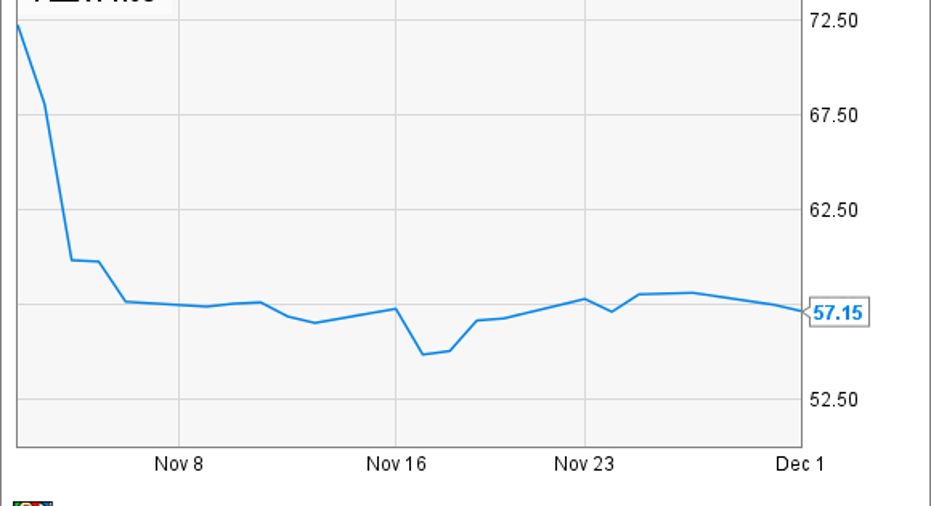 WhilePapa John's International appeared to have a decent third quarter, investors were underwhelmed by itsadjusted earnings per share of $0.45, which met expectations, and a 0.3%drop in revenue along with a negative change in the company's full-year forecast.
The company announced its Q3 results Nov. 3 and its stock plunged almost immediately finishing the month down 18.1%,according toS&P Capital IQdata.
Data source: YCharts.com.
What:By most marks, the company had a decent quarter. Its EPS of $0.45 was up from $0.39 a year ago andsystemwide comparable sales increased by 3% in North Americaand 8% internationally. Revenue did drop the aforementioned 0.3% from $390.4 million in the same period in 2014 to $389.3 millionthis year.
Investors, however, expected better and clearly did not like that the company now expects full-year 2015 EPS to be at the lower end of its previously expected range of $2.04-$2.10, according to my Fool colleagueBrian D. Pacampara, who wrote about the stock drop in early November. He also noted that global sales increased just 3.9% down from 10.2% during the year-prior quarter.
So what: Papa John's CEOJohn Schnatter attempted to put a positive spin on the results, but that has to be taken at least a little skeptically given that this is the same man who pushes "quality" as his chain's selling point.
"I'd like to congratulate our operators and team members on another solid quarter of sales, earnings and unit growth," said Schnatter in the earnings release. "The team delivered solid comp sales in the third quarter, and we again posted exceptional double-digit two year comp sales in both our domestic and international businesses."
That's a look on the bright side, which investors clearly weren't willing to do given the competition the company faces and what looks to be slowing sales.
Now what:This could be a sustained drop or a quick turnaround depending on Q4. If the company can beat its lowered expectations, it should regain some of its losses.
Fast-food and fast-casual restaurant chains -- especially emerging ones -- have been held to pretty high standards by the market. Put up big growth numbers or the stock tanks, but show a sign of returning to form and prices pick back up fast.
Papa John's looks to be falling victim to that and a quick recovery depends on whether it can go back to being a big growth company.
The article Why Did Papa John's International Inc. Drop 18% in November? originally appeared on Fool.com.
Daniel Kline has no position in any stocks mentioned. He does not think Papa John sells even acceptable pizza. The Motley Fool owns shares of Papa John's International. Try any of our Foolish newsletter services free for 30 days. We Fools may not all hold the same opinions, but we all believe that considering a diverse range of insights makes us better investors. The Motley Fool has a disclosure policy.
Copyright 1995 - 2015 The Motley Fool, LLC. All rights reserved. The Motley Fool has a disclosure policy.